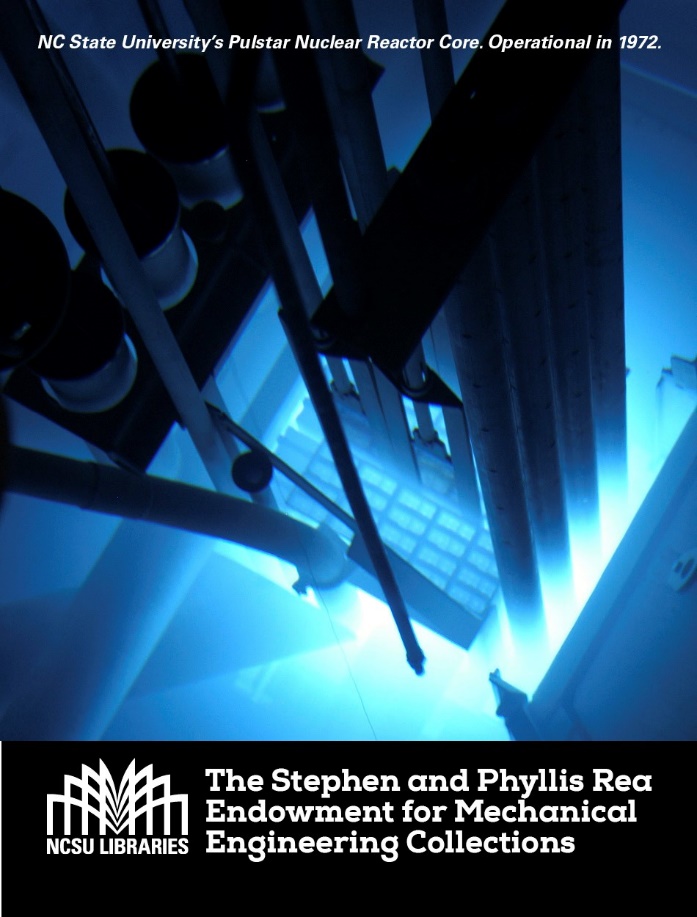 The North Carolina State University (NCSU) Libraries Department and the Department of Nuclear Engineering are collaborating to build a small modular reactor technical library at NCSU. The library resources will be available to the NCSU research community and to TerraPower/GE Hitachi and X-energy, both of which have signed teaming agreements with NCSU researchers to support planned advanced reactor demonstrations within the next seven years.
Making the new library collection possible: a generous donation from NCSU alumnus Stephen Rea, who together with his wife, Phyllis, formed the Stephen and Phyllis Rea Endowment for Mechanical Engineering Collections in 2015.
"We wanted to seed the endowment and grow it through donations to pursue research and development of green advanced power generation technologies," Rea explained. "Supporting the advancement of SMR technology development fits our mission statement perfectly."
What it means for research: NCSU professor Joseph Doster, director of the university's Nuclear Engineering Undergraduate Program, explained that "NCSU's Nuclear Engineering and Mechanical Engineering Departments, in collaboration with Idaho National Laboratory's Integrated Energy Systems group, have been developing modeling and simulation capabilities to design and optimize thermal energy storage technologies coupled to SMRs for deployment in energy grids with intermittent energy sources such as wind and solar and end point users of thermal energy, including water desalination plants and pulp and paper mills.
"The body of literature in this area has been growing due to increased domestic and international interest in these technologies," Doster added. "Having ready access to this literature ensures the timeliness and relevance of the research efforts at NCSU."
Lisa Marshall, NCSU's director of outreach, retention, and engagement, also welcomes the development. "As a former reference librarian, I believe opportunities to partner with NC State alums on such crucial projects are fantastic," Marshall said. "By building up a library collection dedicated to SMRs, the Rea Endowment and the Department of Nuclear Engineering are adding to knowledge production, accelerating research, and increasing NCSU's contributions to building the next generation of nuclear reactors."
A career in nuclear: Rea formed an endowment to give back to the university and the industry that has shaped his long career. Rea graduated from NCSU with a bachelor's degree in mechanical engineering in 1980 and then returned to earn a master's degree with a concentration in nuclear engineering in 1986.
"My career in the Carolinas commercial nuclear power generation industry spans 40 years," Rea said. "The early years I obtained experience in nuclear plant engineering at Carolina Power & Light's Brunswick and Harris nuclear stations. During the past 33 years my focus has been to bring state-of-the-art technologies to the Carolinas nuclear industry."
Rea spent those 33 years at Heyward Incorporated, most recently as senior vice president of nuclear special projects. In that role Rea has supported the construction of the AP1000 reactors at the Vogtle plant in Waynesboro, Ga.
"It has been satisfying to be part of an industry that has brought competitive and reliable power to the Carolinas, but it goes beyond that," Rea said. "The industry has brought good jobs. It has brought an important tax base to local and state governments. With a total of 12 reactor units, nuclear power has provided the Carolinas with a significant source of green energy."
While Rea has recently retired from Heyward, he is an active member of the NCSU Friends of the Libraries Board, which advocates for the advancement of the university's main libraries.