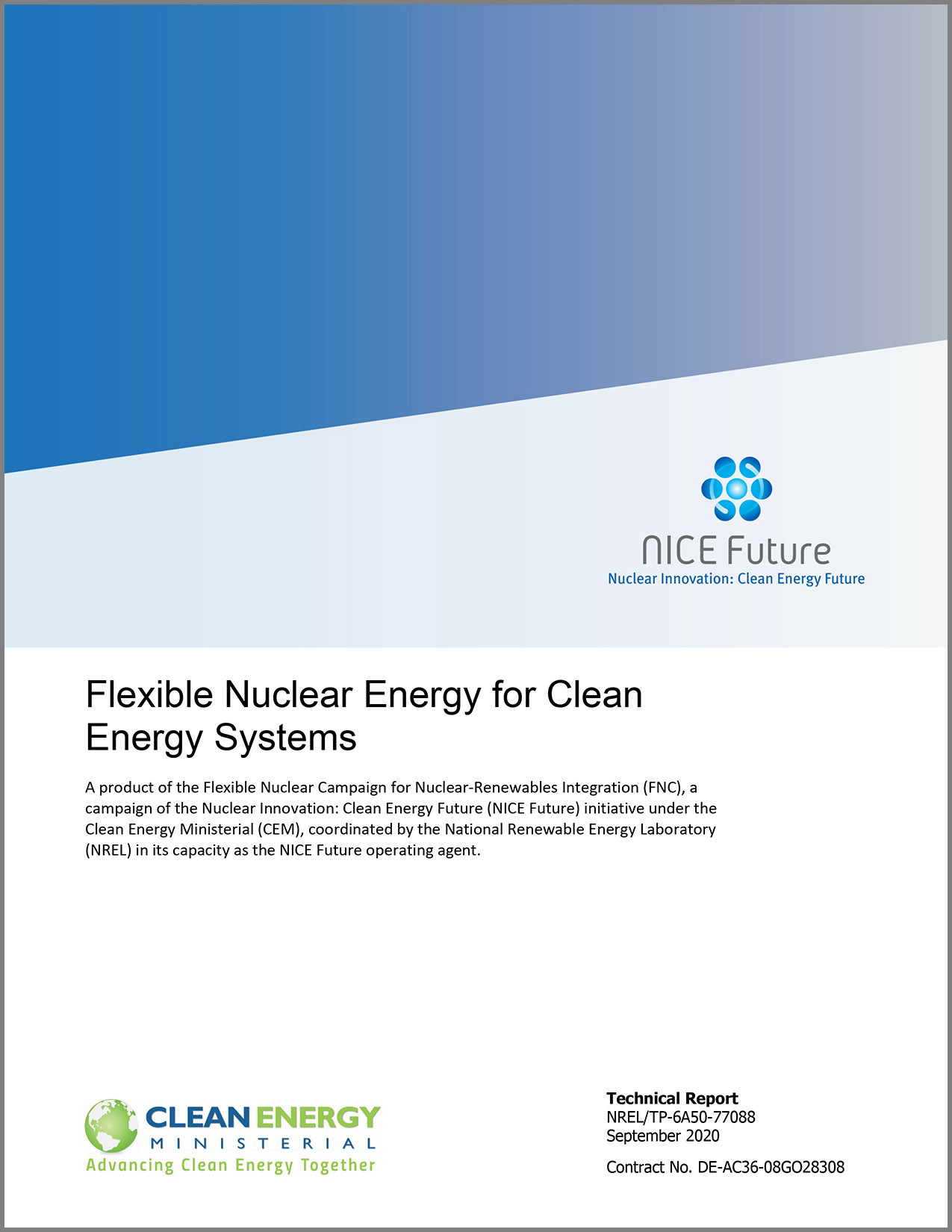 A report just released from the Clean Energy Ministerial's (CEM) Nuclear Innovation: Clean Energy (NICE) Future initiative examines the potential roles that flexible nuclear energy generation can play in both current and future clean energy systems.
A product of the initiative's Flexible Nuclear Campaign for Nuclear-Renewables Integration, the 154-page report, Flexible Nuclear Energy for Clean Energy Systems, includes the views of experts from government agencies, ministries, and industry organizations across the globe.
The report uses the term "flexibility" to mean the ability of an energy source to economically provide services when and where they are needed by end users. Energy services can include both electric and nonelectric applications using both traditional and advanced nuclear power plants and integrated systems, according to the report.
What it says: "With the growing diversity of electricity sources, flexibility is a vital characteristic of reliable electricity systems and may also provide value in serving nonelectric energy needs," the authors state in the report's introduction.
Flexibility can be achieved in a number of ways on both the generation side and the use side, the report continues. On the generation side, flexibility may entail ramping the power up or down to meet demand; energy may also be stored for later use and used to produce alternative products such as thermal, electrical, or chemical energy, depending on the required time and power demand.
On the use side, demand response approaches may be employed to shift demand when possible, thereby reducing peaks, slowing ramp rates, and limiting stress on the grid.
"The CEM NICE Future initiative's Flexible Nuclear Campaign focuses on the potential roles of nuclear flexibility to supply both electric and nonelectric products for economy-wide flexibility needs." the report said.
Key insights from the report:
■ There is already an established body of knowledge surrounding flexible operation of existing nuclear plants. Work in reactor physics, thermal hydraulics, and material science has demonstrated that nuclear reactors can safely provide flexible power output.
■ Innovation can increase the flexibility of existing nuclear reactors to produce both clean electricity and beneficial nonelectric products. Many organizations are researching how nuclear reactors can increase the speed with which they change their electrical output and diversify their energy products.
■ Advanced reactors will present even more opportunities for flexibility in nuclear systems. Despite the significant and valuable innovation occurring around existing gigawatt-scale reactor systems, there are some energy services that only advanced reactors will be able to support.
■ Nuclear flexibility can be key in enabling other clean energy generators. Nuclear energy has the potential to couple with many other energy sources in a synergistic fashion.
Background: The CEM describes itself as a high-level global forum created to promote clean energy technology, share lessons learned and best practices, and encourage the transition to a global clean energy economy.
Its co-lead countries are represented by the U.S. Department of Energy; Natural Resources Canada; Ministry of Economy, Trade, and Industry of Japan; and the Department of Business, Energy, and Industrial Strategy of the United Kingdom.
The first CEM meeting was held in Washington, D.C., July 19–20, 2010. The CEM's NICE Future initiative was launched at the ninth meeting, held in Copenhagen, Denmark, May 23–24, 2018.
The next upcoming meeting, the 11th, will be a virtual affair hosted from Saudi Arabia on September 22.