The ultimate survival of TEPCO as a long term profitable business continues to be in question as the company struggles with the ongoing decommissioning of the Fukushima Daiichi plant.  In recent times the company has also stated that it will dismantle the other, more southerly nuclear station in Fukushima prefecture.  This leaves TEPCO with only one nuclear plant it can return to operation, and from which it can generate revenue in order to survive (although it has considerable other generating assets).  Will that happen?  The answer is only a "maybe," although the company is certain it's "yes."
The just-released 2019 TEPCO Integrated Report contains some interesting hints at our answer.  To start with, it's made quite clear in the report that nuclear power has a future with TEPCO; as a part of the company's long term "opportunities" through 2050, nuclear energy has a stated, clear role, even though the company acknowledges that there is at the moment a "lowering social acceptance" for nuclear energy.
TEPCO will first meet this goal by restarting units at the western Kashiwazaki-Kariwa nuclear plant site.  This plant has seven units; the two newest, TEPCO's only completed ABWR units, are presently well along in the process to restart under the new safety rules and procedures that followed the dissolution of NISA and the formation of the Nuclear Regulation Authority (NRA).  TEPCO's Integrated Report estimates that the total expenditure for safety measures at K-K will reach over 10 billion yen - but points out that overall corporate cost reductions per year of between 90 and 110 billion yen will be realized if just one nuclear unit returns to operation.
Restart of the five older units at Kashiwazaki-Kariwa remains problematic.  In addition to concerns voiced inside TEPCO that some older units may not be viable to restart from an economic standpoint (given the extensive modifications that they may need) TEPCO has been in negotiation with the Kashiwazaki mayor, who has insisted that any plan to restart Kashiwazaki-Kariwa 6 and 7 must also include specific plans and dates to decommission older units at the site.  According to Kyodo News, the mayor feels that having seven operating units at one site could lead to a major event should an accident at one unit affect the other units on site.  Unless the political situation changes, then, TEPCO will likely never again operate all seven units at its western nuclear site.
There is one small hope for a new nuclear future for TEPCO though, and that's the Higashidori nuclear plant project.  The new 2019 TEPCO Integrated Report contains, on page 64, the following brief statement:
"Furthermore, at the Higashidori Nuclear Power Station we are implementing geological surveys in order to further improve safety as we aim to create a basic framework of cooperation with other operators by FY 2020."
The company actually obtained the license to construct the first of two planned ABWR units at this northern site (in Aomori Prefecture) all the way back in January 2011, and although the site is cleared and dock facilities exist (as well as a large concrete plant and other facilities) the construction progress overall is under 10%.  What TEPCO now hopes to do is join with the two ABWR vendors (Hitachi and Toshiba) as well as other utilities to form a joint nuclear power venture which would, among other things, complete and operate this new power plant.  And it's clear from TEPCO's own website that it thinks this new plant is essential.  To wit:
"Nuclear power is going to play a particularly important role in our mission to create a low-carbon society since nuclear power stations do not emit any carbon dioxide when generating power.
Our company is committed to guaranteeing energy security and tackling the issue of global warming. We believe Higashidori Nuclear Power Station is going to be an essential power source for ensuring a stable supply of electricity."
Since at least 2016 TEPCO has been communicating with its employees on a plan to nurture relations with local governments and the citizens where this new plant is to be located, and the company has sent its employees to communicate with thousands of citizens at their homes about its efforts to build the Higashidori Nuclear Plant while remaining committed to preserving land and community.  The company has also established a permanent Aomori office and has distributed over 3,000 copies of a specially published informational magazine.
So, although there are major expenditures and negotiations underway in Niigata Prefecture and minor ones underway up north in Aomori, there's still no firm start date for 6 and 7 at Kashiwazaki-Kariwa, not to mention 1 and 2 at Higashidori being built and operated.  TEPCO is sure it has a nuclear future, but it remains to be seen if time and politics will be on its side.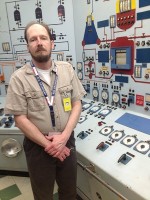 Will Davis is a member of the Board of Directors for the N/S Savannah Association, Inc. He has been a contributing author for Fuel Cycle Week, and he used to write his own popular blog Atomic Power Review. Davis is also a consultant and writer for the American Nuclear Society, and serves on the ANS Communications Committee and the Book Publishing Committee. He is a former U.S. Navy reactor operator and served on SSBN-641, USS Simon Bolivar.  His popular Twitter account, @atomicnews is mostly devoted to nuclear energy.