On July 12, the Otsu District Court in Japan made a significant decision regarding the future of Kansai Electric Power's Takahama nuclear station when it upheld a previous lower court injunction against the operation of Units 3 and 4 at that site.  The district court had received a petition from just over two dozen intervenors in Shiga Prefecture earlier this year; legal wrangling ensued, with Kansai Electric filing an objection which ultimately today appears to have fallen on deaf ears.  As it now stands, there is a provisional injunction against the startup of these two plants.
Takahama 3 and 4, both of which are rated 870 MWe and which include Mitsubishi pressurized water reactor (PWR) nuclear steam supply systems, were cleared by the Nuclear Regulation Authority of Japan (NRA) in October 2015 under the new and vastly more complicated approval process implemented in the wake of the Fukushima accident.  Takahama Unit 3 began loading fuel the day before Christmas, 2015 and started up at the end of January 2016.  Unit 4 loaded fuel January 31, the day after Unit 3 reached criticality and then started up at the end of February.
Since then, higher courts in Japan have been sought by the intervenors, in order to stop operation of these units.  This happened March 9, forcing the shutdown of Unit 3, while Unit 4 was still working through its shakedown. It had started up but not reached commercial operation yet.
Naturally Kansai objected strenuously, noting that the plants were now very safe and had already received the clearance from the recognized national regulator to operate.  Today's Otsu District Court decision to uphold the previous injunction against operating the plants will immediately be countered by Kansai, which has stated it will file a petition with the Osaka High Court.  This would override the district court decision.
What's actually happening here is that the showdown is on to set the national precedent for just who it is that is responsible to determine that nuclear plants are safe to operate in Japan.  The continued injunctions being put against nuclear plants in Japan are being issued by various civilian courts which have no specific knowledge or understanding of nuclear power plants, their safe operation or construction.  Petition to higher and higher courts will invariably continue until the precedent is set either that the NRA is the only valid determinant of nuclear plant safety, or else that the population has the final say as to whether a nuclear plant can operate in its area.
That precedent has long been set in the United States, where, after numerous cases (mostly coming out of New England), the established fact is that it's the Nuclear Regulatory Commission who ultimately determines whether a nuclear plant is safe. It is not the state governments or the other courts.  As of now, 23 units in Japan have applied to the NRA for review to restart, and today's events seem to indicate that the final fate of any of them may hang not on the NRA review but rather on the local population.
As a footnote to this slowly developing saga, it must be noted that elsewhere, in Kagoshima Prefecture, an election has just been held which has led to installation of a known anti-nuclear candidate for governor.  Satoshi Mitazono has announced that he will seek the shutdown of Kyushu Electric Power Company's two operating reactors at the Sendai Nuclear Plant.  He cannot do this directly by order, but can prevent their restart after they shut down for inspection later this year.  Indeed, as the Japan Atomic Industrial Forum has noted, in Japan the future of the many shut down nuclear plants doesn't necessarily hinge on the final determination of plant safety by the NRA -- a very unfortunate situation, given the island nation's dependence on coal, oil and gas (all imported) for its electric power generation.
---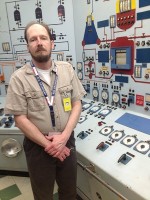 Will Davis is Communications Director and board member for the N/S Savannah Association, Inc. He is a consultant to the Global America Business Institute, a contributing author for Fuel Cycle Week, and he writes his own popular blog Atomic Power Review. Davis is also a consultant and writer for the American Nuclear Society, and serves on the ANS Communications Committee and will serve on the Book Publishing Committee beginning in June. He is a former US Navy reactor operator and served on SSBN-641, USS Simon Bolivar.