On May 4, the presidents of 29 nuclear scientific associations signed a "Nuclear for Climate Declaration" during the International Congress on Advances in Nuclear Power Plants (ICAPP) in Nice, France. Ten other nuclear societies could not be physically present in Nice to sign the declaration but are supporters and will sign at a later date. These societies represent 50,000 members, including scientists, from 36 countries and three regional or international organizations.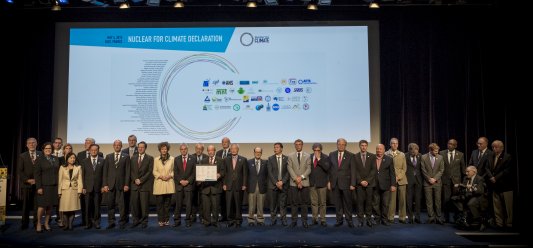 The declaration urges all countries to access "the widest possible portfolio of low-carbon technologies available, including nuclear energy, in order to reduce CO2 emissions and meet other energy goals." It further calls on the United Nations Framework Convention on Climate Change (UNFCCC) protocols to "recognize nuclear energy as a low-low carbon energy option, and to include it in its climate funding mechanisms, as it he case for all other low-carbon energy sources."
Nuclear for Climate (#Nuclear4Climate) is a grassroots initiative which brings together the many professionals and scientists of the international nuclear community, coordinated via the regional and national nuclear associations and technical societies. We acknowledge the unequivocal conclusions of the majority of climate scientists, as stated in the peer-reviewed Intergovernmental Panel on Climate Change (IPCC) 5th assessment report that human activities have contributed to changes in the Earth's climate. We believe that nuclear energy is a key part of the solution to reducing and reversing the damage caused by carbon emissions from power sources.
This awareness and information campaign has brought together nuclear scientists from all corners of the globe. Their efforts to promote the environmental credentials of nuclear energy are being coordinated by about 60 regional and national nuclear associations, as well as by scientific societies (including Young Generation networks-the International Youth Nuclear Congress/IYNC, European Nuclear Society-Young Generation Network) and major nuclear societies all over the world.
It is important that as members of the nuclear community we pool our resources and amplify our voice so that decision-makers-before, during, and after the COP 21 talks-are left in no doubt that nuclear must be part of the solution to fight climate change. The main objectives of the initiative are to promote this reality, to reinforce the sense of pride that the nuclear community derives from knowing that it is contributing to the future of the planet, and to ensure that the final protocol that emerges from COP21 emphasizes that all countries are free to choose nuclear energy as one of the available options for reducing CO2 emissions.
Nuclear for Climate was officially presented during the 2014 American Nuclear Society Winter Meeting in November 2014, and ANS has been a leading partner. Several other countries followed with launches in France, Slovak Republic (in front of all European nuclear communicators), Turkey, and Japan.
These arguments will be relayed throughout the year, on the occasion of various events in the nuclear community. After the ICAPP conference, many other countries will present Nuclear for Climate during their national events, including South Africa, Korea, and Romania. Young Generation organizations will be also very active, with special Nuclear for Climate sessions held during the European Nuclear Young Generation Forum. The IYNC is also supporting this initiative.
We hope to make Nuclear for Climate a widely shared social media effort that gains worldwide attention. We are taping about 30 video messages from nuclear supporters while in Nice, and hope to have them posted on the Nuclear for Climate YouTube channel soon.
While we are using social media as the tool to spread our messages, this effort has the strength of sound science behind it. This is an important effort that must involve those in the nuclear science community who understand and believe that our world cannot meet low-carbon energy production goals without nuclear power. We hope everyone reading this will share it widely and add their voices.
---
Sophie Prevot is International Relations Manager for the French Nuclear Society. Nuclear for Climate can be found on: Twitter: @Nuclear4Climate and YouTube. The American Nuclear Society's Nuclear for Climate information can be found here.