On Saturday, December 13, there weren't balloons or cake but a plume of water vapor indicated that operations continued as Energy Northwest employees commemorated 30 years of Columbia Generating Station's commercial operation.
Since its inception on December 13, 1984, Columbia has generated more than 214 million megawatt-hours of electricity-enough to power more than 1 million homes. Columbia provides safe, reliable, and affordable electricity 24 hours a day, seven days a week to the rate payers of the Pacific Northwest.
Columbia came on-line 30 years ago this past weekend. Like the industry as a whole, its performance has strengthened over time.
Nuclear energy leads way in capacity factor - and reliability
The ratio of electricity produced to the quantity it could produce over a year if it was running at full capacity is known as the capacity factor. For example, the average capacity factor for wind power varies between 20 and 40 percent, while nuclear power maintains an 85 to 95 percent capacity factor, according to the U.S. Energy Information Administration.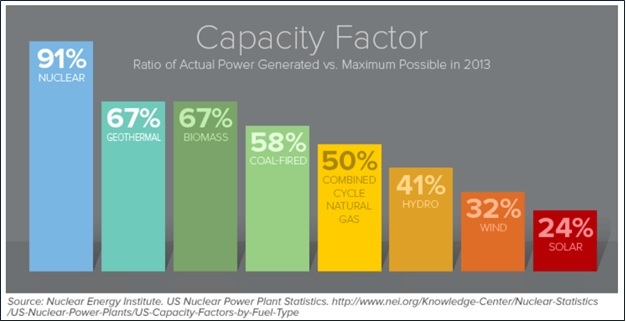 Increased efficiencies, component upgrades, and performance initiatives contribute to increases in both capacity factor and in power generated. According to the Nuclear Energy Institute, more than 6900 megawatts of power uprates have been approved by the Nuclear Regulatory Commission since 1977-the equivalent of adding seven reactors to the electric grid.
At Columbia, performance improvement initiatives have kept the plant online for more than five years without an unplanned shutdown. Columbia is currently in its longest continuous operational run and has been online for 538 consecutive days and counting with a capacity factor of almost 97 percent. The plant set new generation milestones in calendar years 2012 and 2013; fiscal year 2013; and is poised to set another generation record in calendar year 2014.
No other electricity source can match the reliability of nuclear energy. As ratepayers throughout the Northwest celebrate the clean energy contributions of Columbia Generating Station, we invite nuclear professionals across the world to join us in recognizing the incredible value that nuclear energy provides to our environment, our economy and our lives.
Cheers to the power of the pellet!
____________________________________
Laura Scheele is a Senior Public Affairs Analyst and External Relations Manager at Energy Northwest, a joint operating agency headquartered in Richland, Wash. Energy Northwest develops, owns and operates a diverse mix of electricity generating resources, including hydro, solar and wind projects - and Columbia Generating Station, the Northwest's only nuclear energy facility. She is an active ANS and ANS-Eastern Washington Section member.