Shortly before midnight on September 26, 1944, a sustained chain reaction was begun for the first time in a nuclear reactor whose purpose was not merely to prove that fission could be achieved or sustained. The brand new reactor at Hanford Engineer Works, Washington state, had only been complete for about a month; its first uranium fuel had begun loading only on September 13. Incredibly, this facility, of a nature that had never been attempted before (as man had only been aware of fission, itself, for less than a decade) was built in the incredible time span of 11 months; ground had been broken to build the reactor building in October 1943.
The purpose of this reactor was fairly simple; it used a large number of uranium fuel elements that, under bombardment by neutrons from the chain reaction, produced plutonium. This plutonium could be extracted from the fuel through a chemical separation process, also performed at the vast Hanford site, and then concentrated to make atomic weapons. That was, in fact the purpose of this facility-under the purview of the Manhattan Project. The reactor developed a great deal of heat during this process (the original design as built was rated at about 240 megawatts thermal or MWt, but the reactor was substantially upgraded over the years to develop 10 times this) and it was of course natural to expect that this heat could be harnessed for power. At Hanford, the waste heat was simply dumped to the river, but the first nuclear electric generating stations in England and in France were of essentially this type-reactors whose primary purpose was to produce weapons material, but whose waste heat was harnessed to produce useful energy.
Of course, the reactor did not exist in a vacuum; not only were many various support facilities required (including a steam plant and pump house to provide 35,000 gallons of cooling water per minute for the reactor), but there were other reactors of identical type under construction very soon, spread around the giant reservation along the Columbia River.
Today, B Reactor remains unique at the site. While a number of other reactors were built, operated, and eventually shut down (as was B on February 12, 1968, for the last time) over the intervening years, these have been "cocooned" or placed in storage. B Reactor on the other hand is preserved (although long since defueled and cleaned up) and is open for tours; the site has received numerous landmark awards (including from the American Nuclear Society) and is recognized today for the place it played in history in many ways.
It's quite clear that when the sun rose on September 27, 1944, it did so on a world that had changed-a world that could never turn back. While the immediate result of this project was nuclear weapons, nuclear energy had already been considered (since 1939, in fact, by the US Navy) and both might be thought of as having been born the night before. As the world today pulls back from nuclear weaponry, it finds itself advancing in energy demand, with nuclear playing a role now even into developing countries in Africa as well as established and prosperous countries in the Middle East. The immensity of the achievements of September 1944 cannot be underestimated.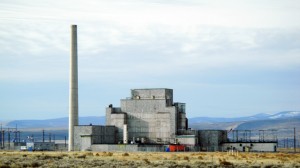 For More Information:
B Reactor - Dep't. of Energy / Hanford Site
B reactor is located in the 100 Area at Hanford Site.
DOE Hanford has its own YouTube channel, with dozens of videos showing work and remediation all over the site; some feature B reactor.
Sources for this article:
The Atomic Energy Deskbook.  John F. Hogerton;  Reinhold Publishing Company, New York, 1963.
Manhattan Project - B Reactor.  Brochure, US Dep't of Energy, 2009.
History of 100B Area.  WHC-EP-0273  Westinghouse Hanford Company for US Dept. of Energy, October 1989.
Hanford's Historic B Reactor.  HNF-40918-VA Rev 0.  Fluor Corporation for US Dept. of Energy, March 2009.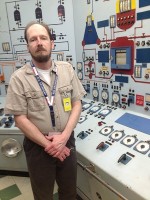 Will Davis is the Communications Director for the N/S Savannah Association, Inc. where he also serves as historian, newsletter editor and member of the board of directors. Davis has recently been engaged by the Global America Business Institute as a consultant.  He is also a consultant to, and writer for, the American Nuclear Society; an active ANS member, he is serving on the ANS Communications Committee 2013-2016. In addition, he is a contributing author for Fuel Cycle Week, and writes his own popular blog Atomic Power Review. Davis is a former US Navy reactor operator, qualified on S8G and S5W plants.  Davis is temporarily managing all social media for the American Nuclear Society.