Nuclear Regulatory Commission Chairman Allison Macfarlane today fielded questions from in-person and virtual attendees at a live, unscripted 60-minute webinar on nuclear energy issues. The event-"Bloggers' Roundtable"-was held in Washington, DC, and was a collaborative effort of the NRC and the American Nuclear Society. The webinar provided an opportunity for nuclear bloggers and social media personalities to discuss the NRC's perspectives on a wide range of nuclear-related issues.
Webinar recording of A Conversation with U.S. NRC Chairman Allison Macfarlane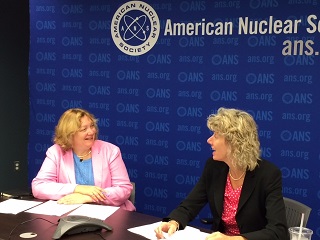 ANS Moderator Margaret Harding noted that many questions referred to the proper purview of the NRC-such as, could the NRC take a stronger role in "promoting" nuclear energy? Should another government entity be in that business? How do you make the jargon of the trade more accessible and understandable to laypersons?
Other questions dealt with the preparations for licensing of small modular reactors; radiation regulation in light of challenges to the linear no-threshold model; rulemaking concerning post-Fukushima safety enhancements; and much more.
Questions that were more technical or required a more detailed response are to be tackled as follow-up responses here at ANS Nuclear Cafe.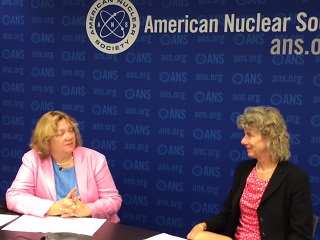 A stand-alone video from today's virtual forum is under construction-for immediate access please tune in and enjoy the webinar recording. Thank you to NRC Chairman Macfarlane, ANS Moderator Harding, and all attendees.