My husband and I have lived in Washington, D.C. for 18 years, and we've been amazed at how the city's dining options have evolved.  In a previous blog, I focused on the high-end and classic places where you'll find great food and sometimes see celebrities.  This blog focuses on the places where people who live here enjoy dining and where they often find bargains.  For attendees of the American Nuclear Society's annual Winter Meeting on November 10-14, Washington provides the perfect setting for great dining.
In the Neighborhood and Along the Avenue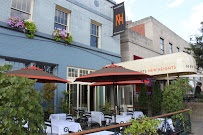 I live in North Cleveland Park, so the restaurants along Connecticut Avenue are in my neighborhood.  Right across Calvert Street from the Omni Shoreham and up the stairs, you'll find New Heights, which is high on the list of both foodies and aficionados of gin-based cocktails.  Cross Connecticut Ave. and head north to 2653, and you'll find one of my favorite places - Petit Plats. This jewel of a French restaurant is in a townhouse.  In the winter, the fireplaces are blazing. My friends and I have had many lovely evenings here, dining on mussels, salmon, steak/frites and chicken/frites.  The specials are always excellent.
Walk around the corner for a few blocks to 1819 Columbia Road NW, and you'll find Cashions' Eat Place, which has been a star of the D.C. dining scene for years.  Located in Adams Morgan, Cashions serves great seasonal food with a Mediterranean flair. From The Washington Post: "This is a kitchen that does every season proud."  Don't miss the crispy shredded goat.
A few blocks northwest on Connecticut Ave., or one stop on the Red Line, sits Cleveland Park, which is home to many great restaurants.  Ripple at 3417 Connecticut bears no resemblance to the terrible drink that those of us of a certain age remember.  The chef has a real flair for pastas, and the bacon-roasted pecans are not to be missed.  Palena Fine Dining offers high-end, exquisite cuisine in a prix fixe menu from former White House Chef Frank Ruta.  You'll find more casual food in his much less-expensive Palena Café (on the same premises), which USA Today says serves the best burger in the United States!
This neighborhood also has some moderately priced places, such as the pan-Asian food at Spices, 3333 Connecticut Ave., which also has a huge sushi bar.   Ardeo+Bardeo, at 3311, attracts locals and celebrities with a great wine list and a menu that features burgers to chops.  Just up the street at 3321 Connecticut, Lavandou (French Provencal) serves moderately priced French classics.  Cross the street and walk a little North to 3500 and you'll find Medium Rare, where you can get good steak/frites for $20, which includes second helpings.  A little further up Connecticut at 3512-14 you'll find Indique, which serves contemporary Indian cuisine in an upscale venue.  The lamb vindaloo defines "spicy."
Good Cheap Eats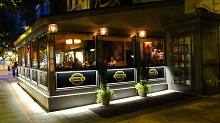 Although Washington has more than its share of high-end and moderate restaurants, there are also some low-priced gems.  Annie's Paramount Steakhouse (1609 17th St., NW) delivers value-priced hormone-free steaks and chops in a fun LBGT-friendly environment.  In the same Dupont neighborhood, you'll find Agora (1527 17th St., NW) which serves wonderful Greek and Turkish cuisine.  Two Amy's (3715 Macomb St., NW, off Wisconsin Ave.) is a Cleveland Park neighborhood mainstay with Neapolitan-style pizza that's always judged among the best in D.C. along with terrific small plates.  There are no reservations, so expect a line at prime time; or go early or late.  Chinatown's Full Kee restaurant (509 H St., NW) will never win a decorating prize (it's a little divey), but its low-priced Cantonese cuisine is worth far more than you'll pay for it.  Toki Underground, an Asian Fusion restaurant in the newly hip Atlas District (1234 H St., NW) is known for its ramen and dumplings.  If you don't want to stand in line, make a reservation on the CityEats website.
Foodtruckfiesta.com directs you to the best food trucks and their locations at various times of the day.  You can get everything from Korean bulgogi tacos to pulled pork sandwiches to great lobster rolls.  DC Empanadas was born in a food truck but is now one of the great, value-priced food stands in Union Market (1309 5th St., NE), where you'll also find wonderful oysters and crab cakes at the Rappahannock Oysters stand.
Want a meal for $7?  Try Julia's Empanadas in Adams Morgan (2452 18th St., NW), which is essentially a takeout place.  Great pizza, beer (or wine), fellowship and ping pong are the signatures of Comet Ping Pong (5037 Connecticut Ave., NW), a terrific neighborhood place in Chevy Chase, D.C.
A Few More Not to Miss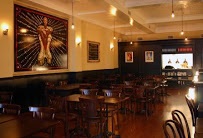 Fried chicken and waffles along with shrimp and grits are standouts at Marvin's (2007 14th St., NW between U & V Streets), which honors singer Marvin Gaye, and has a lively bar scene and a covered roof deck.  Hanks Oyster Bar (1624 Q St., NW) serves $1 oysters during happy hour.  The crab cakes, lobster roll and lobster deviled eggs are pretty wonderful.  Every night is a party at Mio (1110 Vermont Ave., NW), where host Manual Iguina presides over a great bar scene and terrific urban Latin American cuisine.  Roast pig on Fridays is fantastic!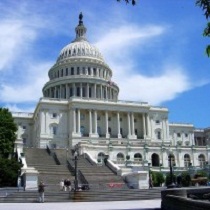 For information on the 2013 ANS Winter Meeting including speakers, topical meetings, official meeting program and registration information, see ANS brings leaders and legends to speak at November meeting.  For a tour of can't-miss culture and history see Washington offers great history and culture for ANS members at Winter Meeting.  For classic and high-end dining options for meeting attendees, see Washington offers great dining for ANS members at Winter Meeting.  The ANS Winter Meeting is bookended by two very important events sponsored by the ANS Young Members Group - see Prepare to Meet Your Lawmakers - Young Professionals Congress and Capitol Hill Day, Nov 9 & 14.
_______________________

Mimi Limbach is managing partner at Potomac Communications Group.  She will be recognized with the American Nuclear Society's Distinguished Service Award at the 2013 ANS Winter Meeting, taking place November 10-14 in Washington, D.C.