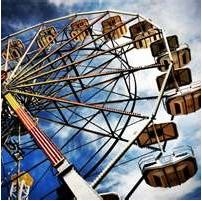 The 172nd Carnival of Nuclear Energy has been posted at Yes Vermont Yankee.  You can click here to access this latest edition of a long-running tradition among pro-nuclear bloggers.
This week's Carnival is certainly, for many, tinged with a sense of melancholy, as it is hosted at a blog written for years by someone who is a staunch supporter of nuclear energy and particularly the Vermont Yankee plant, Meredith Angwin.  It was announced this past week that Vermont Yankee would be closing in 2014 instead of refueling, which to many people came as an unexpected and bad surprise.  In a sense, a chapter in pro-nuclear advocacy will close (or at least be transformed) given that a campaign to keep open a scheduled-to-close plant is a blunted arrow -- but perhaps, if we're all lucky, the resilient Angwin will find another way to channel her considerable energy, intellect and experience into further efforts to do what she's seemingly always done, which is help people learn more about energy of all sorts.

There were considerations given, and discussion held, behind the scenes in terms of offers by others to host the Carnival this week given these developments.  In a show of steely resolve, Meredith decided to host the Carnival even in the face of this setback.  Perhaps there is no more fitting place for the Carnival to be this week; if nothing else, it will serve as a reminder to pro-nuclear advocates that showing up in debates and having a seat at the table first matters.  It is also, perhaps, a forewarning.  Only time will tell on the latter point. All of this said, Meredith Angwin has headed the Carnival posting this week quite fittingly with her own selections about Vermont Yankee which are important to read and understand.  She has put the matter in plain terms, and in one post has asked a number of questions that we all might have, and provided her well-informed answers.
About the Carnival.
Each week, a new edition of the Carnival is hosted at one of the top English-language nuclear blogs. This rotating feature of nuclear "posts of the week" represents the dedication of those who are working toward a future of energy abundance through nuclear science and technology.
Past editions of the carnival have been hosted at Yes Vermont Yankee, Atomic Power Review, ANS Nuclear Cafe, NEI Nuclear Notes, Next Big Future, Atomic Insights, Hiroshima Syndrome, Things Worse Than Nuclear Power, EntrepreNuke, and Deregulate the Atom.
This is a great collaborative effort that deserves your support.  If you have a pro-nuclear energy blog and would like to host an edition of the carnival, please contact Brain Wang at Next Big Future to get on the rotation.
-Will Davis for ANS Nuclear Cafe-