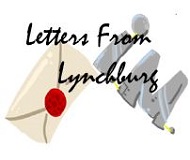 There are many benefits to living in Lynchburg, Virginia. Not only is it a scenically beautiful place with a diverse and growing economy that has continued its steady progress, even during the Great Recession, but it is also a place full of people who appreciate the value of nuclear energy technology.
Last week, I had the opportunity to evangelize about the importance of nuclear energy in a situation that might seem a little unusual for most places that are not Lynchburg. When I arrived at Hunt's Barbershop, Glenda was busy with another customer, but she was also engaged in a conversation with that customer's wife.
The waiting wife was a pleasant lady with an pronounced regional accent. She and Glenda were talking about grandchildren; there was an opening in the conversation for me to join in to mention my own granddaughter and the fact that we were looking forward to traveling with her across the country.
The lady waiting for her husband started talking about how much she and her husband enjoyed traveling, and asked me about my own journeys. We had a quick chat about how my wife and I had moved around the country during my naval career, and how I ended up in Lynchburg working for B&W mPower, Inc. She mentioned that she had once visited "The Plant," and had been fascinated to learn about the fuel manufactured at the facility and how concentrated it was.
It turned out that this grandmotherly type had been an accountant, and active in local civic organizations before she and her husband retired. After retirement, she and her husband continued their habit of taking numerous cross country trips. We started talking about a number of energy-related topics; she was particularly interested in "backyard windmills." She had heard people talking about how they could install a windmill and sell power back to the power company.
She said that she wasn't sure how that would work because she and her husband had seen large wind installations on their travels. They had stopped a couple of times and had stood underneath the towers to see just how tall they were and how massive the blades were. She described how she and her husband had often wondered if those systems were doing much good; they had noticed that many of the blades were not even turning as they drove by.
That gave me a terrific opening to talk about how nuclear plants work reliably nearly all of the time, no matter what the sun and wind are doing. We talked a little bit about the nuclear Navy, and how I had been able to live for months at a time underwater. She was fascinated to learn how the ship had been able to run for 14 years on a tiny amount of fuel that would have fit in the space between us in the barbershop.
The timing of the conversation was fortuitous; earlier that day I had just been provided the link to a short video designed to illustrate, in a three dimensional, active way, the difference in the environmental footprint of a nuclear plant when compared to a wind farm. I had my phone with me, so I showed the below video to the woman as we talked more about what those wind turbines were doing and what they were contributing to the reliability of the electricity grid that supplies the country that she loved to visit.
.
The conversation lasted the length of a haircut, but it was a great opportunity to share my enthusiasm for nuclear energy with a curious member of a demographic group that is not always supportive of our technology. Engaging in such one-on-one conversations can be a great way to spread the word about the value of nuclear technology; I would not be surprised if that encounter encourages additional research and discussions.
Later in the same week, I enjoyed sharing a video produced by the Weather Channel titled A Mini Nuclear Power Plant around the office. As you might imagine, there were some happy, proud faces as my colleagues received visible evidence that their hard work was getting noticed. At least two of the people in my group make cameo appearances in the short clip.
.
There are times when it is tough to be an active nuclear professional. The days are long, the work can be frustratingly burdened by regulations and self-imposed work rules that seem almost purposely designed to impede progress, and people who are opposed to the technology are often loud enough to dominate the conversation. It is enough to make one feel completely unappreciated.
However, the reality is that plenty of people are interested in what we are doing. They are cheering for us to succeed and to make the world a cleaner, safer, more prosperous place. They want us to figure out how to stop the proliferation of wind turbines in pristine landscapes, how to slow the continuous build up of CO2 in the atmosphere-with its uncertain effects on the climate-and they want us to develop world leading technology that will help create good jobs here in the United States.
In Lynchburg, at least, we are making some progress on all of those fronts, but that does not mean it is time to rest. As was described here just last week, there are still plenty of people that are targeting our technology and telling the world that investing any resources into its development is a waste of money. It is up to us to prove them wrong.
Disclosure: Rod Adams is employed by B&W mPower, Inc., but his thoughts are his own and do not necessarily reflect the opinions or positions of his employer.
____________________________
Rod Adams is a nuclear advocate with extensive small nuclear plant operating experience. Adams is a former engineer officer, USS Von Steuben. He is the host and producer of The Atomic Show Podcast. Adams has been an ANS member since 2005. He writes about nuclear technology at his own blog, Atomic Insights.