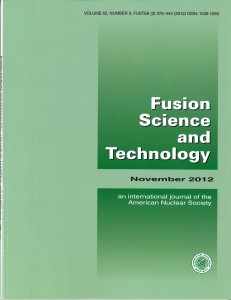 The November 2012 edition of the technical journal Fusion Science and Technology (FST) is available electronically and in hard copy for American Nuclear Society member subscribers and others. Non-subscribers click here to  subscribe to FST and other ANS titles.
FST is the leading journal of information on fusion plasma and plasma engineering and is edited by Nermin Uckan.
The November issue contains the following peer-reviewed articles:
TECHNICAL PAPERS
A Simple Technique for Increasing the Temperature Range of a Cryogenic Frozen-Gas Pellet Injector for Operation with Various Gases, by K. J. Caspary, B. E. Chapman, S. P. Oliva, and S. T. A. Kumar

Dynamically Similar Studies of the Thermal Performance of Helium-Cooled Finger-Type Divertors With and Without Fins, by B. H. Mills, J. D. Rader, D. L. Sadowski, M. Yoda, and S. I. Abdel-Khalik

Mode Content Analysis for ECH Transmission Lines by Burn Pattern and Nonlinear Optimization, by K. Ohkubo, S. Kubo, T. Shimozuma, Y. Yoshimura, H. Igami, and S. Kobayashi
Selected Papers from
SEVENTH FUSION DATA VALIDATION WORKSHOP 2012 (Part 2)
ANS journals are available through annual subscriptions and by individual edition or article. Please click here to go to the online journals page. A menu of ANS's publications is available online by clicking here.
________________________________