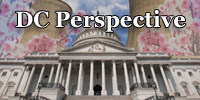 As I discussed in a June 20 ANS Nuclear Cafe post, a federal appeals court rejected the Nuclear Regulatory Commission's new nuclear Waste Confidence rule, and ordered the NRC to perform a more thorough evaluation that addresses potential risks and health and environmental impacts of very long term storage of nuclear waste at nuclear sites (until a final disposal option is developed).
As discussed in that post, anti-nuclear organizations were hopeful that the court ruling would lead to a halt in NRC licenses for new plants and plant life extensions, while others believed that the impact would be minor, the main result simply being more work to be done by the NRC. Recent events have shown both sides to be right, to some degree.
NRC's response to the court ruling
In September, the NRC instructed staff to develop an environmental impact statement (EIS) to evaluate very long term storage of used nuclear fuel, and a revised Waste Confidence ruling. The NRC expects to complete the work in ~24 months. The NRC's analysis will address issues raised by the court, including the impact if a repository is never built, as well as risks to spent fuel pools from leaks or fires.
The upshot is that the NRC believes that it can address the issues raised by a court, within a reasonable time period.
Suspension of licensing activity
On the other hand, and to the delight of nuclear opponents, the NRC also announced that it will not issue any final licenses for new nuclear power plants or 20-year life extensions (for existing plants) until the revised EIS and Waste Confidence ruling are completed and the court's issues are addressed.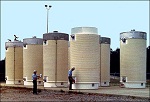 The NRC's decision appears to affirm the nuclear opponents' position that new plants or extended operation of existing ones cannot be justified in the absence of a valid Waste Confidence determination. On the other hand, most experts (as well as the NRC) believe that the issue can be resolved with additional analysis and evaluation. At worst, some additional measures and costs may be involved, such as moving more fuel from spent fuel pools to dry storage casks, spent fuel pool modifications and upgrades, more rigorous long-term monitoring of dry storage casks, or the possibility of repackaging stored spent fuel, if necessary.
Limited impact
As serious as it sounds, the impacts of the suspension of licensing are minor to non-existent, at least over the short-to-mid term.
For both new plants and plant life extensions, the NRC has stated that it will continue with all on-going work on license applications. The NRC will simply not formally release any final licensing decisions. Thus, the NRC's completion of work related to any license applications will not be delayed. The only parties that would be affected are those that were expecting final licensing decisions over the next ~two years.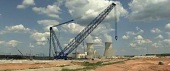 With respect to new plants, both of the reactor projects at Vogtle, in Georgia, and Summer, in South Carolina, can still go forward, since they have already received their final construction and operating licenses (COLs). A few other plant projects (e.g., the Levy project in Florida) are in the licensing process, but most if not all of these other projects are currently planning to only obtain the license, and have not decided (yet) to proceed with construction. It is unlikely that any projects other than Vogtle and Summer would have decided to start construction over the next two years anyway (for several reasons, including lack of demand for new capacity and low natural gas prices). Thus, the two-year hiatus in (final) licensing decisions is not expected to have any impact on new plant projects.
With respect to existing plants, there are several plant life extension applications before the NRC. In theory, there are many such applications that would be affected by the two-year licensing freeze. However, plants are allowed to keep operating while life extension applications are in NRC review (and would only be required to shut down in the event of a formal rejection of a life extension application by the NRC). Thus, the freeze in final licensing decisions will not result in any plant shutdowns, or any other impacts on such plants.
For the above reasons, the two-year freeze in final licensing decisions by the NRC is not expected to have any impact on the industry. The only potential impact will come ~two years from now, after the completion of the revised EIS and Waste Confidence ruling, in the form of additional requirements related to used fuel storage.
My perspective
As I discussed in my earlier post, I find the court's characterization of stored used nuclear fuel as a significant public health and environmental risk to be absurd, given the perfect, several-decade record of (dry and wet) fuel storage, and the lack of potential impact from dry fuel storage casks under any scenario. Unlike, say, fossil-fueled power generation, stored nuclear fuel has never had any impact at all on public health or the environment, and almost certainly never will.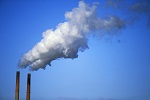 As for the environmental impact analysis, I can sum it up in one sentence: "The public health risk and environmental impact from extended storage of used nuclear fuel is negligible compared to the impacts of the fossil-fueled power generation that would be otherwise used, in place of nuclear generation that was shut down or never built due to lack of 'confidence' in used fuel storage."
I'm still waiting on a similar "waste confidence" evaluation for fossil-fueled plants, or a plan to capture, contain, and store all of their wastes/pollutants, for as long as they remain hazardous. How can our society get it so backwards in terms of which energy sources have a serious, intractable "waste problem", and which source is the only one with a valid, acceptable long-term plan?
I work in the dry storage area, and I know that the maximum potential release from a dry storage cask that could result from any form or system degradation, any type of accident, or (even) any potential terrorist attack, would not have significant off-site consequences (certainly nothing that would approach even the daily impact from U.S. fossil-fueled generation).
We have already started detailed evaluations of the issues related to very long term dry fuel storage. Currently, opinion is that no significant degradation of the fuel assemblies is expected to occur, even over 100 years or more of dry storage. As the fuel decays, temperatures inside the cask will decrease (as will radiation levels). This reduces the driving force behind many potential fuel assembly degradation mechanisms. The metal components of dry storage systems, including the canisters that contain the assemblies, are expected to hold up well (and already have, over decades of storage). Whether the concrete vaults/silos (storage casks) that the canisters are placed in will be able to hold up over the very long term is somewhat less clear. That would be a problem that is easily solved, however, as the inner canister could simply be extracted and placed within a new concrete container.
Based on my dry storage experience, it seems to me that, along with (possibly) requiring some spent fuel pool upgrades, all the NRC should have to do to adequately resolve the court's concerns is require some additional monitoring of dry storage casks, along with (perhaps) some additional money to be set aside by utilities to cover any potential issues that may occur down the road (including the possibility of some repackaging, decades from now).
One thing that should be obvious is that storage of used nuclear fuel is "acceptable", even if it is assumed to remain on the nuclear plant site indefinitely, since any public health risks and environmental impacts are negligible compared to those associated with fossil-fueled power generation (gas as well as coal).
______________________________
Jim Hopf is a senior nuclear engineer with more than 20 years of experience in shielding and criticality analysis and design for spent fuel dry storage and transportation systems. He has been involved in nuclear advocacy for 10+ years, and is a member of the ANS Public Information Committee. He is a regular contributor to the ANS Nuclear Cafe.