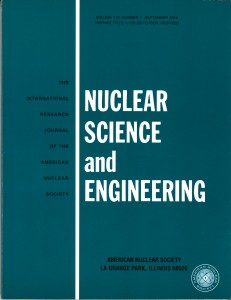 The August 2012 edition of the technical journal Nuclear Science and Engineering (NSE) is available electronically and in hard copy for American Nuclear Society member subscribers and others.
NSE is the international research journal of ANS and is edited by Dr. Dan G. Cacuci.
The August issue contains the following peer-reviewed articles:
Best-Estimate Predictions and Model Calibration for Reactor Thermal Hydraulics, by Madalina C. Badea, Dan C. Cacuci, and Aurelian F. Badea

Fission Neutron Spectrum Sensitivity Study for the Case of Advanced Heavy Water Reactor, by Anek Kumar and S. Ganesan

A Robust Arbitrary High-Order Transport Method of the Characteristic Type for Unstructured Grids, by Rodolfo M. Ferrer and Yousry Y. Azmy

Nonlinear Acceleration of Transport Criticality Problems, by H. Park, D.A. Knoll, and C.K. Newman

Generation of Few-Group Diffusion Theory Constants by Monte Carlo Code McCARD, by Ho Jin Park, Hyung Jin Shim, Han Gyu Joo, and Chang Hyo Kim

Simulation of Neutron Pulse Height Distributions with a

Response Matrix Method, by S. Prasad, S. D. Clarke, S. A. Pozzi, and E. W. Larsen

Neutron Interactions with 3He Revisited-I: Elastic Scattering Around and Beyond 10 MeV, by M. Drosg, R. Avalos Ortiz, and P. W. Lisowski

Theoretical Calculations and Analysis of n + 27Al Reaction, by Yinlu Han, Yongli Xu, Haiying Liang, Hairui Guo,

Chonghai Cai, and Qingbiao Shen
The August issue of NSE also contains the following technical note:
Measurements of the 71Ga(n,γ)72m+gGa Cross Section

in the Neutron Energy Range of 13.5 to 14.8 MeV, by Junhua Luo, Rong Liu, and Li Jiang
ANS journals are available for purchase by edition or by article. Please click here to go to the online journals page. A menu of ANS's publications is available online by clicking here.
_________________________________________