ANS Social Media Meet Up November 1 at ANS Winter Conference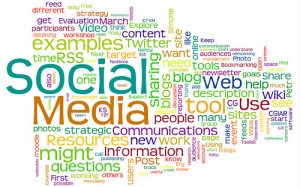 A meet-up of people attending the ANS Winter Meeting in Washington, DC, interested in the use of social media in the nuclear industry will be held Tuesday, November 1, from 6:30-8:30 PM in the Congressional "A" meeting room at the Omni Shoreham hotel. This is the conference hotel for the ANS meeting. (Google Map) (Red Line: Woodley Park-Zoo)
The ANS Public Information Committee is the official host of the social media meet up. There is no registration or cost to attend the social media meeting, which takes place after hours of the regular ANS conference sessions. Food and beverages will be available.
Sponsors
This conference social media meeting is made possible by the generous support of our sponsors:
AREVA North America

Nuclear Energy Institute
This will be the fourth time such a meeting has been held. Prior meetings have been at ANS meetings in Hollywood, Fla. (June 2011), Las Vegas, Nev. (November 2010), and in Washington, DC, (November 2009).
Meeting agenda
The agenda for the meeting on November 1 starts at 6:30 PM. There will be additional time at the end of the agenda for personal interchange with meeting participants.
6:30 PM  ~ Meet & Greet with drinks & light refreshments
7:00 PM ~ Call to Order
Welcome - Laura Scheele, ANS

Introduction of Sponsors - Dan Yurman

NEI Welcome - Eric McErlain

AREVA Welcome - Jarret Adams
7:15 PM ~ AREVA: Presentation on a new social media application for smart phones to improve communication and productivity
7:45 PM ~ Q&A
8:00 PM ~ Facilitated round table discussion - Dan Yurman
8:30 PM ~ Informal small group or one-on-one discussions
Conference sessions on communications
Note that there are two sessions on communications, advocacy, and social media taking place on Monday afternoon, October 31. There will be an additional session on government relations on Wednesday afternoon. See the ANS conference program for details. You must be registered for the conference to attend these panels.
Please share this message with your friends and colleagues or post it on your blog.
Contacts
· AREVA
Jarret Adams
Media Relations
Tel: 301-841-1695
Email: jarret.adams@AREVA.com
Blog: AREVA North America: Next Energy Blog
http://us.AREVAblog.com/
· Nuclear Energy Institute
Steve Kerekes
Media Relations
Nuclear Energy Institute
Tel: 202-739-8073
Email: sck@nei.org
Blog: NEI Nuclear Notes
http://neinuclearnotes.blogspot.com/
· American Nuclear Society
Laura Scheele
Manager, Communications & Policy
American Nuclear Society
Tel: 708-579-8224
Email: lschele@ans.org
Blog: ANS Nuclear Cafe
Dan Yurman
Consultant
Cell: 208-521-5726
Email: djysrv@gmail.com
Blog: Idaho Samizdat
# # #