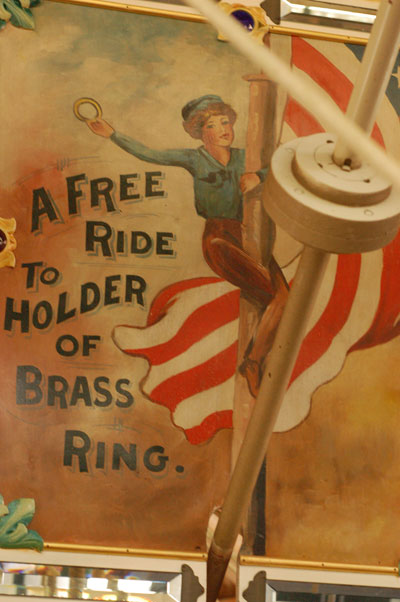 A roundup of interesting news from a growing group
Note to readers - this summary of nuclear blogs provides readers with pointers to interesting dialog on nuclear energy. As is always the case with a 'Carnival' blog post, the views of each blogger are their own and not those of the hosting site.
Blue Ribbon Commission gets updated on reactor technologies
Brian Wang reports from Next Big Future that information on the General Atomic EM2 reactor was presented at the Blue Ribbon Commission meeting held in late August.  Nuclear and defense supplier General Atomics announced in February, 2010 that they would launch a 12-year ($1.7 billion) program to develop a new kind of small, commercial nuclear reactor in the U.S. that could run on spent fuel from big reactors.
Wang writes that NuScale, which is developing a 45 MW light water reactor, also gave a presentation to the BRC.  The company's initial pre-application review meeting was held with the Nuclear Regulatory Commission on July 2008.  NuScale anticipates filing design certification application in 2012. NuScale forecasts the first plant can be online producing electricity from 2018.  NuScale's reactor will be factory built.  The entire reactor will be prefabricated and shipped by rail, truck or barge.  It will weigh about 300 tons for each module for 60 foot long and 14 foot in diameter cylinder
Areva's North America: Next Energy Blog, has information on the presentation made by senior executive Alan Hanson to the Blue Ribbon Comission.  Hanson told the members of a Blue Ribbon Commission subcommittee. "Commercial recycling of used nuclear fuel has a long, successful, safe and secure history. AREVA has successfully and profitably operated and supported commercial recycling facilities for more than four decades."  [full text]
Kirk Sorensen, who blogs at Energy from Thorium, also had a chance to speak to the BRC.  He told them thorium's performance means that it is possible to build a reactor that, once started on fissile material, requires no additional fissile input and runs only on thorium. This has profound consequences for our energy future.
No shills for nuclear energy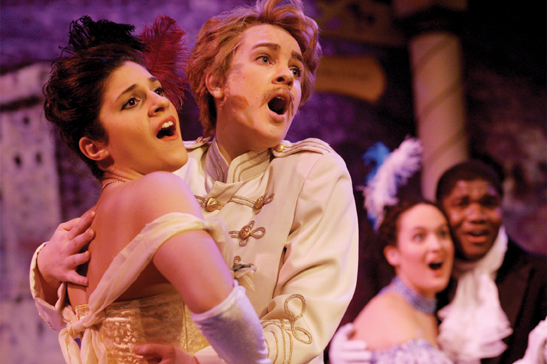 Charles Barton weighs in at NuclearGreen with a look at claims that nuclear energy bloggers are "shills" for the industry. For those not up on early 20th century idiom, a shill was someone hired by an aspiring opera singer to stand in the galleries and yell "bravo" at the end of a solo piece, or duet, to motivate audience applause and favorable write-ups in newspaper music reviews.  Barton, who is an opera fan, does not take the insult lightly.
"Pro-Nuclear Bloggers get accused of being shills of the nuclear industry all the time. This is utter nonsense, since my colleagues are a very honest and intelligent bunch of people, who have thought energy issues through on their own. the same, unfortunately cannot be said of most supporters of the so called renewable energy sources and critics of nuclear power."
At Canadian Energy Issues Stephen Aplin writes anti-nuclear activists try to pass natural gas off as clean and nuclear as dirty. The truth is exactly the opposite. In this post, Aplin compares anti-nuclear propaganda to food canning industry practices in the early 20th Century.
Tragically, Aplin's comments are mirrored in California this morning (Sept 10) as a giant gas pipeline explosion has resulted in death and destruction in the San Francisco Bay area town of San Bruno.  According to an early report in the San Francisco Chronicle, 53 homes have been destroyed, another 120 damaged, with one person confirmed dead and 28 others injured.  Officials tell CNN the death toll will likely be higher.  The town of  San Bruno is located just west of the San Franciso airport along highway 101. The cause of the explosion will not be known until the fires are put out and investigators can inspect the pipeline.
Rod Adams updates us at Atomic Insights that the upscale magazine The New Yorker has a fascinating article in uranium mining.  Adams says author Peter Hessler has published a valuable piece of journalism titled "The Uranium Widows" in the September 13, 2010 issue that demonstrates the importance of a questioning attitude and penetrating research skills.
At Nuclear Town Hall, the blogger team there of Steve Hedges and William Tucker ask how anyone can believe Germany's delusional claim that it will get 100% of its energy from renewable sources by 2050?  They cite an example of some who have bought into it.
Will the Integral Fast Reactor rise again?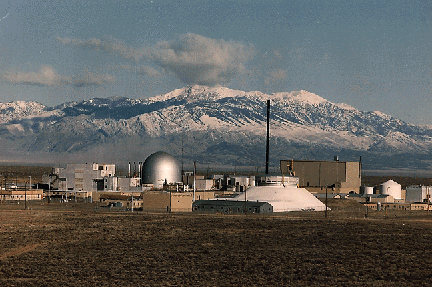 Also, Nuclear Town Hall has a long and interesting interview with Tom Blees about the future potential of the Integral Fast Reactor (IFR).  The IFR, a sodium-cooled fast reactor, was developed at Argonne West in Idaho but was shut down by the Clinton Administration in the 1990s. There are several efforts to revive the design and make it a commercially viable reactor.
Barry Brook at Brave New Climate steps through the reasons fast reactors are easy to control citing the IFR as an example.  He says pressurized water reactor specialists are always surprised how easy it is to run a fast reactor: no pressure, no neutron poisons like boron, no xenon effect, no compensatory movements of the rods, etc.
Islands of energy agencies, real islands, and Italian energy
Meredith Angwin at Yes Vermont Yankee reveals that the operators of the electricity transmissions and distribution grid in Vermont have discovered they need the 600 or so megawatts from the Vermont Yankee nuclear reactor to keep it stable.
Vermont Yankee's operating license and state permits expire in 2012, and so the plant tried to bow out of the forward auction for 2013 electricity.  The ISO utility group wouldn't let it leave the auction.  At Yes Vermont Yankee Angwin explains why Vermont Yankee had to stay in.
Margaret Harding writes on her the 4 Factor Consulting blog, "I'm starting a series on the alphabet soup of organizations in nuclear. First up, government agencies. These posts are mostly educational posts intended for relinking for more detail on specific agencies in later posts, but useful for everyone."  She invites readers to submit ideas for future blog posts.
Got a government agency name acronymn you want explained? Send it to Margaret at her blog.  Just for the record, there is no Department of Planet Earth despite what some critics of environmental agencies like to say.
At the PowerTrends blog Nathan Temple takes a look at how is Hawaii is using energy.  It is a look at current energy demands and capacity. including how renewable energy factors into the islands' future.  No nukes there, but interesting numbers tell a story just the same.
Gail Marcus has an appreciation and  remembrance at Nuke Power Talk of Jim Ramey, He served on the Atomic Energy Commission for more than a decade, from 1962 to 1973, during a period when nuclear power enjoyed great popularity and there were many plans for new plants.
No summary of blogging on nuclear energy would be complete without a contribution from the continuing excellent efforts of NEI's Nuclear Notes blog.   This week the news is an international study argues strongly for the introduction of nuclear energy in Italy, saying the country can diminish its dependency on foreign nations and cut carbon emissions.
ANS Nuclear Cafe launched September 1st
The new blog of the American Nuclear Society, ANS Nuclear Cafe, launched this week.  You're reading this post on it.  ANS President Joe Colvin wrote the welcome message.
Dan Yurman from Idaho Samizdat is posting there twice a month. In his first contribution he writes that South Korea's drive for reprocessing gets US attention. Seoul wants to know why it is treated differently than India
The U.S. is wary of making the change because it believes a future South Korean government might want to build a nuclear weapons deterrent against its hostile neighbor to the north. Instead, U.S. negotiators have offered the idea of having South Korea's spent fuel reprocessed by Japan or France, which already do this kind of work. South Korea is officially annoyed and plans to push back in negotiation which will kick off in October a month ahead of the G20 meeting scheduled to take place in Seoul Nov 11-12.
Pop Atomic Studies ~ Image of the Week ~ Bellefonte rising
This image courtesy of PopAtomic Studios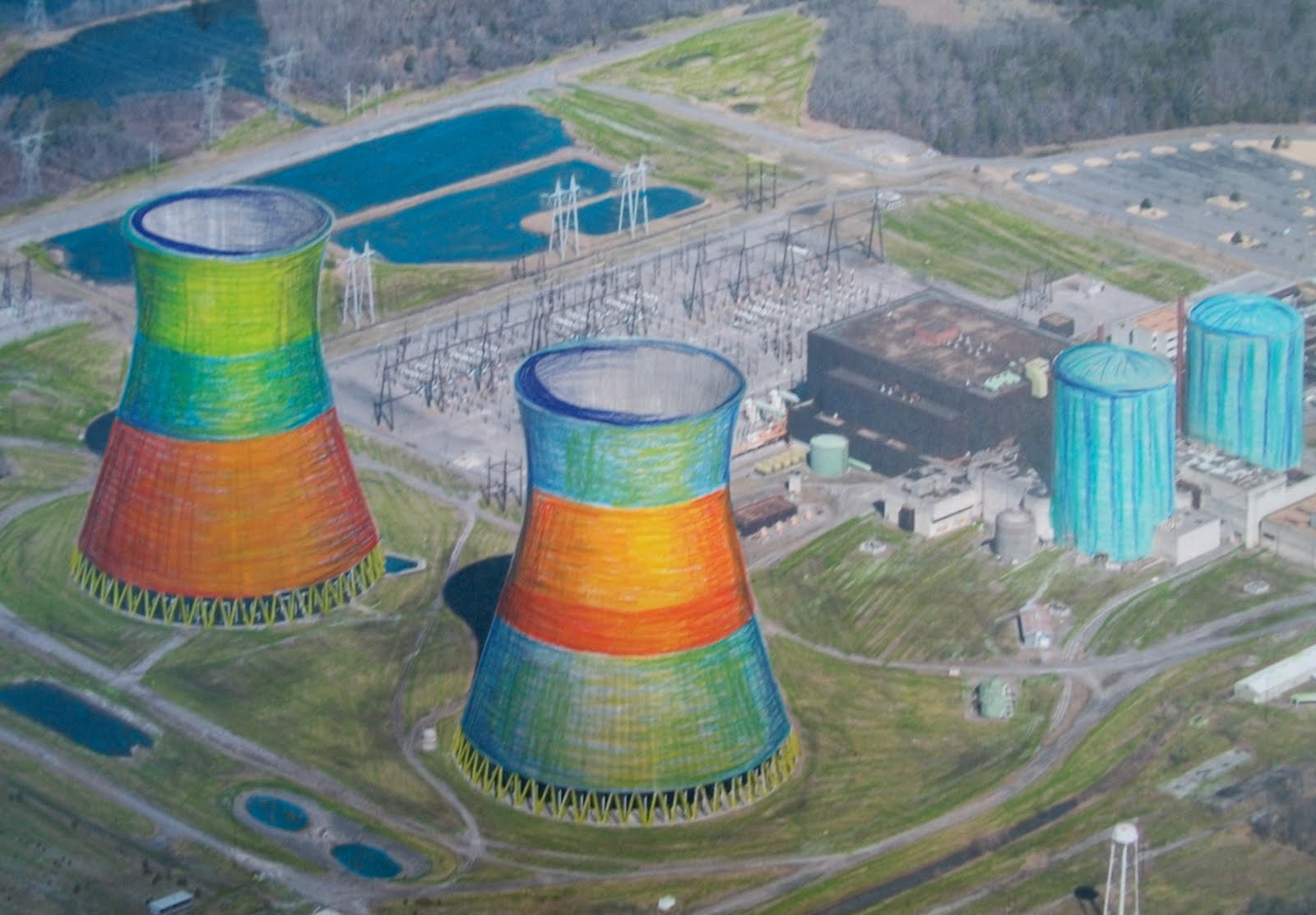 # # #