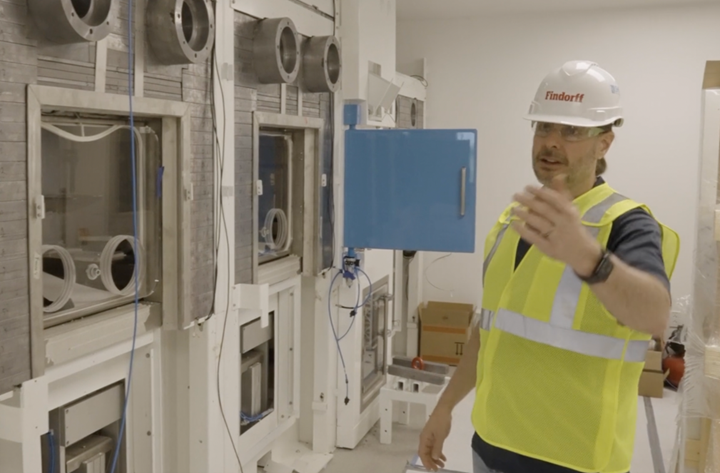 Fusion tech company SHINE Technologies announced that it is opening the largest facility in North America dedicated to the production of non-carrier-added lutetium-177, a medical isotope used in targeted cancer therapies.
According to SHINE, the new facility, which will operate at the company's headquarters in Janesville, Wis., is expected to have an initial production capacity of 100,000 doses of Lu-177 per year, with the ability to further expand production capacity to 200,000 doses per year in the future.
SHINE has been producing small quantities of Lu-177 at its Janesville pilot plant and is currently producing its own ytterbium-176—the raw material needed to produce Lu-177. Historically, Yb-176 has been sourced solely from Russia.
SHINE made its first commercial sales of Lu-177 in 2020 and submitted its first drug master file with the U.S. Food and Drug Administration in 2022.
The schedule: Installation of equipment in the new production facility is ongoing and slated to be finished in July. Following the completion of licensing and validation runs, SHINE expects to have product available for commercial use from its new facility in late 2023.
Additionally, SHINE has started the design and licensing processes for a dedicated therapeutic medical isotope production facility in Europe. The company expects it to have a similar production capacity to the U.S. facility.
A video highlighting the need for Lu-177 and SHINE's Janesville production facility can be seen here.
Vertical integration: SHINE said it plans to become the first vertically integrated supplier of Lu-177 in the world. Along with producing its own Yb-176, the company plans to use its fusion-driven medical isotope production facility, the Chrysalis, as its irradiation source to produce Lu-177. The Nuclear Regulatory Commission issued its final safety evaluation report related to the operating license application for that facility earlier this year.
According to SHINE, there are currently two Lu-177-based radiotherapies that have been commercially approved for cancer treatment, and the market is expected to continue its rapid growth with advancements across new therapies and indications in clinical trials.