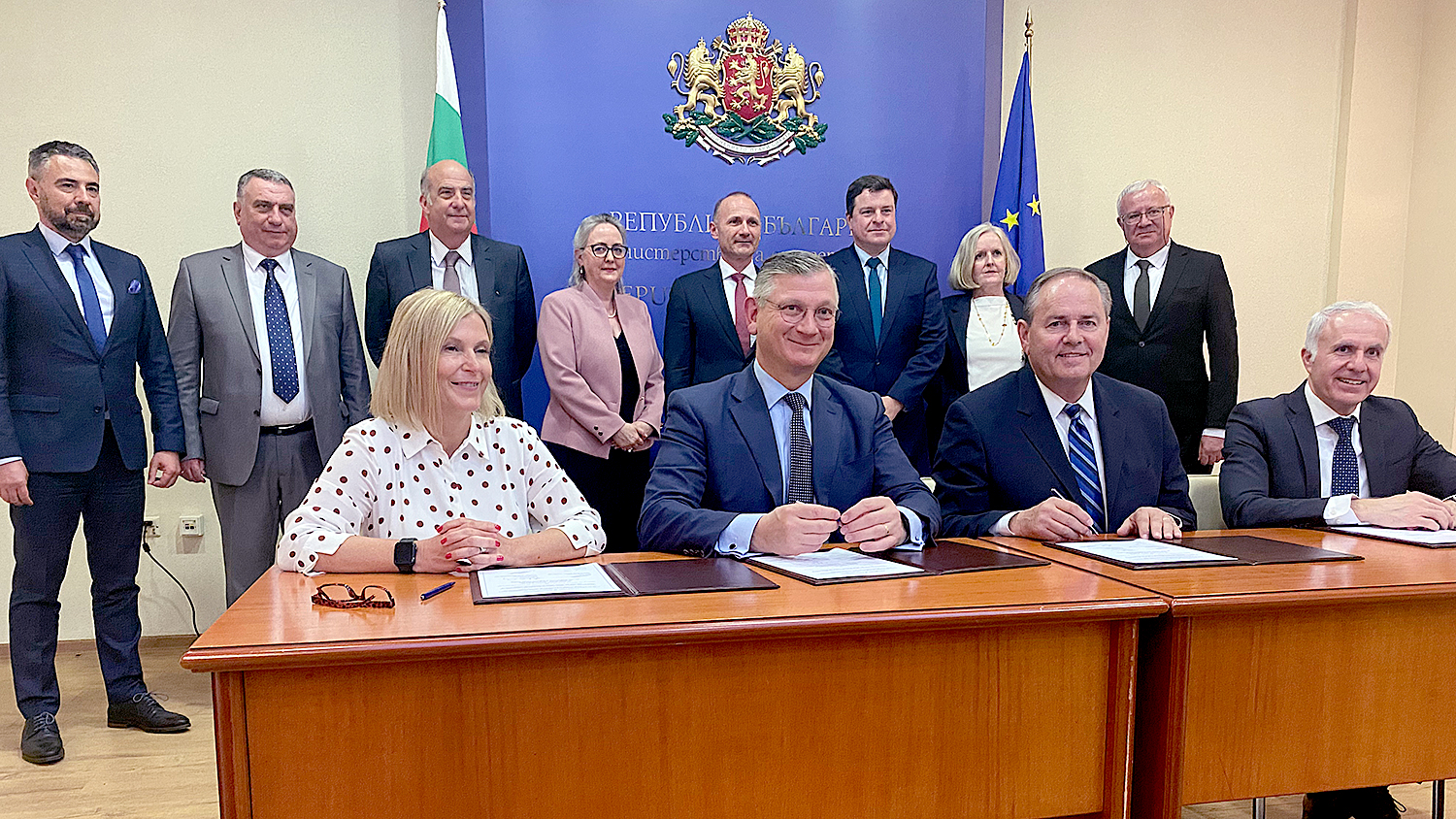 Canada's Cameco and U.K.-based Urenco last week jointly announced the signing of agreements to become part of a Westinghouse-led fuel supply chain for Bulgaria's Kozloduy nuclear power plant. (Also included in the partnership is Uranium Asset Management.)
Cameco said it has inked a supply contract to provide sufficient volumes of natural uranium hexafluoride, or UF6 (consisting of uranium and conversion services), to meet the full requirements of the Kozloduy Unit 5 reactor.
The agreement, running through 2033, will see Cameco deliver a total of approximately 2.2 million kg U as UF6 (the equivalent of about 5.7 million pounds of uranium concentrate as U3O8) to Urenco's European enrichment facilities in the United Kingdom, the Netherlands, and Germany.
Urenco said its long-term agreement calls for supplying enriched uranium product for fabrication into nuclear fuel rods by Westinghouse at the latter firm's fabrication site in Sweden.
What they're saying: "This is Cameco's first agreement to supply fuel for Bulgaria's nuclear energy sector," said Tim Gitzel, the company's president and chief executive officer. "We are very pleased to add another market to Cameco's global commercial portfolio and to expand our contributions to countries like Bulgaria that are seeking to enhance their energy security while affirming their commitment to carbon-free nuclear power in achieving their climate goals."
Urenco's CEO, Boris Schucht, added, "Urenco is ready to support countries seeking to increase their energy security and independence, and I am pleased to welcome Kozloduy as our newest customer. We are fully equipped to provide Bulgaria with a reliable nuclear fuel supply—alongside our partner organizations. We are looking forward to a very trustful and long-term partnership."
Among those in attendance at the signing ceremony in Sofia were the ambassadors to Bulgaria from Canada, the United States, the United Kingdom, and Sweden. Said U.K. ambassador Rob Dixon: "Today's announcement is a crucial step forward in securing Bulgaria's long-term energy security. The invasion of Ukraine and subsequent threat to the supply of energy in Europe makes this more important than ever. I am very proud to have supported Urenco over the years in reaching this deal."
Background: Located in the northern part of the country, near the Danube river, Kozloduy is Bulgaria's only nuclear power plant, housing two operating reactors—Units 5 and 6—both 1,003-MWe, Russian-designed VVER-1000/V320s. (Units 1–4, older VVER-440s, were retired earlier this century: Units 1 and 2 in 2004 and Units 3 and 4 in 2006.) Kozloduy-5 and -6 supply approximately one-third of Bulgaria's electricity.
Last December, Westinghouse and Framatome signed agreements with Kozloduy NPP, the plant's operator, to fabricate and deliver fuel for Units 5 and 6. Westinghouse is to provide the fuel for Unit 5, and Framatome is to supply Unit 6. First deliveries of fuel are expected in 2024 and 2025, respectively.
The two agreements, according to the Bulgarian News Agency, "are part of an effort to diversify energy supplies to Bulgaria and do away with the country's dependence on Russian energy resources." In November 2022, the Bulgarian National Assembly approved 156–47 a resolution tasking the country's Council of Ministers with licensing non-Russian nuclear fuel for Kozloduy.
Currently, Kozloduy NPP receives fuel for the reactors from TVEL—a division of Rosatom, Russia's state-owned atomic energy corporation—under a 2019 agreement set to expire at the end of 2024.