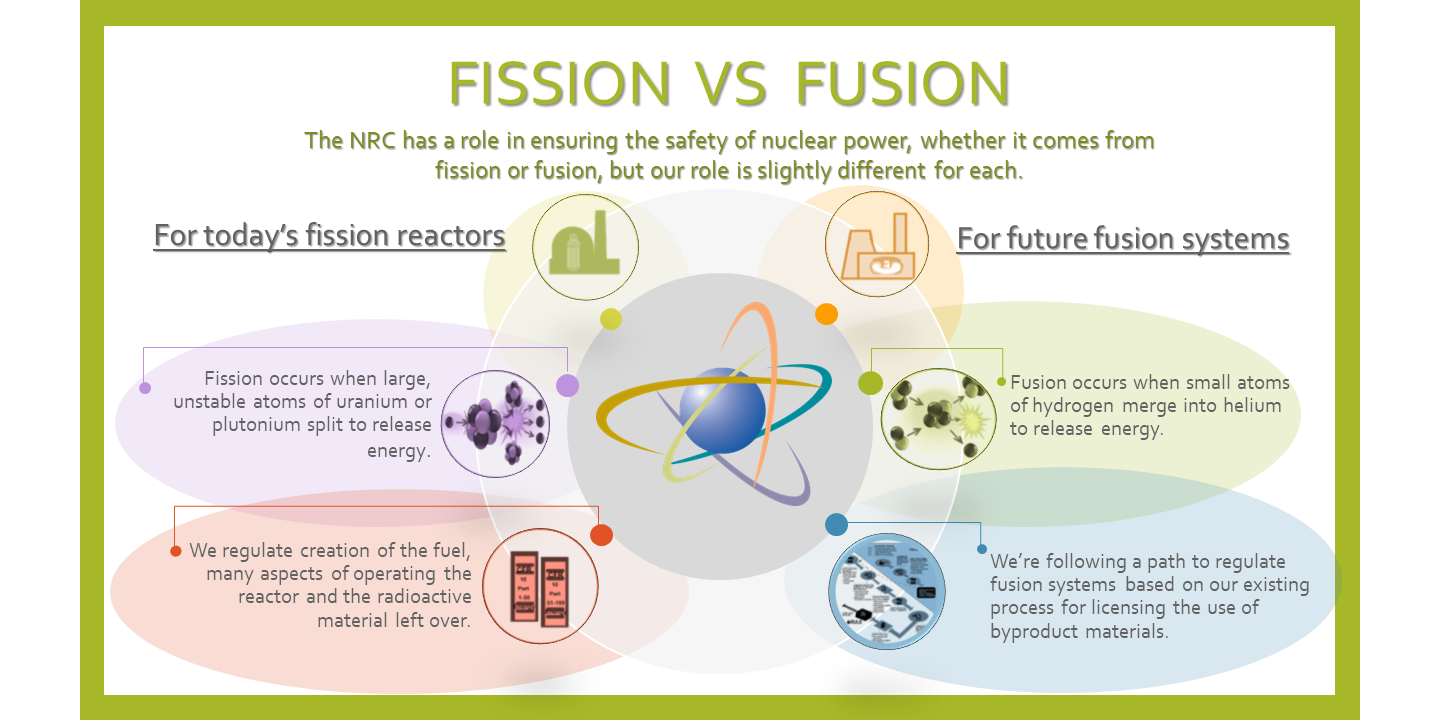 The Nuclear Regulatory Commission announced on April 14 that it will regulate fusion energy systems using a framework based on the agency's 10 CFR Part 30 process for licensing byproduct material facilities—such as particle accelerators—rather than 10 CFR Parts 50 and 52, which are used to license utilization facilities like fission power reactors. The commission's decision means that future fusion energy facilities could be regulated by Agreement States acting with guidance from the NRC.
"Dozens of companies are developing pilot-scale commercial fusion designs, and while the technology's precise future in the United States is uncertain, the agency should provide as much regulatory certainty as possible given what we know today," said NRC chair Christopher T. Hanson. "Licensing near-term fusion energy systems under a byproduct material framework will protect public health and safety with a technology-neutral, scalable, regulatory approach."
Staff recommendations: The NRC was directed in 2019 by the Nuclear Energy Innovation and Modernization Act to develop a regulatory framework for fusion energy systems by 2027. After collecting information and feedback from fusion energy developers and other stakeholders over two years of public meetings, NRC staff issued SECY-23-0001, "Options for Licensing and Regulating Fusion Energy Systems," on January 3 for the commissioners' review and vote.
The staff's paper outlines three options for regulating a range of fusion energy systems that could be designed with magnetic, inertial, or magento-inertial confinement concepts: Option 1, a utilization facility approach; Option 2, a byproduct material approach; and Option 3, a hybrid approach that would introduce decision criteria to license and regulate fusion energy systems using either a byproduct material or utilization facility approach, based on potential hazards. The staff recommended Option 3, as did the Advisory Committee on Reactor Safeguards in an October 21 letter report.
Voting not to kick the can down the road: The five NRC commissioners voted unanimously to approve Option 2, the byproduct material approach, and to reject the staff's recommended two-phase approach in Option 3.
The first phase of the Option 3 approach—now rejected by the commissioners—would have included staff development of a set of decision criteria to determine whether a future fusion energy system should be classed as a utilization facility as part of a limited-scope rulemaking. The second phase would have involved a rulemaking to establish requirements for any fusion energy systems categorized as utilization facilities under the decision criteria, but that second phase would be "deferred until developers provide detailed information describing the anticipated design and deployment of new fusion energy systems with greater risk profiles or common defense and security concerns than currently contemplated fusion facilities for potential future designs deemed not applicable to the byproduct material approach."
Note to staff: The NRC staff must now begin a limited revision to materials licensing regulations as described in Option 2.
An April 13 staff memorandum addressed to Daniel H. Dorman, the NRC's executive director for operations, notes that "under the limited-scope rulemaking approved under Option 2, the staff should take into account the existence of fusion systems that already have been licensed and are being regulated by the Agreement States, as well as those that may be licensed prior to the completion of the rulemaking. The staff should develop a new volume of NUREG-1556, "Consolidated Guidance About Materials Licenses," dedicated to fusion energy systems, so as to provide consistent guidance across the National Materials Program. The staff should evaluate whether controls-by-design approaches, export controls, or other controls are necessary for near-term fusion energy systems."
The commissioners acknowledged that while near-term fusion energy systems can be regulated under 10 CFR Part 30, Rules of General Applicability to Domestic Licensing of Byproduct Material, future fusion energy concepts could pose additional regulatory challenges. The staff memo states that "if in the future, the staff, in consultation with the Agreement States, determines that an anticipated fusion design presents hazards sufficiently beyond those of near-term fusion technologies, the staff should notify the Commission and make recommendations for taking appropriate action as needed."
In their words: The commissioners offered individual comments accompanying their votes on SECY-23-0001:, the commissioners said, in part: