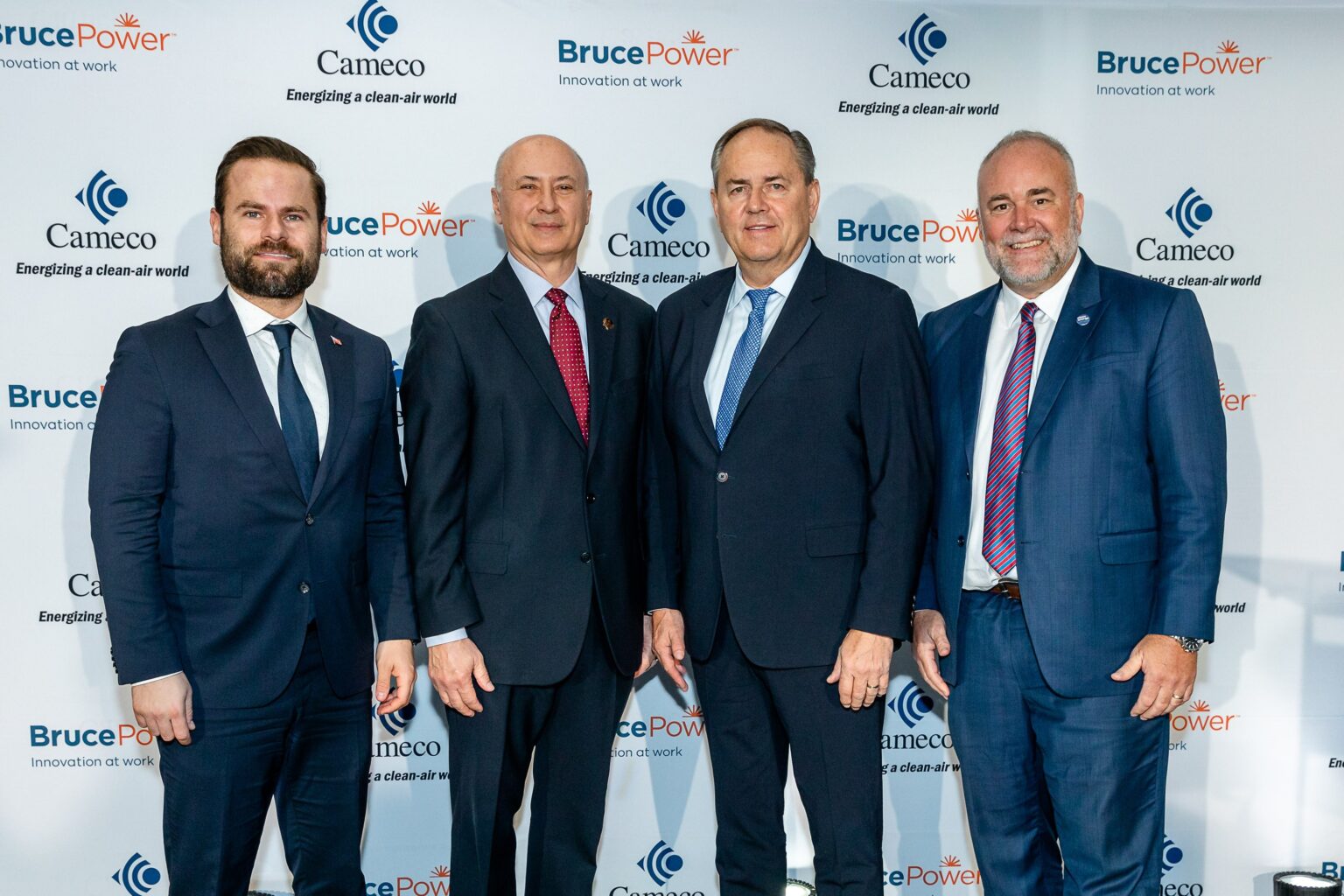 Canadian firms Cameco and Bruce Power have announced a 10-year extension of their long-term exclusive nuclear fuel supply arrangements, securing power generation from the eight-unit 6,507-MWe Bruce nuclear plant through 2040.
The new deal, announced on April 4, extends arrangements between the companies announced in 2017 and includes provisions for Cameco to supply 100 percent of Bruce Power's uranium, conversion services, and fuel fabrication requirements. According to the announcement, the extension represents an estimated C$2.8 billion (about $2.1 billion) in additional business between the companies from 2031 to 2040. The volumes under these new arrangements were included in the long-term contracting volumes disclosed by Cameco in February 2022, the announcement added.
C-suite statements: "These arrangements signify a long-term commitment to fueling a clean-air Ontario along with the stability of hundreds of high-value jobs in Saskatchewan and Ontario," said Tim Gitzel, president and chief executive officer of Cameco. "It's always a good day when we celebrate a made-in-Canada success story. As we witness increasing global geopolitical uncertainty and the subsequent instability in the global energy market, this extension shows the importance of securing Canada's energy needs through Canadian partnerships."
Mike Rencheck, Bruce Power's president and CEO, commented, "Ontario's nuclear industry continues to be a world leader in the fight against climate change, while supporting tens of thousands of jobs and injecting billions of dollars into the Canadian economy. Cameco is an important partner, and these arrangements signal long-term stability from Canadian-made energy, enabling us to continue to supply carbon-free electricity to one in three homes, businesses, and hospitals in Ontario and medical isotopes used in cancer treatments around the world."
Meanwhile: Just one day prior to the news of its fuel supply extension agreement with Cameco, Bruce Power announced the completion of Bruce-3 defueling, 18 days ahead of schedule. The unit's defueling is part of Bruce Power's major component replacement (MCR) project, which began in 2020 and is focused on the replacement of key reactor components in Units 3–8, including steam generators, pressure tubes, calandria tubes, and feeder tubes. (The MCR project itself is part of the company's larger life extension program, involving the gradual replacement of older systems in the Bruce units during regularly scheduled maintenance outages.)
The 27-day defuel program, which saw 5,748 fuel bundles removed from Unit 3's reactor core, was completed 31 days faster than the same program on the Unit 6 MCR, according to the announcement. Process improvements and lessons learned from Unit 6, the company said, enabled innovations that enhanced performance efficiencies.
"This remarkable achievement has been realized primarily due to the extraordinary planning and innovation put into place in Unit 3," Rencheck declared. "Learning lessons during Unit 6's MCR, leveraging the ideas and experiences of staff, and investing in innovative tooling has allowed us to find efficiencies, and this builds on the successful momentum of our life extension program overall."