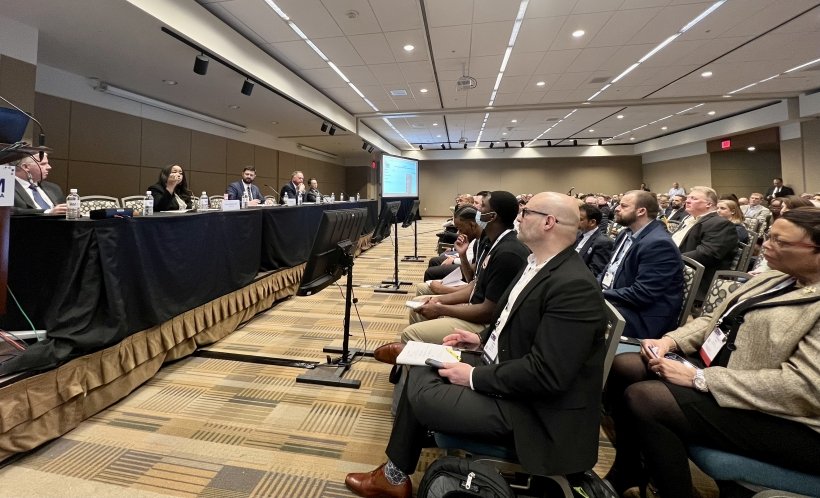 The Department of Energy's Office of Environmental Management (EM) has made great progress in accomplishing its cleanup of legacy radioactive waste but has yet to tackle its most challenging tasks, including the treatment of liquid tank waste at the Hanford, Idaho, and Savannah River sites. That was the consensus of the DOE-EM officials who took part in a panel session of the 2023 Waste Management Symposia, held February 26–March 2 in Phoenix, Ariz.
The session, "Hot Topics in the U.S. DOE Environmental Management," is held every year during the conference and brings together DOE-EM leaders to talk about pressing issues within the office and around the DOE cleanup complex. This year, Martin Schneider of Longenecker & Associates, the session's cochair and moderator, asked panel members what challenges they see on the horizon for the office.
Jeffrey Avery, who last year joined DOE-EM as principal deputy assistant secretary, said that while the office has done a lot to address its most pressing environmental risks, there remains a lot of challenging work ahead that will be both costly and time consuming. "It is pretty daunting and when you think about it," he said. "But I think that the program has done a good job acknowledging [the challenge] and, over the last several years, starting to lay the groundwork for a strategic vision framework to address that challenge." Avery added that he sees DOE-EM's ability to build strong alignment with external partners and regulators as extremely important to meeting those challenges.
Nicole Nelson-Jean, DOE-EM associate principal deputy assistant secretary for field operations, followed Avery by highlighting the office's work moving from the construction of tank waste treatment facilities to 24/7 operations. Nelson-Jean said she sees many of DOE-EM's challenges as opportunities, including the workforce challenges that were discussed by the DOE's Jennifer Granholm and William "Ike" White during the conference plenary. "We have about 200-plus vacancies currently within our workforce," she noted. "But that is an opportunity to bring in new talent, to train, make careers, and build a real diverse workforce within EM across the board."
Randall Hendrickson, DOE-EM acting associate principal deputy for regulatory and policy affairs, likewise said workforce recruitment is important to the office in meeting its mission. Hendrickson added that as part of its relationship with DOE site communities, EM can better tap into those communities to attract local skilled workers.
Hendrickson touted the accomplishments of DOE-EM, particularly the work it has done over the past few years, but warned against complacency, saying the office cannot rest on its laurels. One recent DOE innovation that will help progress the cleanup mission is the formation of the Regulatory Center of Excellence at the Savannah River National Laboratory, Hendrickson said. "I don't think we understand the power of that tool and what it is going to bring to the table for all of us," he said of the center, which was established in May 2022 to provide innovative strategies that address challenges at DOE sites. "We have to make sure people understand it is there and what it can do for you, and don't feel [shy ] about calling to try to get help," he added.
Dae Chung, DOE-EM associate principal deputy assistant secretary for corporate services, said the office is hiring, noting that he has committed to increasing the on-board count by 10 percent this year. Chung also said that as DOE-EM begins implementing its latest 10-year program plan at its sites, it is reestablishing its mission life cycle baseline with "more realistic and affordable budget profiles."
DOE-EM continues to see improvements as some of its longer-term baselines are implemented, Chung noted, adding that the office is also beginning to see results from its end-state contracting model that was begun in 2018. "We have been able to see much more alignment in terms of not just meeting our short-term goals or objectives but pursuing those goals and objectives in the terms of what can be done now and in the future," he said.
Regarding EM's treatment of radioactive tank waste, Nelson-Jean said that many of the lessons learned at Savannah River and other sites can be applied to the Hanford Site, adding that EM is continually looking for ways to save money, shorten timelines, and improve processes. "This was a good year for us to focus on our takeaway activities and really understand the broad spectrum of where we are within our tank waste mission," she said.
Savannah River: The panel also discussed the planned transition of authority for the Savannah River Site in South Carolina from DOE-EM to the National Nuclear Security Administration, which was announced in October 2022. Hendrickson, who is leading the transition effort, said EM is taking a disciplined approach to the process, which involves a number of interconnected facets, including site services and infrastructure, contracts, and formal agreements.
"Everybody wants to talk about people and money right off the bat, and those are extremely important, but they usually are not the first thing that you should talk about in a disciplined process," Hendrickson said. "What functions and responsibilities go from EM to NNSA, and by natural progression, then what people and money follow those functions and responsibilities."
While Hendrickson noted that many people are working to make a smooth transition, which is expected to take place in fiscal year 2025, he said that any difficulties encountered during the process will be resolved. "If we don't get something quite right, then we will figure out an alternative path and make a recommendation, because if you don't make a decision, indecision is a decision itself, and we are not going to do that," he said.
Nelson-Jean pointed out that DOE-EM and the NNSA have already been jointly operating at Savannah River for decades, which will help facilitate the transition process. "Our mission success and ensuring the mission continues, on both sides, is intimately important to everyone that is on the site working on this transition," she said.
One of the biggest concerns Nelson-Jean said she has heard about the transition regards the Savannah River National Laboratory and who will have responsibility for the lab. "Savannah River National Laboratory is an EM laboratory and will continue to be an EM laboratory," she said. It was noted by Hendrickson that SRNL will operate under a separate contract from overall Savannah River management and operations.