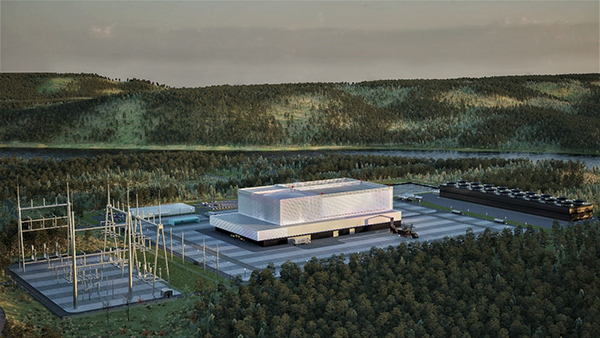 GE Hitachi Nuclear Energy's (GEH's) BWRX-300 technology has completed phases 1 and 2 of the Canadian Nuclear Safety Commission's vendor design review (VDR) process, the Wilmington, N.C.–based company announced yesterday.
"The BWRX-300 is the first SMR technology to have completed two phases of the CNSC's VDR process," said GEH executive vice president for advanced nuclear Sean Sexstone. "The successful completion of these phases and the feedback that we have received on our SMR design are important steps in the deployment of this technology."
The review: In December 2019, the CNSC entered into an agreement with GEH to conduct a VDR combining phases 1 and 2 for the BWRX-300. The following year, the company submitted its first documents to the agency.
According to a CNSC executive summary, the BWRX-300 review was based on information provided by GEH in more than 200 documents, as well as on technical presentations, a design process evaluation, and written responses to commission questions across 19 focus areas. From this information, CNSC staff concluded that GEH understands and has correctly interpreted the intent of regulatory requirements for the design of nuclear power plants in Canada.
However, while the commission did not identify any fundamental barriers to BWRX-300 licensing in its review, it did spot certain technical areas that, in its view, require further development. For instance, the CNSC concluded that more in-depth information supporting radiation protection, human factors, decommissioning, and fire protection is needed in order for the CNSC to determine how these programs will meet regulatory requirements. Additional information is also needed on restricting radionuclide release during fuel handling activities and on protective measures for workers in the event of an out-of-core criticality accident, the commission said.
The tech: An evolution of GEH's 1,520-MWe Generation III+ ESBWR design (approved by the U.S. Nuclear Regulatory Commission in 2014), the BWRX-300 is a 300-MWe water-cooled, natural-circulation SMR with passive safety systems. According to GEH, because of design simplification, the BWRX-300 should require significantly lower capital costs per megawatt than other water-cooled SMR designs or existing large nuclear reactor designs.
In case you missed it: In late January, GEH and Canadian firms Ontario Power Generation, SNC-Lavalin, and Aecon announced the signing of a contract for the deployment of a BWRX-300 at OPG's Darlington nuclear site in Canada. The six-year, multiparty agreement covers a range of project activities:
OPG will serve as the license holder and maintain overall responsibility for the project, including operator training, commissioning, indigenous engagement, stakeholder outreach, and oversight.
GEH, as the technology developer, will be responsible for design, procurement of major components, engineering, and support.
SNC-Lavalin will serve as the architect and engineer, providing design, engineering, and procurement support.
Aecon will handle all construction services, including project management, construction planning, and execution.
With site preparation and related work currently underway at Darlington, the SMR's construction is expected to be completed by the fourth quarter of 2028.