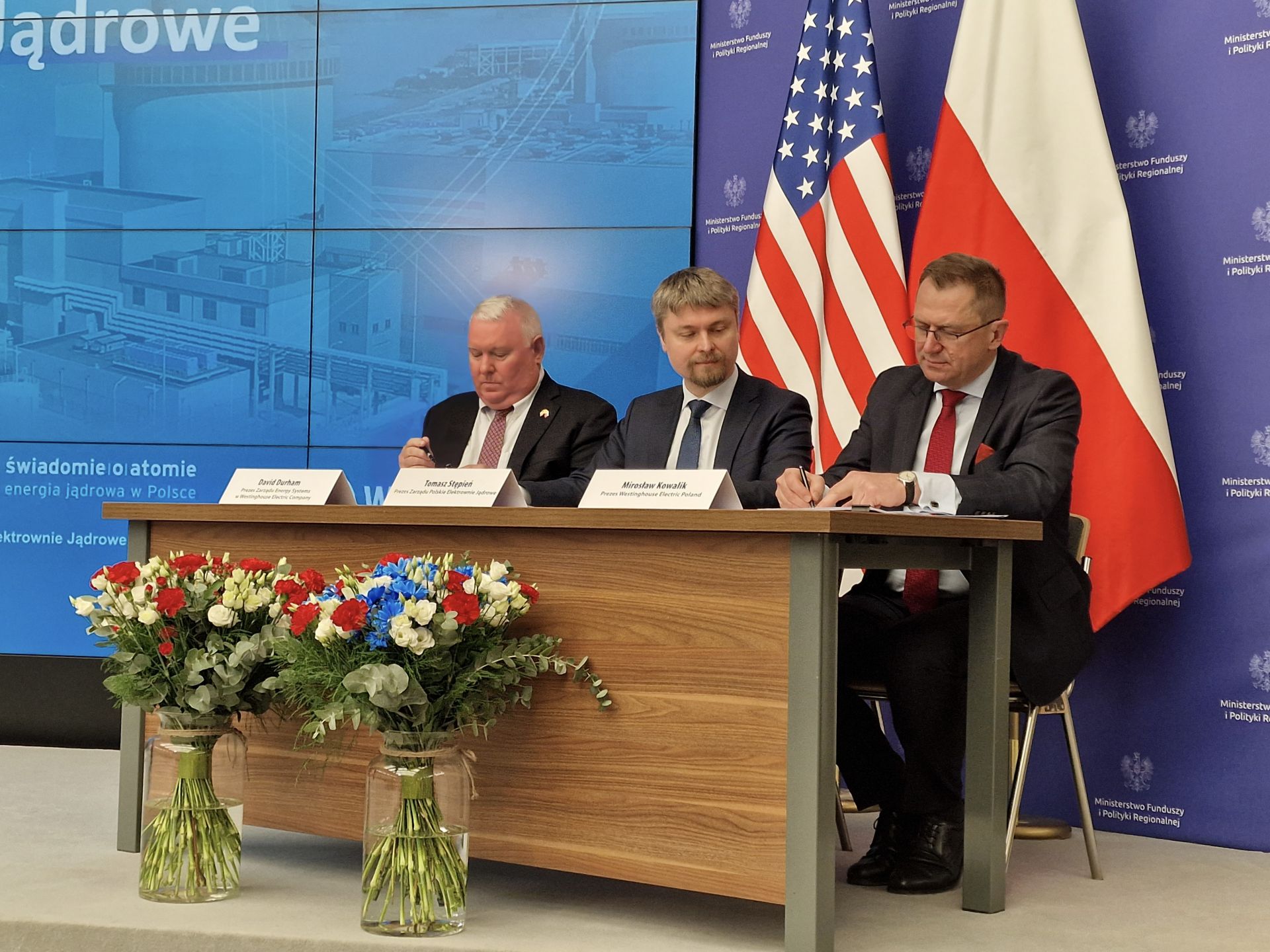 State-owned Polish utility Polskie Electrownie Jądrowe and U.S.-based Westinghouse on February 22 moved a step closer to their end goal—the deployment of multiple AP1000 reactors in Poland—with the signing of a contract covering front-end engineering, early procurement work, and program development.
Polish industrial companies will play a key role in supplying these plants, according to a Westinghouse announcement. The American firm noted that it has already signed agreements with 35 companies in Poland and 75 companies throughout the region, adding that it has plans for a major engineering center in Poland, as well as "additional industrial investments to support training and development of Poland's nuclear power talents, workforce, and supply base."
Encouraging words: "Our cooperation on nuclear energy is an essential part of the U.S.-Polish strategic relationship," said Mark Brzezinski, U.S. ambassador to Poland, who attended the signing ceremony in Warsaw along with a number of Polish government officials. "It is only fitting that our joint project advance during President Biden's historic second visit to Warsaw in less than one year. This is a clear and important milestone in our energy security partnership. Although much hard work remains ahead of us, I know that by redoubling our commitments, and by working together, we will deliver the promise of clean, safe, and secure nuclear energy."
Anna Moskwa, Polish minister of climate and environment, added, "The agreement signed today is another important step in the construction of a nuclear power plant in our country. Nuclear energy is the future of Polish [sic], the way to energy security, and an important component of our mix. This strategic investment, which we are implementing according to the schedule, will have an impact on future electricity prices. It will also allow for clean, safe, and [Poland's] own energy and a development impulse for a number of Polish companies, suppliers, and other partners. Power plants will have a positive impact on the labor market and the Polish economy."
Background: In October 2022, Poland chose Westinghouse to supply the reactors for its first nuclear power plant, as the Central European nation sought to lessen its dependence on domestic coal and Russian imports for its energy supply. Competing with Westinghouse for the job were Électricité de France and Korea Hydro & Nuclear Power.
A location in northern Poland near the Baltic coast, Lubiatowo-Kopalino, was selected in December 2021 as the preferred site for the plant. Lubiatowo-Kopalino is approximately 40 miles northwest of Gdansk, the capital of Poland's Pomeranian province.