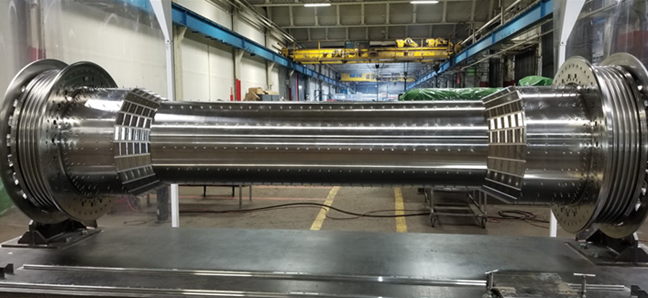 A key component needed for the National Spherical Torus Experiment–Upgrade (NSTX-U), the flagship fusion facility currently under repair at the Department of Energy's Princeton Plasma Physics Laboratory (PPPL), has been delivered to the lab's New Jersey campus.
Fabricated by Holtec International, the center stack casing (CSC) will lie at the heart of the NSTX-U, a precursor to commercial nuclear fusion power. The CSC will provide the inner vacuum wall of the fusion device and structural support for plasma-facing components and coils that must endure a thermal environment of 10 million degrees Celsius.
According to Holtec, the compact, spherical design of the NSTX-U, which must produce high-performance plasma with low-cost magnetic fields, required the CSC to be designed and fabricated with exceedingly tight tolerances to meet exacting metrology and magnetic permeability requirements.
Quote: "This beautiful piece of inconel metal, which I fondly call 'the hedgehog' due to its stud-covered design, will hold the center magnet of our flagship experiment, NSTX-U," said Steve Cowley, lab director at PPPL. "The casing is not only magnificent, but well-traveled: It was forged in Italy, machined in New Jersey, and assembled in Pittsburgh. Its final arrival to us at the lab was a significant project milestone and will allow us to begin important recovery work."
Mature design: Holtec said that the effort was the result of a close partnership between PPPL and Oak Ridge Technologies, a joint venture between Holtec and Gilmartin Engineering Works, which enabled the final design of the CSC to be matured iteratively. The challenging design demanded that Holtec's weld engineers develop and qualify many unique welding procedures and tools to meet PPPL's requirements, according to the company.