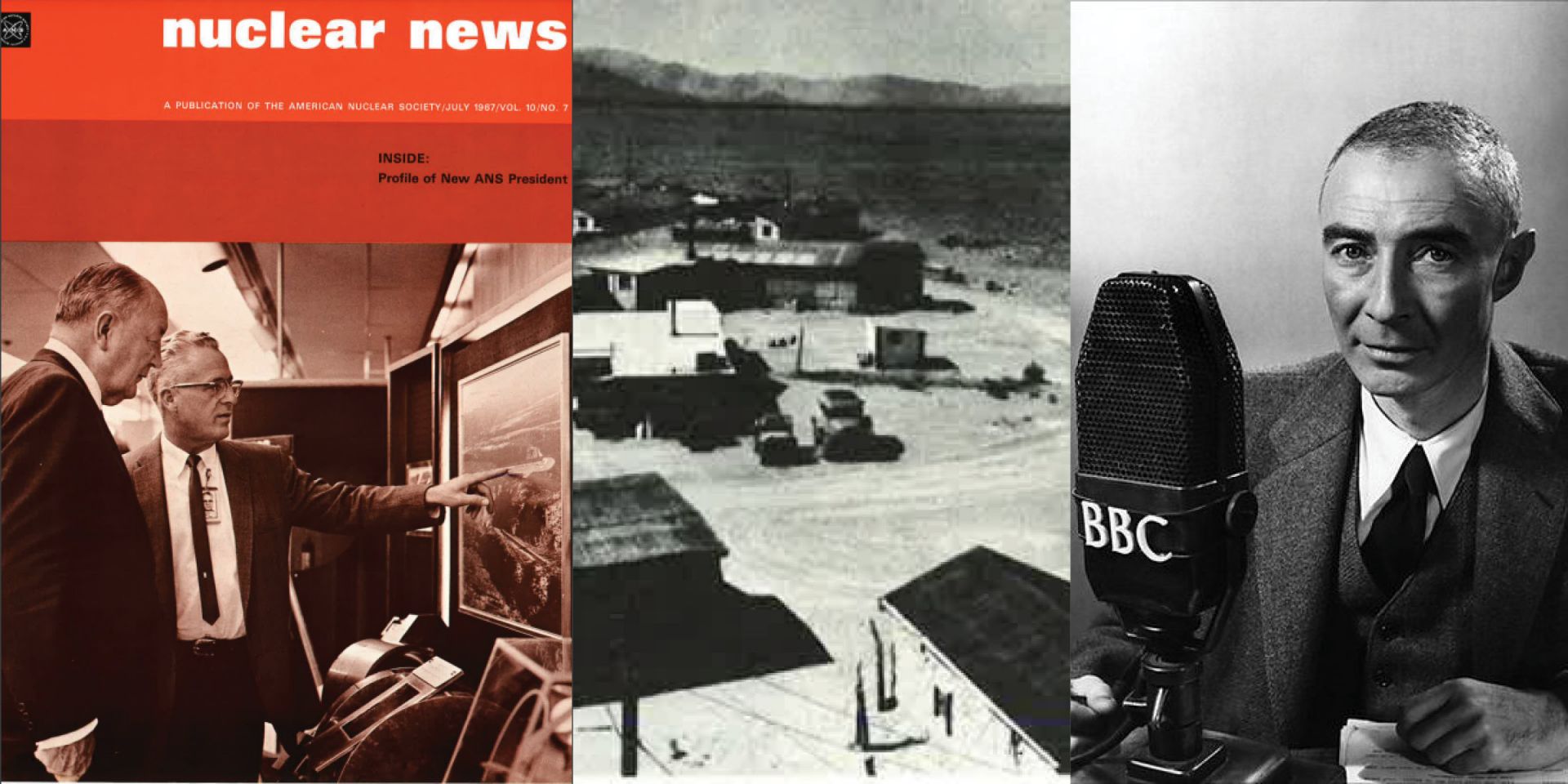 On December 16 the Department of Energy reversed a decision made nearly 70 years ago by leaders of its predecessor agency, the Atomic Energy Commission, to revoke the security clearance of J. Robert Oppenheimer, the scientist who led the first group of scientists and engineers at what would eventually become Los Alamos National Laboratory as they built the first atomic bomb. While it comes far too late for Oppenheimer, his family, and his colleagues to appreciate, the McCarthy-era campaign to discredit Oppenheimer is now itself officially discredited as "a flawed process that violated the Commission's own regulations," in the words of the DOE's recent announcement.
Oppenheimer's story has been told many times by biographers and chroniclers of the Manhattan Project; a new feature film is expected in July 2023. Today, we offer a #ThrowbackThursday post that examines the scant coverage of Oppenheimer's life and work in the pages of Nuclear News to date and draws on other historical content—and the DOE's recent move to correct the record—to fill a few of the gaps.
The events of 1953 and 1954: Following his World War II service to the Manhattan Project, Oppenheimer served as chair of the five-member General Advisory Committee of the AEC from 1947 to 1952, and also served as the first chair of the Board of Sponsors of the Bulletin of the Atomic Scientists after it was established in December 1948 by Albert Einstein. For over a decade Oppenheimer held the AEC's highest security clearance level, and his security clearance was renewed in 1947.
It was on December 21, 1953, that Oppenheimer was confronted by Lewis Strauss, then chairman of the AEC, with claims that he posed a security risk, and his security clearance was suspended. He requested a hearing, which was ultimately held over four weeks in April and May 1954. As the original, unredacted transcripts of the hearing released by the DOE in 2014 in 19 volumes made amply clear, though several individuals testified in support of him, Oppenheimer and his legal counsel were at a disadvantage.
When Oppenheimer's security clearance was formally revoked on June 29, 1954, only two days remained before his AEC contract would have lapsed and rendered the clearance decision moot.
The AEC made its determination with a vote of 4 to 1. The dissenting opinion of Henry DeWolf Smyth has stood the test of time. He asserted:
In my opinion the most important evidence in this regard is the fact that there is no indication in the entire record that Dr. Oppenheimer has ever divulged any secret information. The past 15 years of his life have been investigated and reinvestigated. For much of the last 11 years he has been under actual surveillance, his movements watched, his conversations noted, his mail and telephone calls checked. This professional review of his actions has been supplemented by enthusiastic amateur help from powerful personal enemies. . . .
In these times, failure to employ a man of great talents may impair the strength and power of this country. Yet I would accept this loss if I doubted the loyalty of Dr. Oppenheimer or his ability to hold his tongue. I have no such doubts.
I conclude that Dr. Oppenheimer's employment "will not endanger the common defense and security" and will be "clearly consistent with the interests of the national security." I prefer the positive statement that Dr. Oppenheimer's further employment will continue to strengthen the United States.
Oppenheimer remembered in NN: Both friends and detractors of Oppenheimer became members of the American Nuclear Society after it was founded in December 1954. Very little was said about Oppenheimer's scientific work and legacy in the pages of NN during his lifetime and his service—from 1947 to 1966—as director of the Institute for Advanced Study, located in Princeton, N.J.
He was selected to receive the federal government's Enrico Fermi Award in 1963 for his "scientific and administrative leadership not only in the development of the atomic bomb, but also in establishing the groundwork for the many peaceful applications of atomic energy." The award was signed by President John F. Kennedy and then bestowed by President Lyndon Johnson on December 2, 1963, nearly 10 years after Oppenheimer's security clearance had been suspended.
The honor was noted in the May 1963 issue of NN as "a decision that has brought great satisfaction to all quarters, particularly in academic circles" (p. 37). The award announcement went on to state:
Dr. Oppenheimer had a brilliant academic career at Harvard, Cambridge University, and the University of Göttingen. After some research fellowships, he settled in California where he held concurrent appointments at U of California and at Cal Tech. In his work there in the 1930s he played a unique role in bringing American theoretical physics to maturity, both as an inspirer of men and as the originator of some formidable theoretical work.
In 1942 he took charge of the country's work on the atomic bomb, again using his qualities of leadership and scientific eminence with great distinction.
From 1947 he has been director of the Institute for Advanced Study at Princeton; during this spell he served (1947–52) as chairman of the AEC's General Advisory Committee.
The Fermi award carries with it a gold medal, a citation, and $50,000.
The lengthiest article about Oppenheimer in NN was his obituary, penned by then ANS vice president Raemer Schreiber and published in the April 1967 issue (p. 5) after Oppenheimer's death on February 18 of that year. At the time, Schreiber was technical associate director of Los Alamos Scientific Laboratory, where he had worked since October 1943, under Oppenheimer's direction until Oppenheimer's departure in October 1945.
The loss of a scientific leader is always an occasion for sadness and reflections by his colleagues, but to the group of scientists and engineers who staffed Project Y at Los Alamos during 1943–45 the death of J. Robert Oppenheimer has a special and personal meaning. As director of Project Y, Dr. Oppenheimer had the responsibility for recruiting and organizing the staff for this adventuresome undertaking, directing its work, reconciling military and civilian philosophies, dealing with the problems of families transferred from university communities to a raw Army post, and for making a host of technical decisions which often had to be based on fragmentary information. Even those of us who had a relatively junior role in the atomic bomb development had some appreciation of the massive problems he faced, and found it difficult to reconcile this heroic role with the quiet, friendly, and unassuming individual we all knew and greeted as "Oppie."
Project Y was the code name for the atomic center which carried out the actual atomic bomb development, bringing to focus the new materials and technologies developed at Chicago's Met Lab, Oak Ridge, Hanford, and the other centers of the Manhattan District. Isolation was needed both for security and for public safety. A new laboratory and community were therefore created in New Mexico. Nuclear physics equipment from several universities was crated and shipped to a "cover" address, the Army Engineers moved in to construct temporary buildings, and a staff was recruited from universities, ordnance laboratories, the armed forces, and the cadre of U.K. scientists known as the British Mission. Scientists accustomed to the protocol and deliberation of the university laboratory found themselves in boots and jeans, racing to design laboratory buildings as they were being built on a schedule which would make them ready to receive the Van de Graaff, cyclotron, and other laboratory gear which were already being packed for shipment to New Mexico. Their wives were learning to light oil-burning cook stoves, living with meagre GI furniture pending the arrival of the family moving van, and forming baby-sitting pools so they could go to the Commissary to shop for groceries and other necessities.
After the first hectic months of construction and equipment installation, the flow of technical data started and on one evening each week "Theatre Number Two" was surrounded by MPs while the laboratory staff members heard and discussed the latest results of crucial measurements and calculations. The ability to retain this cross-fertilization of ideas across the laboratory in a super-secret program was one of the unique features of Project Y. The actual program planning was done by the Governing Board which was presided over by Dr. Oppenheimer and addressed itself to such diverse matters as housing, procurement, progress at other Manhattan District centers, security, and personnel recruitment, as well as the technical aspects of the work itself. The isolation, secrecy, and wartime urgency of Project Y combined to expand the responsibilities of Dr. Oppenheimer and his senior staff to encompass the entire life of the community.
Order never quite emerged from the chaos, since the laboratory and the community continually grew during the war years as new problems developed and new approaches were undertaken to solve them. Dr. Oppenheimer presided over all aspects of this organized confusion. Although he was assisted by an extraordinarily competent staff of senior scientists and engineers, the final decisions were made by him in person. In spite of the many demands on his time, he was still available as the ultimate court of appeals for personal problems which might range from the unavailability of maid service for the distraught mother of a large family, to the request for railroad priority and permission to leave the area from a staff member whose father was dying.
The friction between the sometimes temperamental scientist and the inflexibility of military procedures was chronic. In general, Dr. Oppenheimer was the spokesman for the scientist, but he also found it necessary at times to throw his considerable prestige on the side of the military regulations. In either situation, his decision was accepted—not without some occasional grumbling—but his reputation for dispassionate analysis and obvious concern for fairness and individual rights carried weight where the simple exercise of his authority might have caused resentment.
The ultimate success of the gamble; the testing and the combat employment of the atomic bombs, is a matter of history. What can never be adequately chronicled are the personal memories of those people who looked to "Oppie" as their leader in this dramatic entrance into the atomic age. These memories include both the cool, incisive announcement of major decisions and the warm personal touch of a sensitive and understanding human being.
DOE clearance: Energy secretary Jennifer Granholm explained in her six-page decision vacating the decision that the DOE had received requests "from 43 U.S. senators, the current and preceding directors of the Idaho National Laboratory, and all living directors of the Los Alamos National Laboratory to review the AEC's 1954 decision In the Matter of J. Robert Oppenheimer."
Those requests prompted a fresh review of the circumstances of Oppenheimer's hearing and security revocation. Granholm wrote, in part:
The reconsideration of an order of the AEC concerning an individual long deceased is not something this Department has ever done and not something that would ordinarily be considered. And yet, the Oppenheimer matter was extraordinary in several respects that merit its reconsideration. The Oppenheimer matter concerned a man who, not long before, had played an indispensable and singular role in the war effort, a man whose loyalty and love of country were never seriously questioned. More troubling, historical evidence suggests that the decision to review Dr. Oppenheimer's clearance had less to do with a bona fide concern for the security of restricted data and more to do with a desire on the part of the political leadership of the AEC to discredit Dr. Oppenheimer in public debates over nuclear weapons policy. Such political motives must have no place in our personnel security process. . . .
The question of whether Dr. Oppenheimer, or any other individual of that time, ought to have been eligible for access to restricted data is not one that this Department can or should attempt to answer seventy years later. . . . Nevertheless, even with the passage of time, we can say with confidence that, in conducting the Oppenheimer proceeding, the AEC failed to follow its own rules. We can also conclude that these failures were material to the fairness of the proceeding. . . .
Pursuant to the authority vested in the Secretary of Energy to carry out the functions of the Atomic Energy Commission, I hereby order that the decision rendered on June 29, 1954, In the Matter of J. Robert Oppenheimer be vacated.
A December message: With the December 7, 1941, bombing of Pearl Harbor, the U.S. war effort began in earnest. Three years later, Oppenheimer's daughter, Toni, who would be deeply and tragically affected by the circumstances surrounding her father's hearing, was born December 7, 1944, at Los Alamos. Again and again, significant December dates—some welcome and others not—arose in Oppenheimer's life.
Our research has turned up a December date that is perhaps less significant, but still poignant. On December 20, 1953, just one day before he was informed his security clearance had been suspended, the BBC broadcast the last of six lectures by Oppenheimer in his series Science and the Common Understanding.
In a recording available on the BBC's website, Oppenheimer can be heard delivering the sixth lecture, titled "The Sciences and Man's Community." In it he says:
Some moments during these lectures we have looked together into one of the rooms of the house called Science. . . . One thing we find throughout the house—there are no locks. There are no shut doors. Wherever we go, there are signs and usually the words of welcome. It is an open house, open to all comers.
The discoveries of science, the new rooms in this great house, have changed the way men think of things outside its walls. We have some glimmering now—the depth in time and the vastness in space of the physical world we live in. An awareness of how long our history, how immense our cosmos—touches us, even in simple earthly deliberations. . . .
What is new, what was not anticipated a half century ago, is that though to an atomic system there was a potential applicability of one or another of these ideas in any real situation, only some of these ways of description could be actual. This is because we need to take into account not merely the atomic system we are studying but the means we use in observing it, and the fitness of these experimental means for defining and measuring selected properties of the system. All such ways of observing are needed for the whole experience of the atomic world. All but one are excluded in any actual experience. . . .
Atomic theory is then in part an account of these descriptions and in part an understanding of the circumstances to which one applies or another or another. And so it is with man's life. He may be any one of a number of things, but he will not be all of them. He may be well versed. He may be a poet. He may be a creator in one, or more than one science. He will not be all kinds of man, or all kinds of scientist even. He will be lucky if he has a bit of familiarity outside that room in which he works.
Read more: The NN materials referenced in this #ThrowbackThursday post are free for all ANS members to explore. Find more curated #TBT posts here.