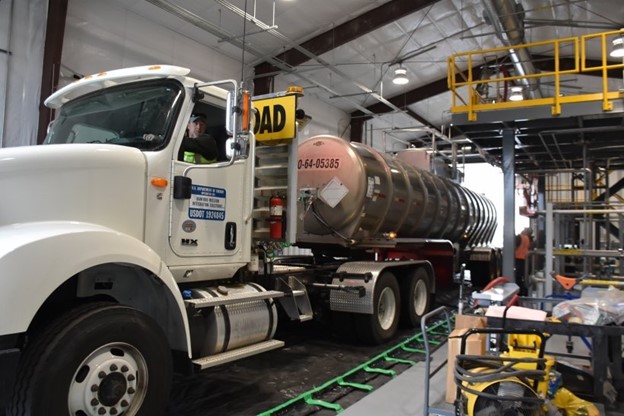 Construction of a backup load-in station has been completed at the Hanford Site's Effluent Treatment Facility (ETF) in Washington state.
"We broke ground on the backup facility about a year ago," said Rob Wood, project manager for Washington River Protection Solutions, the Department of Energy's tank operations contractor at the site. "I am proud of the team for completing this portion of the load-in expansion project and doing it safely. In phase two, expansion of the main load-in station will prepare us for 24/7 operations on the Hanford Site."
Watch a time-lapse video of the backup load-in station construction here.
The new station: The backup facility is handling waste transfers from across the site while crews work to expand the main wastewater load-in station at the ETF. In November, the first tanker unloaded 6,200 gallons of low-level leachate at the backup facility. Leachate is water from rain, snowmelt, and dust suppression activities.
To watch a time-lapse video of the first tanker truck at the new backup facility unloading low-level leachate collected from a mixed-waste burial trench, click here.
The main station: With the backup facility in operation, expansion work has begun on the main load-in station's interior. The building will be extended 30 feet to allow tanker trucks to fit completely inside, and a new unloading platform will be constructed that will allow drivers to better communicate with facility operators. Modifications will also enable an additional tanker to prepare for unloading while another tanker is being emptied, which will nearly double the building's capacity.
"Expanding the load-in station is a key part of our Direct-Feed Low-Activity Waste program for treating tank waste," said Bibek Tamang, ETF program manager for the DOE's Environmental Management Office of River Protection. "This backup facility is phase one of construction and will carry us through the next six months of construction on the new facility."
During tank waste treatment operations, additional leachate will be processed at the ETF, then collected and sent from the site's Integrated Disposal Facility. Approximately 1.2 million gallons of leachate per year is expected to be sent to the ETF during the operations.