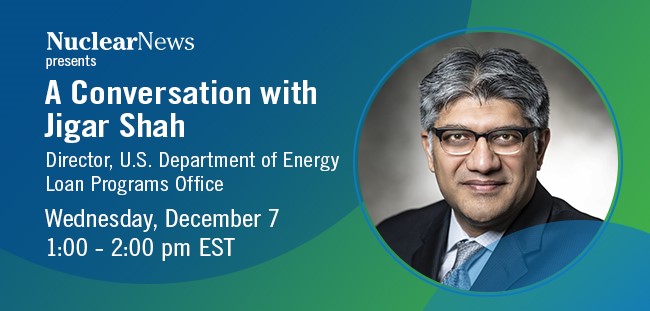 ANS will host a members-only event on December 7 from 1:00 to 2:00 p.m. EST with Jigar Shah, director of the Department of Energy's Loan Programs Office (LPO). Craig Piercy, ANS executive director and chief executive officer, will lead the interview.
Register now: Hear about the ambitious goals of the Biden administration to decarbonize the power sector by 2035, which were highlighted in Shah's article in the November issue of Nuclear News. Shah will also discuss how nuclear can be an important part of the decarbonized energy mix in the United States and how he believes the LPO can support the administration's target.
About Jigar Shah: Shah was most recently cofounder and president at Generate Capital, where he focused on helping entrepreneurs accelerate decarbonization solutions using low-cost infrastructure-as-a-service financing.
Prior to Generate Capital, Shah founded SunEdison, a company that pioneered "pay as you save" solar financing. After SunEdison, Shah served as the founding CEO of the Carbon War Room, a global nonprofit founded by Sir Richard Branson and Virgin Unite to help entrepreneurs address climate change.
Originally from Illinois, Shah holds a B.S. from the University of Illinois –Chicago and an M.B.A. from the University of Maryland–College Park.
Ask now: Attendees are encouraged to submit questions in advance.
Can't attend live? The recording will be shared via email with everyone who registers.
CE credit: Continuing education credit and certificates of attendance for ANS webinars are available by request.