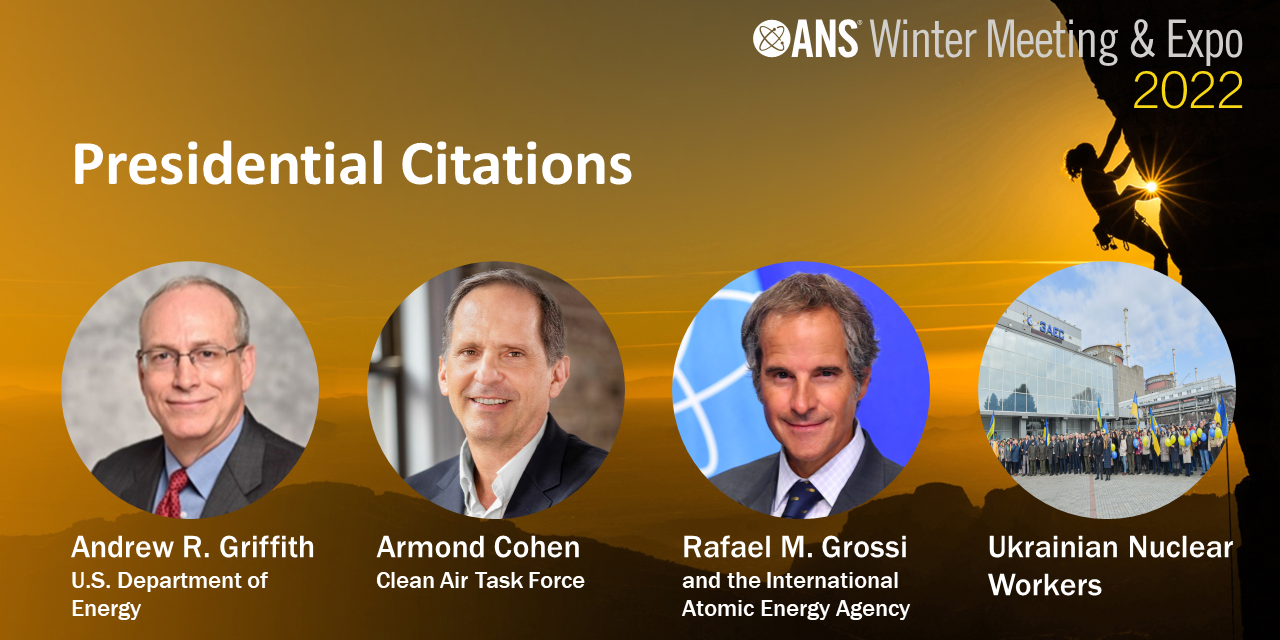 At this year's Winter Meeting in Phoenix, Arizona, American Nuclear Society President Steven Arndt honored four ANS members with Presidential Citations. The president of ANS has the privilege of presenting presidential citations to individuals who, in their opinion, have demonstrated outstanding effort in some manner for the benefit of ANS and/or the nuclear community.
The awards are "highlighted throughout our community as a personal outreach to our recipients to say, 'well done,'" said Arndt.
2023 Citation recipients
Andrew R. Griffith, U.S. Department of Energy, for his significant contributions and dedication to the advancement of the U.S. commercial nuclear industry and the DOE's Office of Nuclear Energy, supporting the full range of nuclear energy waste management, facility operations, and technology research missions.
Griffith serves as the deputy assistant secretary for nuclear fuel cycle and supply chain. Previously, he led the Office of Nuclear Energy as acting assistant secretary. He has directed the DOE's research and development on advanced nuclear fuel cycle technologies that have the potential to improve resource utilization and energy generation, reduce waste generation, and limit proliferation risk.
Armond Cohen, Clean Air Task Force, for his leadership in driving change through enlightened and effective advocacy to move our country in the direction of a high-energy, zero-emissions future at affordable cost using clean energy sources, including new and existing nuclear power plants.
Cohen is cofounder and president of the Clean Air Task Force, which he has led since its formation in 1996. He is also directly involved in CATF research and advocacy on the topic of requirements to deeply decarbonize global energy systems. Prior to his work with CATF, Armond founded and led the Conservation Law Foundation's Energy Project, focusing on energy efficiency, utility resource planning, and electric industry structure. He is a member of the Keystone Center Energy Board and a board member of the Nuclear Innovation Alliance.
Rafael M. Grossi, director general of the International Atomic Energy Agency, and the IAEA, for their courageous leadership in the worldwide effort to promote a strong and sustainable global nuclear safety and security framework, and for their proactive efforts to support Ukrainian civilian nuclear facilities and workers during military conflict.
On accepting the citation on behalf of the IAEA, Grossi said, "We feel humbled and grateful for this recognition of our work on nuclear safety and security at a very difficult time, where the security of nuclear facilities all over Ukraine is at risk," adding, "The work of ANS and the work of the IAEA in many respects is common work—from different angles, but using the potential of nuclear science and technology and applications for the common good."
Grossi, a diplomat with over 35 years of experience in the field of nonproliferation and disarmament, has been IAEA director general since 2019. In 2013, he was appointed ambassador of Argentina to Austria and Argentine representative to the IAEA and other Vienna-based international organizations.
Ukrainian nuclear workers, for their extraordinary devotion to the principles of safe and secure nuclear power plant operation in the face of the military attack on the Ukrainian nuclear power infrastructure. In particular, ANS and Arndt acknowledge the dedication of the workers at the Chernobyl and Zaporizhzhia facilities for carrying out their duties during foreign military occupation. ANS works with several organizations in Ukraine to support workers there.
Arndt noted that this award was "incredibly personal" to him, as he worked for five years in Ukraine, at the Chernobyl and Khmelnytskyi nuclear power plants, helping regulators and workers to reestablish an independent nuclear program after the fall of the Soviet Union. Arndt said, "These are people just like us, striving to be the best advocates and workers, helping to protect their families, their communities and their country while working in incredibly challenging circumstances."
ANS launched a relief fund for Ukraine's nuclear workers and families, in conjunction with the European Nuclear Society, called the Ukrainian Nuclear Workers Humanitarian Fund. Support the fund today.