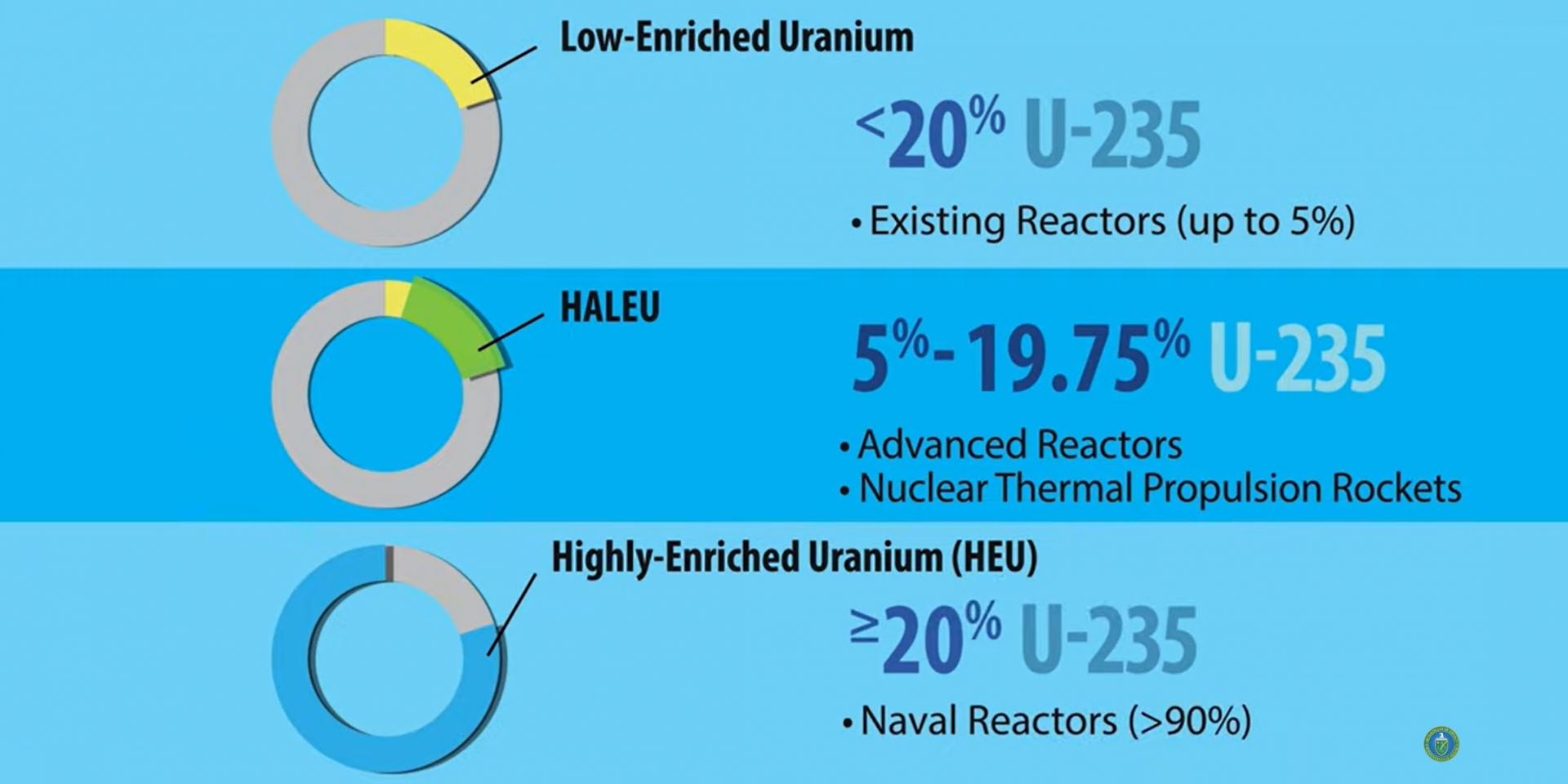 Another piece of the plan for meeting the urgent need for high-assay low-enriched uranium (HALEU) to fuel advanced reactor deployments fell into place when the Department of Energy held an Industry Day on October 14. Attendees were asked how soon they could deliver 25 metric tons per year of HALEU enriched in the United States from newly mined uranium. Offtake contracts for six or more years of HALEU production at that rate could be used to stock a DOE-owned HALEU bank to "support [HALEU] availability for civilian domestic research, development, demonstration, and commercial use."
A Sources Sought Notice released ahead of the meeting included preliminary details of a long-anticipated request for proposals, and responses received by October 28 will help the DOE's Office of Nuclear Energy (NE) "determine the interest and feasibility of both large and small businesses to produce HALEU." The DOE wants to see commercial HALEU enrichment facilities operating "as soon as possible," backed by a sustainable U.S. uranium mining, conversion, storage, and transport infrastructure.
"This competition will benefit players in this game that are able to respond quickly with actual production material and standing up of new capacity," said DOE assistant secretary for nuclear energy Kathryn Huff during an interview with Nuclear News in mid-September, as the DOE prepared to release its guidance for the HALEU Availability Program (look for the full Q&A in the November issue of Nuclear News).
The need: Most advanced reactors are designed to reach increased efficiencies and better fuel utilization with HALEU, enriched to between 5 and 19.75 percent uranium-235. (Many advanced reactors require HALEU near the high end of that range.) Limited amounts of high-enriched uranium held by the DOE at Idaho National Laboratory and the Savannah River Site—typically research reactor spent fuel—could be downblended to HALEU levels. However, downblending alone cannot meet the quantity and quality requirements for either near- or long-term HALEU supply needs.
The Energy Act of 2020 authorized a HALEU Availability Program to build a sustainable commercial enrichment infrastructure. The DOE-NE was charged with setting up the program; it issued a request for information in December 2021, and received comments in mid-February. Then, as now, DOE-NE emphasized that a sustainable infrastructure would be built from industry partnerships capable of delivering not just enrichment services but a full front-end fuel supply chain.
The DOE-NE's ask: "The purpose of this acquisition would be, in part, to serve as a catalyst to establish HALEU enrichment capability in the United States, meaning all HALEU that DOE may acquire must be enriched using new capacity, either new or expanded, physically located in the United States," according to an explanation of the plan released with the Sources Sought Notice. "Notably, the HALEU that DOE may acquire would be prioritized from feed conversion services using new capacity, either new or expanded, physically located in the United States, as well. HALEU would be requested in three forms—as enriched UF6 [uranium hexafluoride], and in oxide and metal forms. . . . The DOE would take title to all HALEU acquired, and it would all require storage to be provided by the awardee."
The annual total of 25 metric tons would be supplied at 19.75 percent enrichment in three forms: 6 metric tons each of HALEU in oxide and metal forms, and 13 metric tons of UF6 that could later be deconverted to fabricate either oxide or metallic HALEU fuels.
"Awardee(s) would manage a range of business-management, technical, and logistical matters, including acquiring U3O8 [uranium oxide], converting it to UF6, enriching it, deconverting it into oxide and metal forms, procuring appropriate cylinders/vessels and transportation overpacks, and providing for Category-II-facility licensing and security, to name a few," according to the DOE. The "program seeks to encourage the participation of underserved communities and underrepresented groups" as well as the involvement of small businesses. The DOE is reserving the right to make one or more awards.
How soon? "DOE recognizes that it will take a few years to design, receive licensing, and construct new facilities to produce HALEU. Ultimately, the Department would consider purchasing HALEU as soon as possible in annual amounts of 25 metric tons," according to the DOE's explanation of the plan.
How soon will depend on how long it takes to restart, license, and/or construct front-end fuel cycle capabilities. The following are among the challenges:
Category II licenses: Any facility that will handle uranium enriched above 10 percent will require a Category II license (or Category I, capable of handling enrichments above 20 percent) from the Nuclear Regulatory Commission.
Enrichment capacity: The United States currently has no commercial-scale HALEU enrichment capacity. Centrus Energy was contracted to build a centrifuge cascade to demonstrate HALEU production in Piketon, Ohio. The second phase of that contract, to operate the cascade and produce 900 kg of HALEU per year, was opened for bids in June, and at this writing no awardee has been announced. Other companies that have expressed interest in meeting U.S. HALEU needs include Urenco USA, which operates a centrifuge facility in Eunice, N.M. (currently licensed up to 10 percent enrichment), and Global Laser Enrichment, which is conducting a pilot demonstration project of its technology in Wilmington, N.C.
Conversion: The United States has one uranium conversion plant—ConverDyn's Metropolis Works in Metropolis, Ill.—which first operated in 1958 and was idled in 2018. The facility received a 40-year license renewal in 2020 and plans to restart operations in 2023.
Storage and transportation: The NRC must license HALEU storage and transportation containers to hold HALEU in its UF­­6, oxide, and metallic forms, as well as fabricated HALEU fuel.
Fuel fabrication: HALEU fuel fabrication facilities must have a Category II license, and multiple facilities ultimately may be required to fabricate both oxide and metallic fuel forms to the specifications of different advanced reactor developers.
On the money: The Inflation Reduction Act of 2022 provided $700 million for HALEU availability. Of that $700 million, about $500 million will be available for offtake agreements. Huff said in mid-September that the amount represented "a down payment on what needs to be a longer-term set of offtake agreements to support our broader uranium strategy."
Additional HALEU funding in fiscal year 2023 appropriations is uncertain at this writing, but at least two funding schemes have been proposed: A supplemental appropriation request sent to Congress by the White House on September 2 asks for $1.5 billion to support a reliable supply of both LEU and HALEU, and the Fueling Our Nuclear Future bill—introduced in the Senate in April by Sen. John Barrasso (R., Wyo.) and in the House in August by Reps. Elaine Luria (D., Va.) and Byron Donalds (R., Fla.)—would provide more support for domestic HALEU production while explicitly excluding uranium sourced or processed by any entity owned or controlled by the governments of Russia and China.