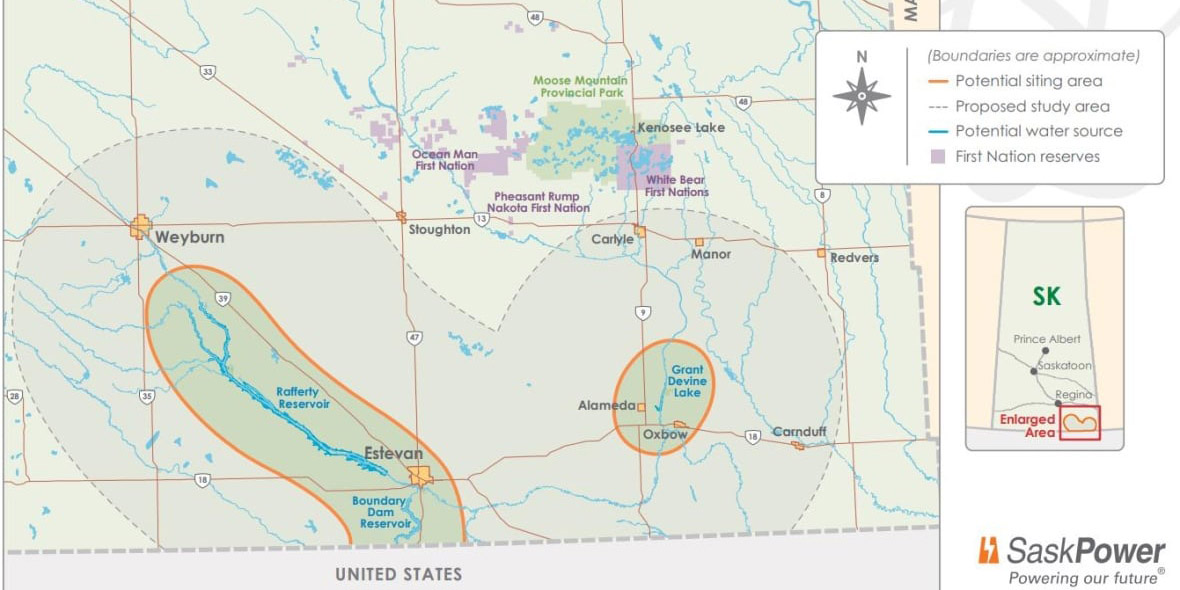 As part of its planning and regulatory activities to potentially build small modular reactors (SMRs) in currently nuclear-powerless Saskatchewan, Canadian utility SaskPower has selected the province's Estevan and Elbow regions for further study. (In 2018, SaskPower joined the Canadian government, three other provinces, and four other Canadian utilities to participate in the development of A Call to Action: A Canadian Roadmap for Small Modular Reactors.)
The Estevan study region includes the areas around Boundary/Rafferty Dam and around the Grant Devine Dam, while the Elbow region encompasses the area around Lake Diefenbaker, from Gardiner Dam to the Diefenbaker Dam.
In the selection of these regions, SaskPower used technical criteria based on the requirements of the various SMR technologies evaluated by the utility earlier this year, according to a September 20 news release. Criteria included, among other things, proximity to a suitable water supply, existing power infrastructure, workforce availability, and nuclear regulations and standards.
What they're saying: "By identifying these two study areas, SaskPower has reached another critical milestone in its planning work to potentially bring nuclear power to Saskatchewan," said Don Morgan, the province's minister responsible for SaskPower. "Saskatchewan's commitment to a sustainable, reliable, and affordable electrical system is evident with today's announcement."
In case you missed it: Following an assessment of several SMR technologies, SaskPower in June announced its choice of GE Hitachi Nuclear Energy's BWRX-300 SMR for potential deployment in Saskatchewan in the mid-2030s.
The assessment process focused on a number of factors, according to the announcement, including safety, technology readiness, generation size, fuel type, and expected cost of electricity. In addition, the assessment involved a collaboration with Ontario Power Generation, which last December selected the BWRX-300 as the SMR technology to be deployed at its Darlington nuclear plant.