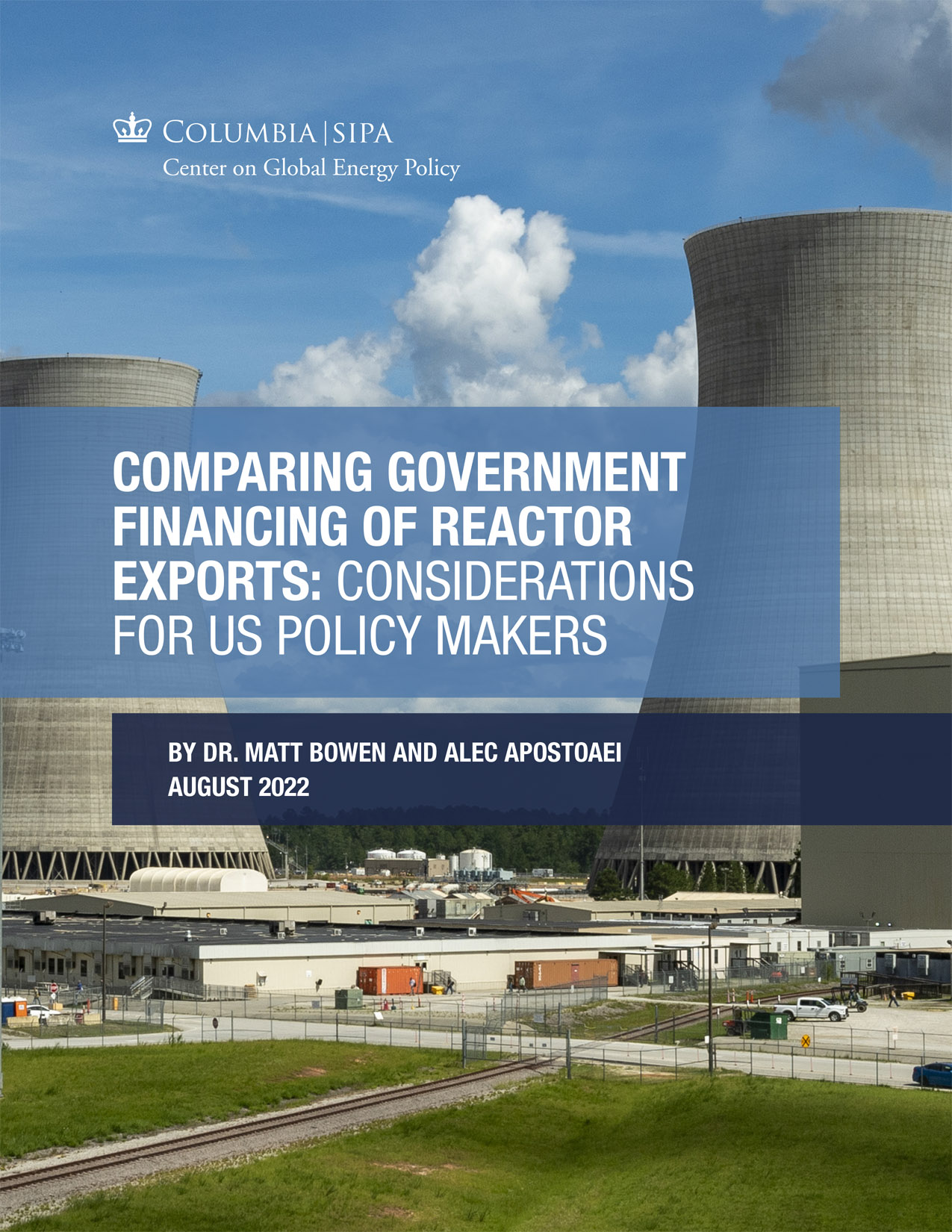 As energy security and environmental concerns prompt some countries to increase their reliance on nuclear energy or become first-time adopters of the technology, the U.S. government must decide whether it will offer financing for reactor exports—a move that poses financial risks but could create jobs, address global climate and energy security challenges, and limit Chinese and Russian influence. A new report released on August 25 by the Center on Global Energy Policy at Columbia University's School of International and Public Affairs, Comparing Government Financing of Reactor Exports: Considerations for U.S. Policy Makers, digs into the history of nuclear reactor financing and delivers recommendations for U.S. policymakers.
Matt Bowen, research scholar at the center and the report's lead author, told Nuclear News, "Given how important financing is to countries considering new reactor construction, as well as the competition that U.S. vendors face from foreign state-owned entities, Congress and the White House should both focus attention on the issue, including policy options to increase U.S. competitiveness."
Bowen prepared the report with Alec Apostoaei, a departmental research assistant, and made recommendations for U.S. decision makers in Congress and the executive branch, backed by a detailed analysis of historical financing arrangements for nuclear reactors. Now, Bowen is preparing to moderate a webinar—"Government Financing in Support of Reactor Exports: The International Landscape"—on September 14 at 12:00 p.m. EDT, featuring opening remarks by assistant secretary for nuclear energy Katy Huff and panelists Paul Murphy of Murphy Energy and Infrastructure Consulting, Elizabeth Touomou of Bechtel Enterprises, and Steven Howlett of Horn & Watson Capital Strategies.
Technology is only the start: Decarbonizing the world's energy supply by 2050 will require financing low-carbon energy projects at a cost that runs upward of trillions of dollars, according to the report, and a capital-intensive nuclear power plant can be especially challenging for some countries to finance.
The U.S. government has been actively supporting the development of advanced reactor technologies in recent years, partly with the export market in mind. But, for several reasons outlined in the report, the U.S. government has not financed a new nuclear reactor export in decades, even though the U.S. Export-Import Bank (EXIM) and the new International Development Financing Corporation (DFC) could support such exports. Given the recent absence of U.S. financing, the report analyzes earlier EXIM financing related to nuclear energy and its relevance for potential near- and medium-term financing efforts. The report compares the financing terms offered between 2000 and 2021 by five major exporters of nuclear power plants: Russia, France, South Korea, China, and the United States.
Russian dominance: Russia saw 11 reactors connected to power grids in six countries during the period studied, a dominance in part due to its state-backed financing offers, according to the report. At the beginning of 2022, Russia had 13 reactors under construction in other countries—more than all other countries' reactor exports combined.
The United States, France, and South Korea are members of the Organisation for Economic Co-operation and Development (OECD), which upholds a "gentlemen's agreement" with limitations the financing of certain exports, including nuclear reactors. The arrangement does not restrict equity investments in reactor exports, posing an additional disadvantage for private vendors in the United States as they compete with larger, state-owned vendors in France and South Korea. Russia and China are not committed to any OECD guidelines.
Recent U.S. actions: One of the key points Bowen and Apostoaei make is that government-assisted financing is a standard component of negotiations expected by most customer nations. Over the past four years, the U.S. government has taken some steps—not specifically in the nuclear arena—to level the playing field. EXIM and DFC have recently shown interest in supporting reactor exports through nonbinding memoranda of understanding and letters of intent, according to the report.
The report makes the following specific recommends to U.S. policymakers:
First and foremost, the White House National Security Council should convene meetings with EXIM, DFC, and other agencies involved in civil nuclear energy policy making to review the importance of federal financing and other government support mechanisms in determining customer country selection outcomes for nuclear builds and how U.S. interests are affected by these outcomes.
Second, Congress should ensure that EXIM in particular can effectively match offers from Russia and China and can expand the focus of the EXIM transformational exports program beyond renewable energy to include all low-carbon energy technologies, including nuclear reactor facilities.
Third, the U.S. government should seek to strengthen nuclear energy cooperation between the United States and its allies to aid competitiveness against Russia and China. For example, given that some content in any U.S. reactor export will likely come from U.S. allies, these latter countries could contribute to financing those exports.