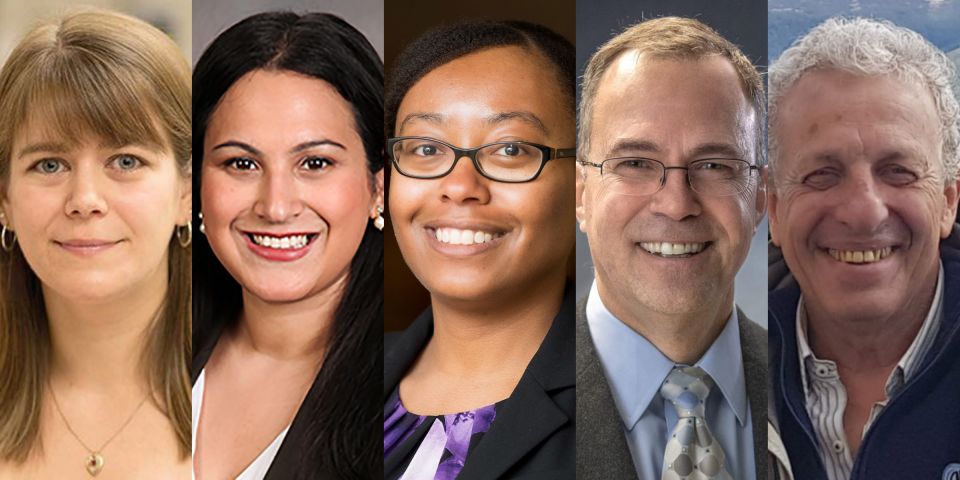 The five new members of the ANS Board of Directors began their terms at the end of the 2022 ANS Annual Meeting in Anaheim, Calif. The four U.S. members elected to three-year terms are Jamie Coble, of the University of Tennessee–Knoxville; Shaheen Dewji, of the Georgia Institute of Technology; Christina Leggett, of Booz Allen Hamilton; and Daniel Stout, of the Tennessee Valley Authority. Carlos Gho, vice president of Conuar S.A. (Argentine Nuclear Fuels), was elected to a two-year term as the non-U.S. member of the Board. Keep reading to learn more about the new directors.
Jamie B. Coble
The basics: An ANS member since 2002, Coble is an associate professor in the Department of Nuclear Engineering at the University of Tennessee–Knoxville.
Board goal: Coble said her main goal is to make sure ANS is an open, inviting, and accepting Society where everyone belongs and finds community. She plans to work with current and prospective ANS members to identify and dismantle barriers to belonging and community building.
Bet you didn't know: Coble was a member of a rock-climbing team that placed first in a local top rope competition—even though she is terrified of heights.
Shaheen A. Dewji
The basics: An ANS member since 2005, Dewji is an assistant professor in the Nuclear and Radiological Engineering and Medical Physics Programs at the George W. Woodruff School of Mechanical Engineering at the Georgia Institute of Technology.
Board goal: Dewji quoted Marie Curie: "You cannot hope to build a better world without improving the individuals. To that end, each of us must . . . share a general responsibility for all humanity." And in that spirit, Dewji said she would like to serve as an ambassador of ANS by encouraging all membership levels to help ANS be a resource to those external to the Society (i.e., the public, other professional societies, and industry stakeholders). In addition, she hopes to further engage the next generation of leaders of ANS while promoting diversity to create a mosaic of membership and expertise within the community.
Bet you didn't know: Dewji stays active in her free time by playing tennis and training for half marathons. It is her goal to one day complete an Ironman triathlon.
Christina J. Leggett
The basics: An ANS member since 2013, Leggett is a nuclear consultant at Booz Allen Hamilton and for the Department of Energy's Advanced Research Projects Agency–Energy.
Board goal: Public engagement is important to Leggett; therefore, she hopes to expand ANS's influence both domestically and abroad by increasing public awareness of the many beneficial applications of nuclear technology.
Bet you didn't know: Leggett unwinds with her hobbies of playing video games and trying new foods, and her technical interest (and expertise) is in reprocessing the nation's used nuclear fuel. "Let's just do it already," Leggett concluded.
Daniel P. Stout
The basics: An ANS member since 2009, Stout is the chief nuclear officer at Ultra Safe Nuclear Corporation.
Board goal: Stout believes ANS has an important role to play in helping inform policymakers to support the current and next generation of nuclear reactors. His goal is to amplify the voice of ANS to inform and influence nuclear energy policy.
Bet you didn't know: When Stout graduated college, then president Ronald Reagan handed him his diploma. Just a few months after graduating, he was working for Dr. Robert Ballard when Ballard discovered the Titanic.
Carlos Gho
The basics: An ANS member since 2022, Gho was recently appointed dean of the Graduate Program on Technological Applications of Nuclear Energy at the Instituto Balseiro after 49 years at the National Atomic Energy Commission of Argentina.
Board goal: As a member of the Latin American local section of ANS, Gho's goal is to help advance the mission of ANS in developing countries as those nations pursue nuclear power.
Bet you didn't know: Gho, who lives in San Carlos de Bariloche in Argentina's Patagonia region, enjoys being out in nature and frequently can be found hiking, mountain climbing, or skiing. He also loves traveling the world with his wife.