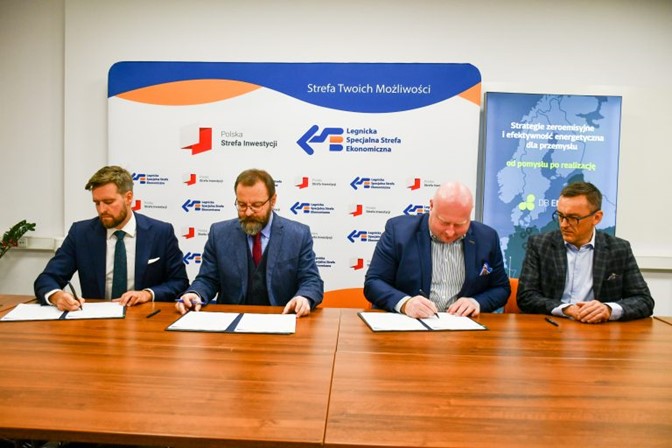 Last Energy, a Washington, D.C.–based small modular reactor startup, has signed a letter of intent with Poland's Legnica Special Economic Zone (LSSE) and DB Energy for a power plant featuring 10 small modular reactors with 200 MWe of capacity to fuel the region's industrial activities. (Established in 1997, the LSSE covers 18 subzones located in the central part of southwestern Poland's Dolnośląskie Province and is home to more than 75 companies providing some 16,000 jobs.)
The July 28 agreement, which also includes a 24-year-minimum power purchase agreement, marks a significant step toward widespread SMR deployment in Poland, representing over $1 billion in investment and more than $5 billion worth of electricity sales, according to Last Energy's announcement.
An earlier step toward that deployment was taken in June, when Last Energy signed an agreement with the state-owned Polish power company Enea SA to jointly pursue the development of the American firm's 20-MWe SMR.
Signers' language: "Globally, we're facing an urgent need to increase energy security without derailing our climate progress," stated Bret Kugelmass, Last Energy's founder and chief executive officer. "Nuclear energy offers countries a powerful strategy to achieve both. Today's agreement is a critical step toward bringing stable, reliable, and cost-competitive energy to Poland and establishing a much-needed model for how energy security and climate goals can align for the industrial sector."
Damian Jamroz, general manager of the firm's subsidiary Last Energy Polska, said, "Poland is one of the first countries where Last Energy plans to implement our SMR technology. We're glad that the Legnica Special Economic Zone has expressed its interest in locating one of the planned investments in their area, as well as the intention to sign a long-term contract for the energy produced. Now, we will begin the process of identifying potential locations. Our goal is to support the process of decarbonizing the Polish economy, as well as ensuring energy security for Polish industry and society."