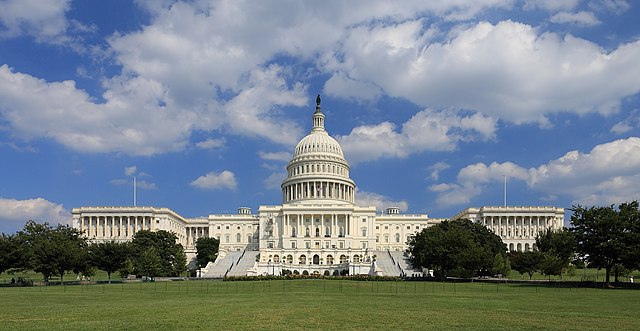 In a 243–187 vote, the House of Representatives yesterday passed the CHIPS and Science Act of 2022, a $280 billion economic competitiveness package aimed at bolstering U.S. semiconductor manufacturing, as well as scientific research and development, including nuclear energy R&D.
A compromise version of two bills stuck for months in congressional limbo (the Senate's United States Innovation and Competition Act and the House's America COMPETES Act), the 1,034-page measure comfortably survived a Senate vote on Wednesday, 64–33, and now awaits President Biden's signature.
"Today, the House passed a bill that will make cars cheaper, appliances cheaper, and computers cheaper," Biden said in a White House statement. "It will lower the costs of everyday goods. And it will create high-paying manufacturing jobs across the country and strengthen U.S. leadership in the industries of the future at the same time."
All House Democrats voted to approve the legislation, with the exception of California Rep. Sara Jacobs, who voted "present." Twenty-four Republicans endorsed the bill as well, despite opposition from GOP leadership—largely a reaction to Wednesday's stunning news that West Virginia Sen. Joe Manchin had struck a deal with Senate majority leader Chuck Schumer and would be supporting a budget reconciliation bill that includes hundreds of billions for energy security and climate spending over the next 10 years. (Manchin earlier in the month had refused to back a reconciliation bill with energy and climate provisions, citing inflation concerns.)
Nuclear highlights: In addition to the $52 billion in subsidies for the semiconductor industry and some $24 billion in tax credits for new chip manufacturing plants, the CHIPS and Science Act authorizes appropriations for a wide variety of scientific R&D programs.
In the nuclear realm, the legislation includes, among other things:
■ Section 10781: Fission for the Future—Originally a bill introduced last December by Manchin and Sen. John Barrasso (R., Wyo.), Fission for the Future requires the energy secretary to establish a program to provide assistance to support the deployment of advanced reactors and associated infrastructure; enables the Department of Energy to provide assistance to states, local governments, utilities, and private entities to support commercial planning, licensing, and development of advanced reactors; and prioritizes communities that have retiring or retired fossil fuel generation facilities to help replace lost electricity generation with advanced reactors. The bill authorizes $800 million to carry out the program for fiscal years 2023–2027.
■ Section 10743: National Nuclear University Research Infrastructure Reinvestment—This section amends the Energy Policy Act of 2005 to improve collaboration between relevant nuclear energy university stakeholders and to maintain and upgrade existing university research reactor infrastructure. For these activities, the bill authorizes $55 million for each fiscal year from 2023 through 2027.
The 2005 law is also amended to establish a new university infrastructure subprogram aimed at furthering the development of advanced nuclear technologies, including by establishing up to four new research reactors and new nuclear science and engineering facilities. A total of $390 million for FYs 2023–2027 is authorized for these activities.
■ Section 10110: Isotope Research, Development, and Production—This section amends the Department of Energy Research and Innovation Act by authorizing a program to produce isotopes needed for research, medical, industrial, and related purposes. It also seeks to advance isotope production methods and techniques by maintaining and enhancing associated infrastructure and conducting research into new production and processing techniques. The director of the DOE's Office of Science is instructed to carry out activities to reduce dependence on the foreign supply of critical radioactive and stable isotopes and ensure that the program does not interfere with private sector efforts to produce isotopes.
The section further calls for the establishment of an Isotope Program Advisory Committee and requires reports for meeting the nation's isotope needs. For these activities, the bill authorizes $175,708,000 for FY 2023; $196,056,480 for FY 2024; $215,759,869 for FY 2025; $200,633,461 for FY 2026; and $146,293,469 for FY 2027.
Nuclear reaction: "ANS congratulates the 117th Congress for its bipartisan work on the CHIPS and Science bill," said John Starkey, ANS director of public policy. "The passage of this legislation will support nuclear technology outside of typical power applications. Enhancing domestic isotope research/production and continued investment in U.S. college/university infrastructure will help our country achieve health, education, and energy opulence for years to come."
Steven Biegalski, nuclear and radiological engineering and medical physics program chair at Georgia Tech, added, "Domestic production of stable and radioactive isotopes is essential for medicine, industry, and research within the United States. It is important to maintain a reliable supply chain. This legislation will provide the foundation for re-establishing the needed isotope production paths."