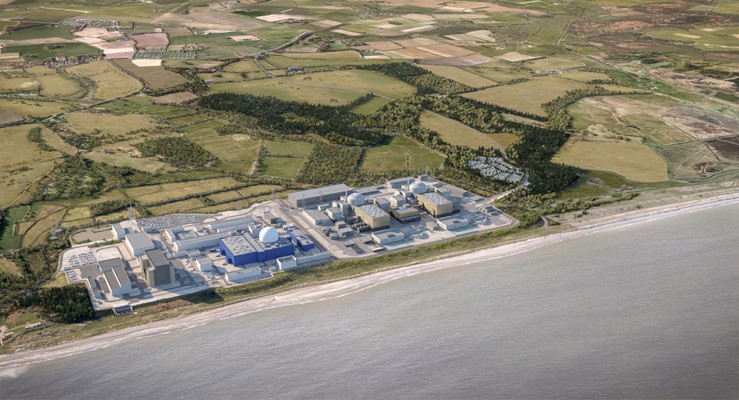 The U.K. government has granted a development consent order (DCO) for EDF Energy's proposed Sizewell C plant near Leiston in Suffolk, moving the new nuclear build project closer to a reality.
Nuclear New Build (NBB) Generation Company, an EDF Energy subsidiary, submitted the DCO application to the government's Planning Inspectorate in May 2020, setting out the range of measures the project would implement to mitigate construction effects and maximize community benefits. The Planning Inspectorate accepted the application in June 2020 and completed its examination in October 2021. Recommendations were made to the secretary of state for business, energy, and industrial strategy this February.
The decision to grant the DCO marks the biggest milestone to date in the Sizewell C approval process. According to EDF, it follows four rounds of public consultation that began in 2012 and involved more than 10,000 East Suffolk residents.
What they're saying: "I am delighted that, after months of careful consideration, the government has given planning consent for Sizewell C," said Carly Vince, the project's chief planning officer. "It is a big endorsement of our proposals and supports our view that this is the right project in the right place. I would like to thank the thousands of people in East Suffolk who contributed to our consultation sessions and the public examination. The input of residents, local authorities, environmental groups, and many others has helped us to improve our plans. . . . Sizewell C will be good for the region, creating thousands of opportunities for local people and businesses. It will boost local biodiversity and leave a legacy Suffolk can be proud of."
Tom Greatrex, chief executive officer of the United Kingdom's Nuclear Industry Association, also welcomed the news, declaring, "This is a huge step forward for Britain's energy security and net-zero ambitions. Sizewell C will provide reliable low-carbon power for more than 80 years, cutting gas use, creating thousands of high-quality, skilled jobs, and long-term investment and opportunity up and down the country. Sizewell C will be one of the U.K.'s largest-ever green energy projects, and this decision significantly strengthens the pipeline of new nuclear capacity in Britain."
Next steps: Additional actions are required before the Sizewell C project can begin construction, including receipt of a nuclear site license from the Office for Nuclear Regulation (an application for which was submitted by NNB Generation in June 2020) and permits from the Environment Agency.
On July 8, the Environment Agency announced that it had begun a 12-week public consultation on three environmental permits for the operation of Sizewell C. It is seeking feedback from the community and all stakeholders by September 25.
According to the agency, if granted, the permits would allow Sizewell C to do the following:
Dispose of and discharge radioactive waste (radioactive substances activity permit).
Operate standby power supply systems using diesel generators (combustion activity permit).
Discharge cooling water and liquid effluent into the North Sea (water discharge activity permit).
In the announcement, the agency's Sizewell C project manager Simon Barlow said, "Our proposed decision is that we should issue the permits for the three operational activities, subject to the consultation process. These draft permits represent over 10 years of pre-application discussions with [NNB Generation]. We've set out our reasoning in the documents and supporting assessments. The company has applied for these permits many years ahead of the station operating. If we grant these permits early in the project, it will help us to positively influence the design, procurement, and commissioning of the power station, whilst also ensuring that the environment and wildlife is protected."
Background: The proposed Sizewell C station, consisting of twin EPRs, would be built next to Sizewell B, a 1,198-MWe pressurized water reactor that began operation in 1995. (The Sizewell site also houses Sizewell A, a 290-MWe Magnox gas-cooled reactor, but that unit was permanently shuttered in 2006.) Sizewell C would be a near copy of the two-unit Hinkley Point C station, currently under construction in Somerset.