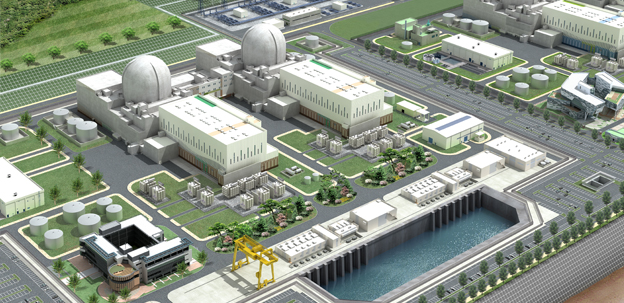 South Korea's new president, Yoon Suk-yeol, appears to be following through on his campaign pledge to reverse the previous administration's domestic nuclear phaseout plan. Earlier this month, Yoon's Ministry of Trade, Industry, and Energy announced a new direction for the nation's energy policy—one that calls for, among other things, a reembrace of nuclear power. A further announcement on the subject last week provided additional details.
According to the government's announcements (here and here), the construction of Shin-Hanul Units 3 and 4 will resume and be completed by 2024, with the aim of increasing nuclear's share of South Korea's energy mix from 27 percent (reported in 2021) to 30 percent by 2030. (Work on the two 1,340-MWe APR-1400 reactors was suspended in 2017 as part of then president Moon Jae-In's preference for renewable energy, backed by natural gas.)
The 30 percent figure, the ministry said, hinges on the premise that nuclear plants now under construction will enter operation and that facilities currently operating will continue to do so.
Also by 2030, the government hopes to export 10 nuclear plants, develop a domestic small modular reactor, and reinvigorate the nuclear energy ecosystem via early project procurement, the ministry added.
On Seoul's goals: "Amid the global push for carbon neutral, escalation of [the] Russia-Ukraine conflict, and global energy supply chain uncertainties, energy security and attaining carbon-neutral goals are now more critical than ever," the ministry stated in its July 5 announcement. "In response to these changes, it is imperative that new energy policy goals and directions are set so as to better accomplish carbon-neutral government projects and the expansion of nuclear power."
Background: The Shin-Hanul plant, located on South Korea's east coast, in Gyeongsangbuk-do Province, also houses two other APR-1400s: Unit 1 was connected to the grid last month, and Unit 2 is nearing completion.
In case you missed it: In May, Seung Chul Lee, deputy chief executive officer of Korea Hydro and Nuclear Power (KHNP)—operator of the South Korean reactor fleet—told the Polish Press Agency that the company was willing to cofinance the construction of six nuclear units in Poland. (KHNP had formally offered to construct the APR-1400 reactors in April.)
Lee said that KHNP was willing to take 20–30 percent of a 49 percent stake in the project. He explained that KHNP would make a "direct contribution to the investment," with additional financing obtained from export credit agencies and possibly commercial banks.