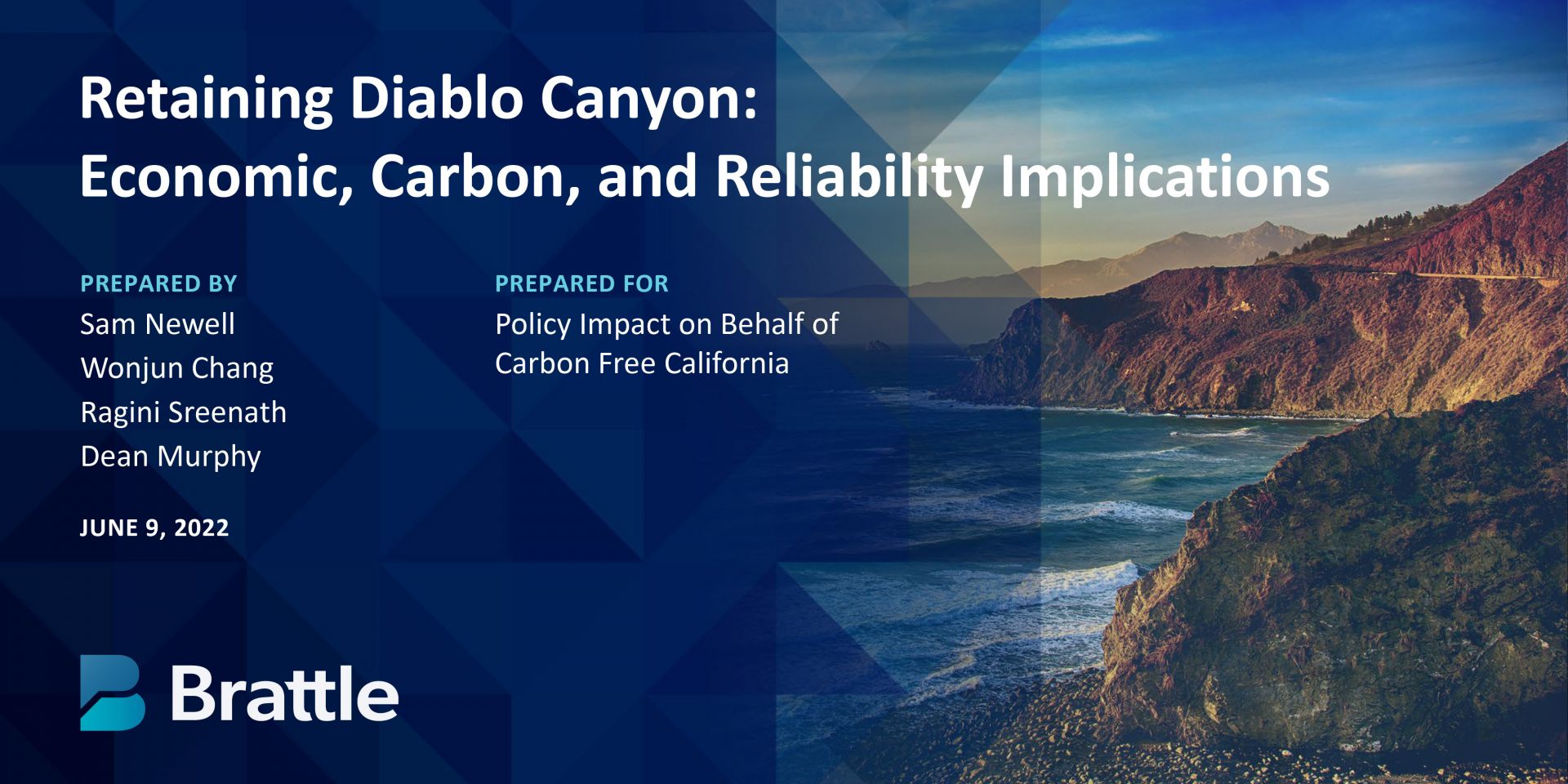 Extending the operational life of California's Diablo Canyon nuclear power plant beyond 2025—its scheduled year of retirement—would help the state meet its climate goals more quickly, more reliably, and more cheaply than allowing the facility to close, a new study has found.
According to Retaining Diablo Canyon: Economic, Carbon, and Reliability Implications, keeping the plant on line could not only substantially reduce California's emissions, natural gas use, and electric power costs, but also help avoid blackouts.
The 32-page analysis was released last week by Carbon Free California, an organization that, according to its website, supports "all forms of emission-free energy to address the climate crisis." The report was prepared by the Brattle Group, the Boston-based consulting firm whose 2019 report on the economic and environmental impacts of Illinois nuclear plants proved a useful tool in the ultimately successful effort to save that state's Byron and Dresden units.
The study's release came just days after news broke that California Gov. Gavin Newsom's cabinet secretary had written a letter to energy secretary Jennifer Granholm requesting some alterations to the federal government's $6 billion Civil Nuclear Credit Program in order to ensure Diablo Canyon's eligibility.
What they're saying: "For California to stay on track with its deep decarbonization goals, everything needs to line up, especially in the electric power sector," said David Victor, endowed chair in innovation and public policy at the University of California–San Diego and director of the Deep Decarbonization Initiative, in a Carbon Free California press release. "That means massive expansion of renewable energy supplies and transmission at rates that are unprecedented. This new analysis shows that the extension of Diablo Canyon would, in effect, give California more options as it figures out how to add all these renewables. The California decarbonization plan matters mainly because it is a model for the rest of the world. If California fails—because deep decarbonization proves infeasible or the grid becomes conspicuously unreliable—that will send a signal that could set back planetary efforts to cut emissions and slow global warming. We need to get this right, which means putting all options on the table to help the state decarbonize."
Golden State goals: In 2018, then governor Jerry Brown signed into law the 100 Percent Clean Energy Act, committing California to decarbonization of its power grid. Goals include 60 percent renewable energy by the end of 2030 and 100 percent clean electric retail sales by the end of 2045.
Key findings: According to the Brattle study, extending operations at Diablo Canyon would:
Massively reduce cumulative emissions by approximately 40 million metric tons of CO2, more than an entire year's worth of in-state electricity generation emissions, while also lowering other local air pollution from gas-fired plants.
Displace gas-fired generation and carbon-emitting imports, even if California more than doubles its rate of solar power generation and deploys widespread carbon capture technologies after 2035.
Reduce system costs by more than $4 billion for ratepayers by displacing more expensive gas-fired generation and fossil fuel imports and reducing costs of the mix of other resources to meet clean energy and reliability goals.
Reduce the risk of blackouts in the near term and over the longer term in the event clean energy deployment rates do not double and future clean technologies do not materialize at scale.
Help enable California to achieve a carbon-free power grid a decade earlier than mandated by current law—by 2035—jumpstarting economy-wide decarbonization and providing the state more time to accelerate its scale-up of solar and wind power generation.
Background: Located near Avila Beach, Calif., Diablo Canyon houses two four-loop Westinghouse pressurized water reactors. Unit 1, a 1,138-MWe PWR, began commercial operation in May 1985, while the 1,151-MWe Unit 2 started providing power in March of the following year.
In June 2016, plant owner/operator Pacific Gas and Electric announced that it had reached an agreement with organized labor and environmental organizations to increase its investment in energy efficiency and storage, as well as renewables, and to close Diablo Canyon upon the expiration of the reactors' operating licenses—November 2024 for Unit 1 and August 2025 for Unit 2. PG&E's application to close the plant was approved by the California Public Utilities Commission in January 2018, and in March of that year, the utility notified the Nuclear Regulatory Commission that it was withdrawing its 2009 application for license extension.