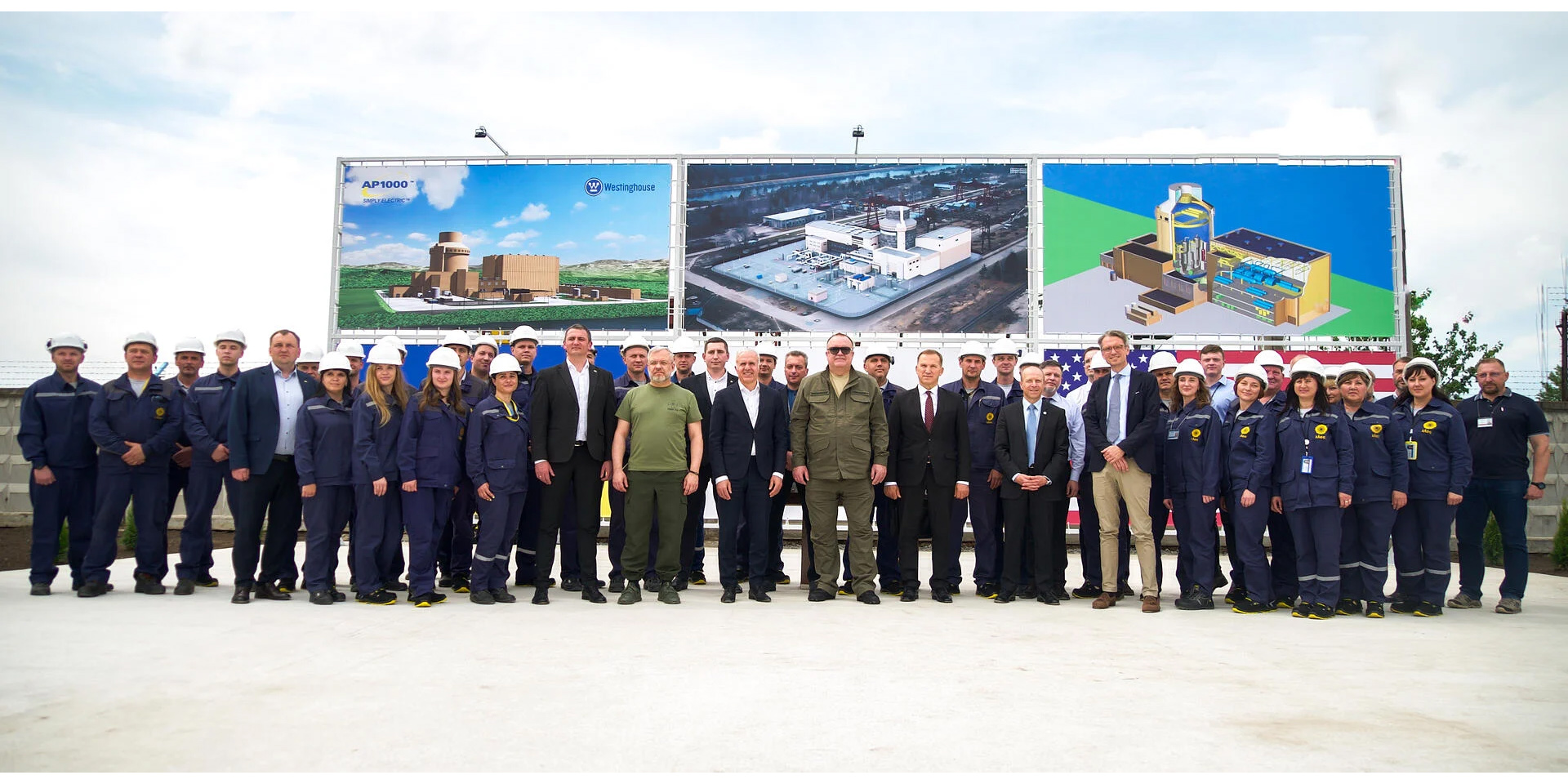 The war in Ukraine notwithstanding, Westinghouse Electric Company has stepped up its partnership with Energoatom, Ukraine's state-owned nuclear utility, signing agreements last week to supply all of the nuclear fuel for the country's operating reactor fleet and to collaborate on the construction of nine AP1000 units for Ukraine, rather than the five earlier envisioned.
In addition, the two companies have affirmed their intention to establish a Westinghouse Engineering Center in Ukraine to support the planned AP1000 projects, as well as Energoatom's operating fleet and future decommissioning program.
Signing the agreements were Patrick Fragman, Westinghouse president and chief executive officer, and Petro Kotin, president of Energoatom. Ukrainian energy minister Herman Halushchenko and Swedish ambassador to Ukraine Tobias Thyberg also attended the signing ceremony, which took place at the Khmelnytskyi nuclear plant in western Ukraine, where the first AP1000 reactor is to be built.
The fuel will be supplied out of Westinghouse's fabrication site in Västerås, Sweden, with continued localization of fuel assembly component production in Ukraine, according to Westinghouse's June 3 announcement. Atomenergomash, an Energoatom subdivision, is currently completing qualification to manufacture top and bottom nozzles for Westinghouse fuel, the announcement stated.
Signers language: "Westinghouse is proud to sign these agreements to fully support Ukraine's current operating fleet with our industry-leading fuels and services and to increase the number of committed new AP1000 plants from five to nine," said Fragman. "We greatly value our long-standing partnership with Energoatom and look forward to the work ahead to help advance Ukraine's carbon-free future."
"Even during this challenging time, we continue to work actively with Westinghouse, our strategic partner," added Kotin. "We will expand the areas and scope of cooperation and are confident that together, we will not only write a new chapter in the history of Ukraine's nuclear energy but also make an important contribution to the energy independence of Europe."
In case you missed it: In November 2021, Fragman and Kotin signed a contract initiating engineering and procurement of long-lead items for an AP1000 unit to be built at Khmelnytskyi, which currently houses two operating units, both Russian-designed 950-MWe VVER-1000/V320 pressurized water reactors. (Ukraine's other nuclear power facilities—the four-unit Rivne, the three-unit South Ukraine, and the six-unit Zaporizhzhia—also feature VVERs exclusively.)
Earlier in 2021, the two executives signed a memorandum of cooperation to build AP1000s at Ukrainian nuclear plants. In addition to completing the Khmelnytskyi-4 project (work on which was halted in 1990), the agreement envisioned the construction of four additional units at other sites.
More Westinghouse news: The nuclear industry's first integrated outage, maintenance, and modification services business has been created by Westinghouse's acquisition of BHI Energy. A recent Business Wire report notes that Westinghouse, through the incorporation of BHI's service quality and customer partnerships, has expanded its capabilities in maintenance and modification services for nuclear power plants, as well as in complementary offerings for solar, wind, and hydro power.
Westinghouse's Fragman said, "The combination of these complementary organizations further strengthens our ability to serve the nuclear operating fleet through an expanded presence in our core business, while setting a new standard in outage and maintenance efficiencies."