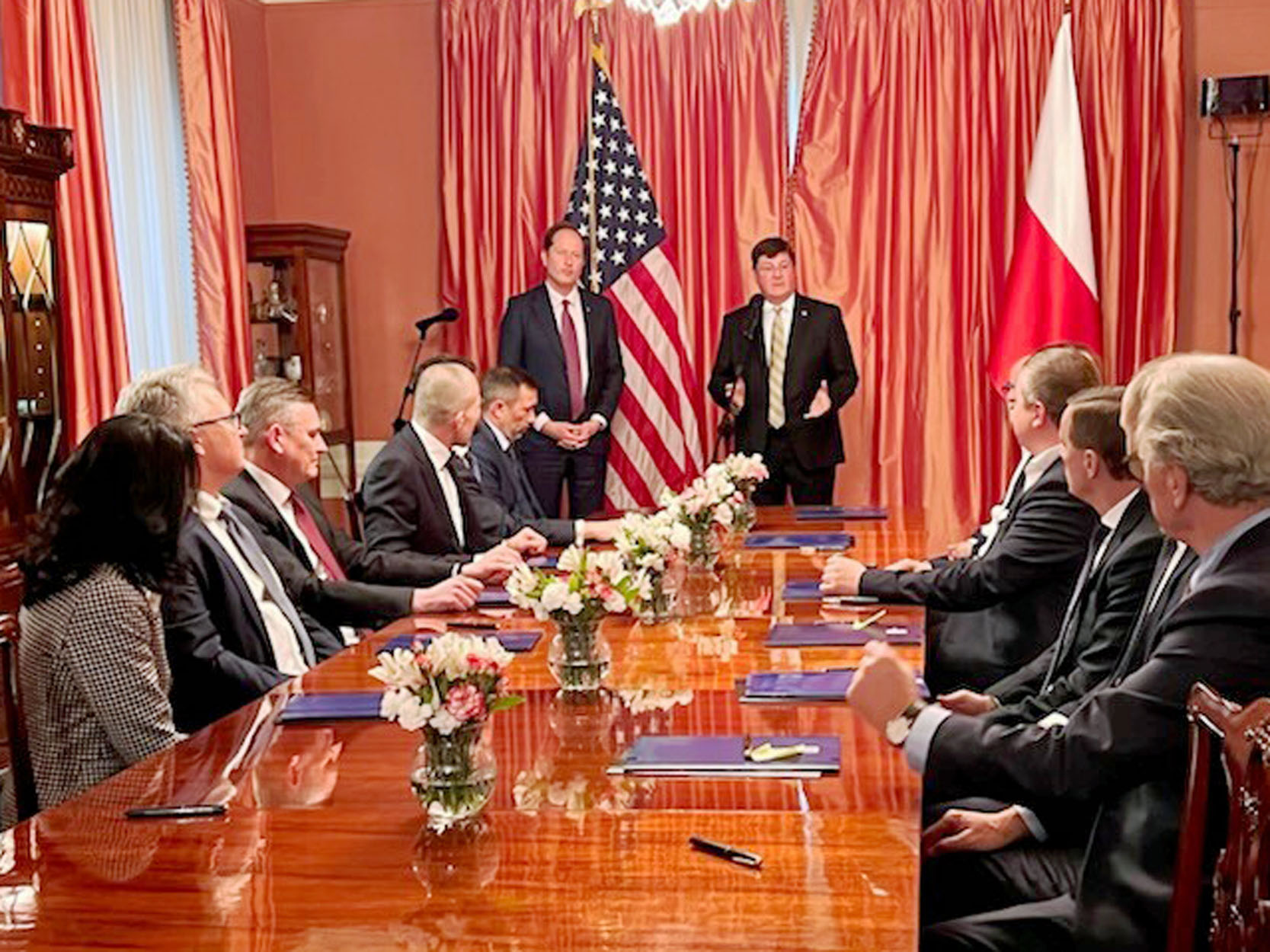 Bechtel has signed memorandums of understanding with a dozen Polish companies for the potential development of two nuclear power plants as Poland seeks to lessen its dependence on domestic coal and Russian imports for its energy supply.
The MOUs were signed on April 25 during a ceremony at the U.S. ambassador's residence in Warsaw. Offering services ranging from earthwork and infrastructure construction to concrete, tunneling, electrical installations, and heavy cranes, the 12 Polish firms are BAKS, Budimex, Doraco, Energoprojekt-Katowice, Hitachi Energy Poland, ILF, KB Pomorze, Mostostal Warzsawa, Polimex Mostostal, Protea Group, Vistal Gdynia, and Zarmen.
What they're saying: "Construction of these power plants would require Polish expertise and thousands of skilled Polish workers," stated Ahmet Tokpinar, general manager of Bechtel's nuclear power business line. "As the [engineering, procurement, and construction] partner for these projects, Bechtel intends to join with a large number of Polish companies as key members of our subcontracting team. Now is the time to identify these future partners in the supply chain."
The U.S. ambassador to Poland, Mark Brzezinski, said, "This signals another important step forward in a project that will bring our countries even closer together over a 100-year partnership. The U.S. Embassy in Poland is pleased to support Bechtel and Westinghouse as they select local Polish suppliers for this strategic project."
In case you missed it: Bechtel and Westinghouse on February 23 announced the signing of an MOU with GE Steam Power to explore opportunities in their joint pursuit of civil nuclear power projects in Poland.
The preferred site for Poland's initial foray into nuclear power is Lubiatowo-Kopalino, near the Baltic coast. Bechtel and Westinghouse are preparing a front-end engineering design for the site, supported by a grant from the United States Trade and Development Agency.
Background: In February 2021, Poland's Ministry of Climate and Environment announced the official adoption of the Energy Policy of Poland until 2040 (PEP2040), originally published in draft form in November 2018 and revised the following year.
In its announcement, the ministry described PEP2040 as "a clear vision of Poland's energy transformation strategy" and "a compass for entrepreneurs, local governments, and citizens in the transformation of the Polish economy toward low emission." By 2040, the document stated, more than half of Poland's installed capacity will be zero-emission sources, and offshore wind energy and nuclear energy will play "a special role" in reaching that goal.
PEP2040 contains eight specific objectives, one of which is the implementation of nuclear power. According to the document, Poland will launch its first nuclear power reactor, with a capacity of 1–1.6 GWe, in 2033. Additional units are to follow every two to three years after that. The nuclear program envisions the construction of six units by 2043.
The technology provider for the initial project has yet to be chosen. Contenders include Westinghouse, EDF, and Korea Hydro & Nuclear Power.