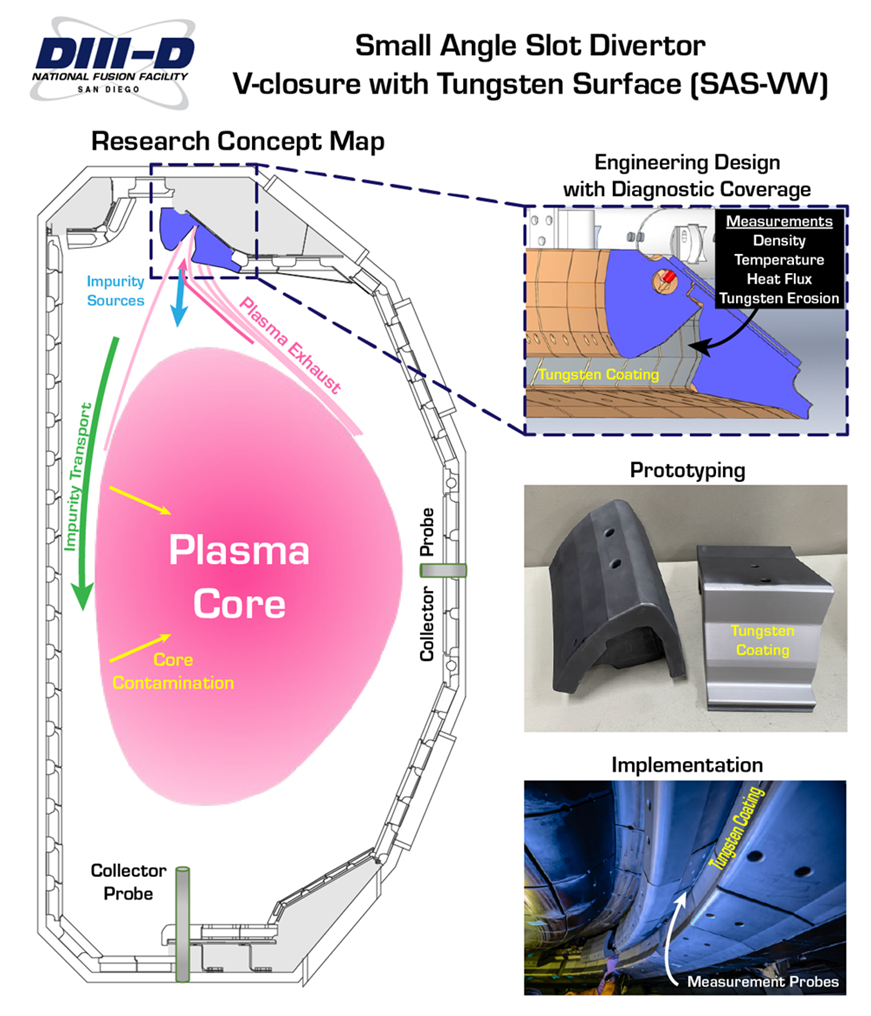 Researchers at the DIII-D National Fusion Facility (DIII-D) are preparing to test a new method that could enable future fusion power plants to withstand the heat and particle flow created by the fusion reaction, General Atomics reported this week.
Tracking tungsten: Magnetic confinement fusion power plant designs typically incorporate tungsten in the reactor vessels because of its high resistance to heat and radiation. However, wall surfaces exposed to the fusion reaction can erode and form impurities in the plasma. Tungsten contamination of even 0.001 percent is enough to seriously impair performance, according to General Atomics.
DIII-D, the largest magnetic fusion research facility in the United States, is being used to study methods of reducing tungsten erosion and preventing errant particles from affecting the fusion reaction. DIII-D is operated by General Atomics, in San Diego, Calif., as a Department of Energy Office of Science User Facility.
Diversionary tactics: Plasma particles and their associated heat eventually leak through the tokamak's magnetic fields. The heat and particle flow along the magnetic field lines in the edge region is intense enough to damage the inside surfaces of the tokamak. For this reason, tokamaks incorporate a device called a divertor that is designed to remove stray particles from the edge regions of the plasma and keep them out.
DIII-D features a small angle slot (SAS) divertor that is shaped to ensure that hot plasma exhaust entering the divertor contacts a "gas cushion" of colder particles that is trapped between the incoming heat flux and the divertor surface. By placing a row of tungsten-coated tiles in the DIII-D's existing SAS divertor and adding instrumentation, the researchers plan to study how tungsten could emerge from the divertor and move toward the core, and how those stray particles might affect fusion performance.
A multi-institution effort: "Developing robust wall materials is absolutely necessary for economic fusion energy," said Dan Thomas, a scientific manager at DIII-D who is helping coordinate the multi-institution effort on these new experiments. "The specific way in which this will be accomplished is still an open, unsolved question and a very active area of research worldwide. Here at DIII-D, we have an active collaboration, with multiple institutions looking at the many ways plasma and the vessel wall can interact. This is another illustration of the flexibility and impact of the DIII-D research program."