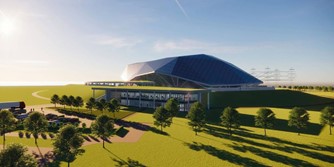 The United Kingdom's Department of Business, Energy and Industrial Strategy (BEIS) has asked regulators—including the U.K. Office for Nuclear Regulation (ONR), the Environment Agency, and Natural Resources Wales—to begin a generic design assessment (GDA) of Rolls-Royce SMR's 470-MWe small modular reactor design.
The request was made after BEIS conducted a readiness review of Rolls-Royce SMR's GDA application, which was submitted last November. That review, ONR said in a March 7 announcement, "concluded that the design is ready to enter the GDA process." ONR added that the GDA "will begin once the necessary arrangement around timescales and resources have been put in place."
A GDA is performed to gauge the safety, security, and environmental protection aspects of a nuclear plant design. Successfully completing the assessment culminates in a design acceptance confirmation from ONR and a statement of design acceptability from the Environment Agency.
Benefits for Britain: Rolls-Royce SMR expects its program to:
Create 40,000 regional U.K. jobs by 2050.
Generate £52 billion (about $73.3 billion) of economic benefit.
Source 80 percent of a plant's components from the United Kingdom.
Target an additional £250 billion (about $354.2 billion) of exports (memoranda of understanding are already in place with Estonia, Turkey, and the Czech Republic).
Initially cost £2.2 billion (about $3.1 billion) per unit, dropping to £1.8 billion (about $2.5 billion) by the time five have been completed.
Operate for at least 60 years.
What they're saying: "Entering the GDA assessment process is another major milestone as we head at pace toward our goal of deploying a fleet of SMRs that will produce affordable, low-carbon electricity—helping meet future energy demands and reach our net-zero targets," said Tom Samson, Rolls-Royce SMR's chief executive officer. "The U.K. regulatory process is internationally recognized and respected. We welcome the scrutiny and challenge that goes into the assessment of our nuclear power plant design."
A spokesperson for Britain's Nuclear Industry Association commented, "This is a vital step forward for British nuclear technology. The U.K. needs the Rolls-Royce SMR to strengthen our energy security and cut our dependence on gas as we move toward net zero. The SMR can also play an essential role in enhancing British industrial capability, creating tens of thousands of jobs, revitalizing the nuclear skills base, and boosting the green economic recovery."