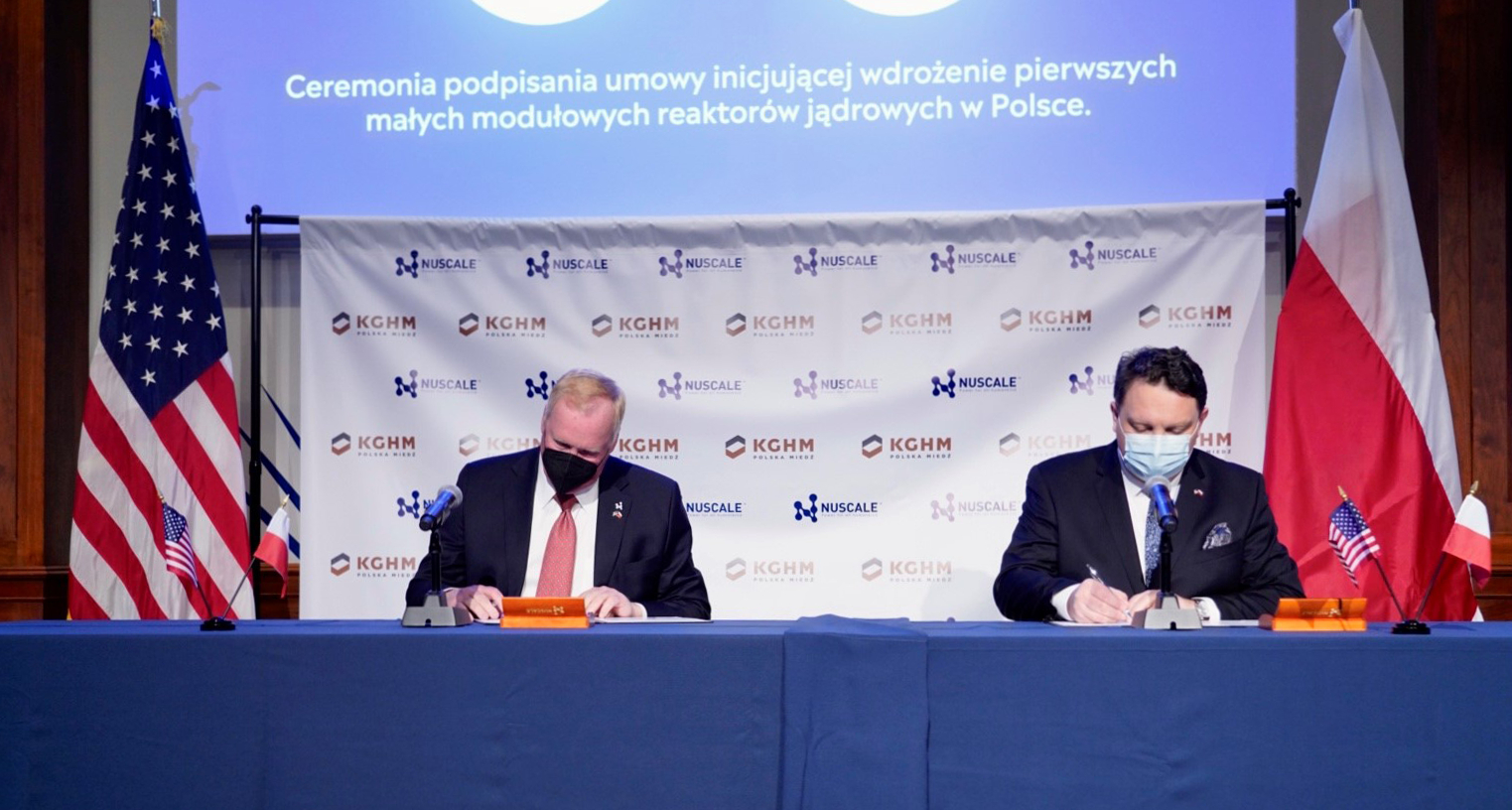 At an event held on February 14 at the Chamber of Commerce in Washington, D.C., small modular reactor developer NuScale Power inked an agreement with KGHM Polska Miedz S.A., to initiate deployment of NuScale's SMR technology in Poland.
KGHM is a multinational corporation based in Poland that is involved with copper and silver production, employing some 34,000 people around the world. Last year, KGHM and NuScale signed a memorandum of understanding to explore SMR commercialization and deployment in Poland.
Under the new agreement—signed by John Hopkins, NuScale president and chief executive officer, and Marcin Chludzinski, president of the KGHM management board—the companies will take steps toward deploying a NuScale VOYGR power plant in Poland as early as 2029. Such deployment, according to NuScale, would help the Central European nation avoid up to 8 million tons of CO2 emissions per year.
The initial task under the agreement will be to identify and assess potential project sites and develop project-planning milestones and cost estimates, NuScale said, adding that KGHM is looking at VOYGR facilities as a replacement for Poland's numerous CO2-belching coal-fired power plants.
What they're saying: "By partnering with KGHM, NuScale can capitalize on the incredible momentum of the past year and bring the world one step closer to combating climate change and meeting the growing demand for clean energy," said Hopkins at the signing ceremony, which was live streamed. "Together we can demonstrate how our cleaner and safer advanced nuclear design bring numerous benefits—economic and environmental to countries like Poland, as they seek innovative solutions, meet climate goals, and accelerate the transition to clean energy."
Chludzinski added, "These small reactors can be used not just to generate electrical power. We can also use them for heat generation and to produce hydrogen, so there are different options that we can use, and all of them are very important for industrial companies."
Also attending the event was Kathryn Huff, the Department of Energy's principal deputy assistant secretary for nuclear energy. "It's an honor to be a part of this visionary moment in which we're making a reality out of a future vision to deploy American innovative technology internationally," said Huff. "None of this would be possible without nuclear power, without innovative companies like NuScale leading the way internationally through 'deployment, deployment, deployment,' as the secretary [Jennifer Granholm] would say."