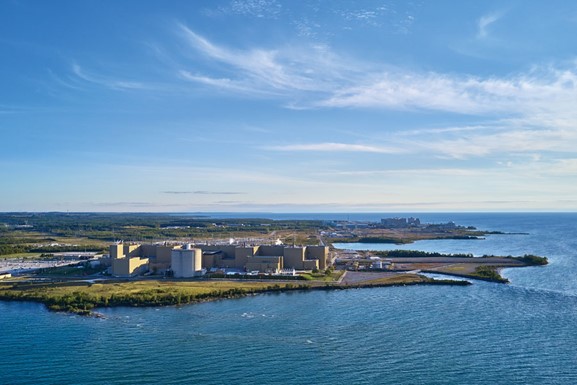 Bruce Power has received approval from the Canadian Nuclear Safety Commission (CNSC) to begin the production of lutetium-177, becoming the first power reactor globally to commercially produce the medical radioisotope. Isogen, a joint venture between Framatome and Kinectrics, will produce Lu-177 at Bruce's eight-unit CANDU nuclear power plant in Ontario, Canada, using Isogen's isotope production system (IPS).
Lu-177 allows for targeted and precise treatments, destroying cancer cells while limiting damage to surrounding healthy tissue and organs.
David Harris, chief executive officer of Kinectrics, said in a September 24 statement, "The license granted by CNSC today marks a critical milestone for Isogen on our mission to provide lifesaving medical isotopes to the world."
Ytterbium production: The Lu-177 will be produced by irradiating ytterbium-176 targets sealed in special containers and placed in the IPS in one of Bruce's CANDU reactors for about two weeks.
Once irradiated, the ytterbium targets will be processed by the German-based radiopharmaceutical company Isotopen Technologien München (ITM), which will produce highly pure, no-carrier-added Lu-177 in pharmaceutical quality. The medical isotope will be marketed globally by ITM under the brand name EndolucinBeta.
The installation of the IPS is part of the ongoing life-extension program at the Bruce Power site that began in 2016. According to Bruce Power, as the IPS commissioning process continues, there will be additional regulatory hold points to allow CNSC staff to confirm operational readiness of the system prior to the start of Lu-177 production.
Other partners: Bruce Power is also collaborating with Canada's Saugeen Ojibway Nation (SON) in jointly marketing new isotopes while working together to create economic opportunities within the SON territory by establishing new isotope infrastructure. The partnership includes an equity stake and a revenue-sharing model for SON.
"Many members of our community have been impacted by cancer in some way," said Lester Anoquot, chief of the Chippewas of Saugeen First Nation. "We are proud to play a leadership role in the global fight against cancer, while building economic opportunities in our community."
He said it: "This project is an innovative partnership between Bruce Power, Isogen, Saugeen Ojibway Nation, and ITM and is a game changer for the supply of medical isotopes and the global medical community in the fight against cancer," said James Scongack, Bruce Power's chief development officer and executive vice president of operational services. "This is another important step forward to utilize our CANDU reactors to provide a new large-scale capacity for production in the medical isotope supply chain, cementing Canada's place as a global isotope superpower."
Through its partnership with Nordion, Bruce Power is one of the world's largest producers of cobalt-60, which is used in the sterilization of single-use medical equipment and in cancer treatments such as Gamma Knife radiosurgery.