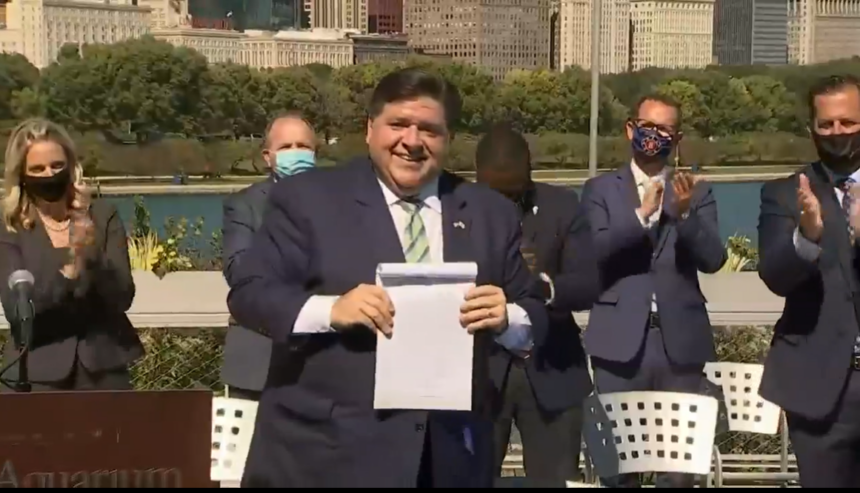 In an hour-long ceremony held yesterday at Chicago's Shedd Aquarium amid some fanfare (it included an appearance by lizards, a snake, and a penguin), Illinois Gov. J.B. Pritzker signed into law the Climate and Equitable Jobs Act (S.B. 2408). The bill is a sweeping overhaul of the state's energy policies aimed at phasing out fossil-fuel power generation and placing Illinois on a path to become a 100 percent carbon-free energy producer by 2050.
The bill, which passed the Democrat-dominated Illinois legislature on Monday by a 37-17 vote in the Senate, includes $694 million in assistance to three of Exelon's struggling nuclear plants—Braidwood, Byron, and Dresden. The Illinois House had passed the measure 83-33 the previous week.
In August of last year, Exelon announced its intention to prematurely retire Byron and Dresden, citing long­standing economic pressures. Without some form of compensation from the state for the plants' environmental and reliability attributes, the company said, Byron would shut down in September 2021, followed by Dresden in November. Exelon also warned that its Braidwood and LaSalle facilities were in some jeopardy of early retirement. (Senate approval of S.B. 2408 came almost literally "just in time" for Byron, as the plant was slated to close on Monday.)
Pritzker: "We can't outrun or hide from climate change, not to the north, where the boundary waters burn, not to the south, where Ida swallows lives and livelihoods in the blink of an eye," Pritzker said at the signing ceremony. "There is no time to lose, but what we can do, what we must do—and thanks to the Climate and Equitable Jobs Act, Illinois is doing—is to fight to stop, and even reverse, the damage that's been done to our climate. As of today, Illinois is a force for good, for an environmental future we can be proud of."
The governor thanked a long list of individuals and organizations for their work on the issues surrounding the legislation, including Synapse Energy Economics, the research and consulting firm hired by the state to scrutinize Byron and Dresden's financial fitness. "[Synapse's] thorough and independent audit of Exelon, and Exelon's willingness to open their books, allowed us to preserve Illinois's valuable nuclear fleet, the nation's largest, at the lowest cost to the ratepayer, preserving our path to a zero-carbon future," Pritzker said.
Rezin: Three Senate Republicans crossed the aisle to vote for S.B. 2408, including Sen. Sue Rezin (38th Dist.) "For nearly two years, thousands of Illinois workers employed by our state's nuclear power plants dreaded the possibility of losing their jobs and being forced to leave the communities that they love and the lives that they have built," said Rezin, whose district includes three of the state's six nuclear plants. "Communities like the ones in my district feared what would happen once their plants went off line and they lost the vital tax revenues that [the plants] provide for their schools and their critical services. During the last two years, stakeholders and legislators on both sides of the aisle spent countless hours fighting to prevent those fears from becoming a reality. With the governor's signature on Senate Bill 2408, we ensure that our state's nuclear fleet will stay on line and thousands of jobs and the tax revenues that they provide won't be lost."
Exelon: Following Monday's passage of S.B. 2408, Exelon issued a statement saying that it was preparing to refuel its Byron and Dresden nuclear plants as a result of the action taken by the Illinois legislature to enact a comprehensive energy bill. "Once signed by the governor," Exelon said, "the legislation will strengthen Illinois's clean energy leadership, protect the state's economy by preserving tens of thousands of jobs, and prevent an increase in pollution and energy costs that would harm consumers if the plants closed."
Exelon also said that once the legislation was signed, the company would move to immediately fill hundreds of vacant positions and resume capital projects required for long-term operation.