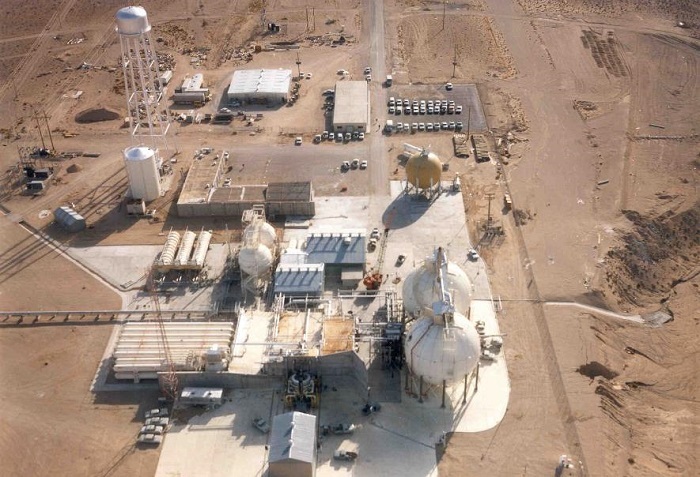 The Department of Energy is preparing to demolish two large, complex facilities at the Nevada Nuclear Security Site with ties to historical nuclear propulsion rocket development and testing programs. The DOE's Environmental Management (EM) Nevada Program and its environmental program services contractor, Navarro Research and Engineering, have begun characterization and hazard reduction work on the site's Engine Maintenance, Assembly, and Disassembly (EMAD) and Test Cell C (TCC) complexes.
The two legacy nuclear facilities were part of the now inactive Nuclear Rocket Development Station, which supported the development and testing of nuclear rocket engines from 1957 until 1973. This jointly administered effort of the Atomic Energy Commission, predecessor to the DOE, and the National Aeronautics and Space Administration was of such vital importance to U.S. interests at home and abroad that President John F. Kennedy toured the site in March 1963.
Strategic mission: According to the DOE, demolition and closure of the EMAD and the TCC complexes represent the last major industrial-type facilities identified in EM Nevada's environmental remediation mission.
As outlined in the DOE's Strategic Vision for 2021-2031, EM Nevada plans to demolish the TCC buildings to grade, dispose of the generated waste, and close in place any contamination located below grade in 2023. Plans to complete similar demolition and waste disposal activities for the EMAD complex are scheduled for 2025. Demolition work at both facilities is to begin in 2022.
The EMAD: Constructed in 1968 at a cost of more than $50 million, the EMAD is a four-story, 100-square-foot building that includes what was once the largest hot cell in the world, according to the DOE.
Characterization and hazard reduction activities at the EMAD include the removal of light fixtures and electrical switches containing mercury, and excess chemicals containing hazardous components. Radiological control teams have finished sampling and characterization work to assess potential contamination for about 85 percent of the structure, the DOE announced on September 14.
Working with the site's management and operations contractor Mission Support and Test Services, EM Nevada and contractor Navarro recently used unmanned drones to perform aerial observations and inspections. Kordt Engineering Group, an independent consultant, also conducted a structural analysis to ensure that the cooling tower on the roof is stable and that the interior of the facility is safe for access and entry by personnel.
The TCC: Characterization and hazard reduction work is also being conducted at the TCC complex, where four buildings comprising approximately 13,790 square feet of space remain. In addition, some infrastructure that was part of a cooling system is slated for demolition and closure. An elevated potable water tank and flare stack piping used for venting during testing will also be removed.