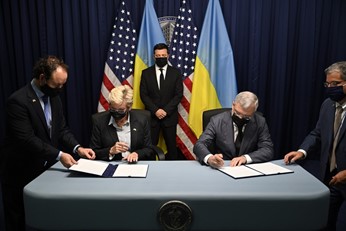 U.S. energy secretary Jennifer Granholm and Ukrainian energy minister Herman Galushchenko last week signed a joint statement of intent to advance energy and climate cooperation through the U.S.-Ukraine Strategic Energy and Climate Dialogue. The signing took place during a visit to Washington, D.C., by Ukrainian president Volodymyr Zelensky for meetings with President Biden at the White House.
According to the statement, the parties will work to decarbonize Ukraine's economy and enhance its energy security and export potential by developing and implementing a plan to collaborate in a number of areas, including nuclear energy, solar and wind energy, hydrogen, energy storage, carbon capture utilization and storage, and cyber and physical security.
"Today we mark an important step forward in the U.S. government and the Department of Energy's support for Ukraine's energy needs," Granholm said. "With this joint statement, we are solidifying our mutual interest in fighting the climate crisis, creating new opportunities for rapid decarbonization cooperation with a key European ally, and helping Ukraine strengthen its energy security and leadership in the region." 
Cooperative companies: During the Ukrainian delegation's visit, agreements were also signed with two U.S. nuclear companies. On August 31, Petro Kotin, acting president of Energoatom, Ukraine's nuclear power plant operator, signed a memorandum of cooperation with Westinghouse president and chief executive officer Patrick Fragman to bring the Westinghouse AP1000 reactor technology to multiple sites in Ukraine. The agreement envisions the completion of the Khmelnitsky plant's Unit 4 reactor (work on which was halted in 1990) and the construction of an additional four units at other nuclear power sites in Ukraine. The total estimated cost of the projects is $30 billion, according to Energoatom.
"Westinghouse is proud to support Ukraine's current operating fleet with our industry-leading fuels and services," Fragman said. "This agreement further strengthens our long-standing partnership with Energoatom. It represents a pivotal point in advancing Ukraine's carbon-free energy future by using the world's leading nuclear reactor to meet their long-term energy needs."
And on September 1, Energoatom and NuScale Power signed a memorandum of understanding to explore the deployment of the NuScale small modular reactor in Ukraine. "NuScale is excited to partner with Energoatom on the potential deployment of a NuScale power plant in Ukraine," said John Hopkins, chairman and CEO of the Oregon-based company. "As demonstrated by recent announcements, NuScale is continuing to gain impressive momentum in international interest around the globe. We look forward to demonstrating the immense benefits of our technology to Energoatom and to the people of Ukraine as they seek to decarbonize their energy sector."