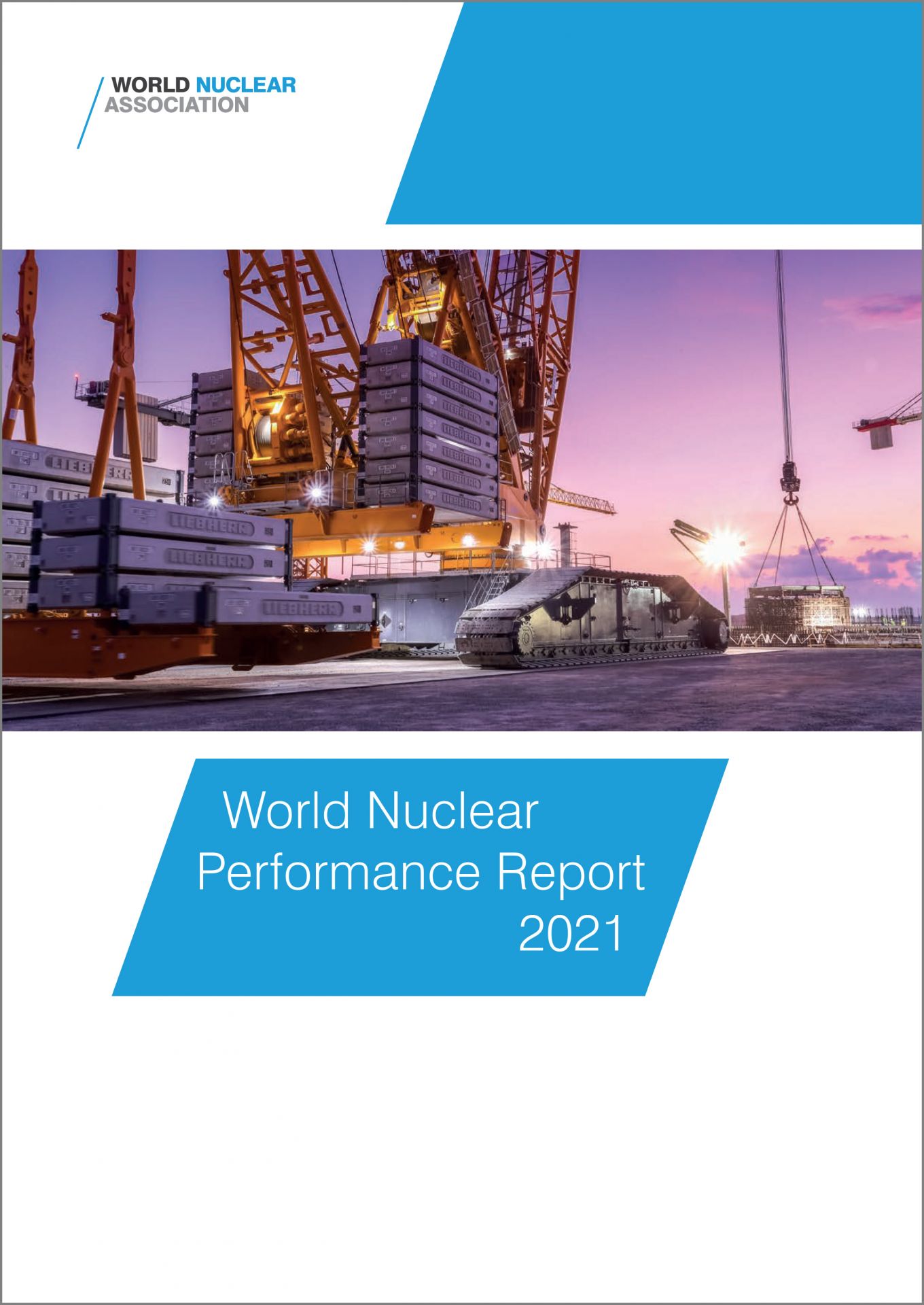 Nuclear power plants around the world generated 2,553 TWh of electricity in 2020, a drop of 104 TWh from 2019's total, according to World Nuclear Performance Report 2021. The report was released last week by the U.K.-based World Nuclear Association.
Nuclear generation declined in Africa, North America, and Western and Central Europe, rose in Asia (but by much less than in recent years), and remained largely unchanged in Eastern Europe, South America, and Russia, the 68-page report states.
Sama Bilbao y León, WNA director general, notes in the report's preface that although the nearly 4 percent decline "would be an unequivocal disappointment" in any other year, "in 2020, with overall electricity demand falling by around 1 percent and nuclear reactors increasingly being called upon to provide load-following support to the increased share of variable renewable generation, the resilience and flexibility shown by the global nuclear fleet tell a very positive story."
Other takeaways: Additional highlights from the report include:
The end-of-year capacity of the world's operable nuclear units in 2020 was 392 GWe, while the total capacity of units producing electricity was 369 GWe—the highest-ever one-year total.
There were 441 operable reactors across the globe at the end of 2020, one less than in 2019. Almost three-quarters of the 392 GWe of operable capacity was provided by pressurized water reactors.
The 2020 capacity factor for the global fleet was 80.3 percent, down from 83.1 percent in 2019. According to the report, "This continues the trend of high global capacity factors seen since 2000, even though some reactors were required to operate more in a load-following mode in 2020 due to suppressed demand for electricity during the COVID-19 pandemic."
There is no age-related trend in nuclear reactor performance. "The mean capacity factor for reactors over the last five years shows no significant overall variation with age," the report concludes. "With some reactors now being licensed to operate for 80 years, the consistency in performance of reactors regardless of age is notable. It is also notable that the improvements in average global capacity factor have been achieved in reactors of all ages, not just new reactors of more advanced design."
Six reactors, with a total capacity of 5,165 MWe, were permanently retired in 2020: France's Fessenheim-1 and -2, Russia's Leningrad-2, Sweden's Ringhals-1, and the United States' Indian Point-2 and Duane Arnold.
Five reactors, with a total capacity of 5,521 MWe, were connected to the grid in 2020: Belarus's Ostrovets-1, China's Tianwan-5 and Fuqing-5, Russia's Leningrad II-2, and the United Arab Emirates' Barakah-1.
Fuel facts: The WNA has also published the 2021 edition of The Nuclear Fuel Report, released this morning and available for purchase. (The organization has published reports on nuclear fuel supply and demand at approximately two-year intervals since its founding as the Uranium Institute in 1975.) The report notes that world production dropped from 63,207 metric tons of uranium in 2016 to 47,731 tU in 2020, adding that unfavorable market conditions, compounded by the pandemic, led to a sharp decrease in investment in the development of new and existing mines.
The currently depressed uranium market, says the report, has caused not only a sharp decrease in uranium exploration activities (by 77 percent from $2.12 billion in 2014 to nearly $483 million in 2018), but also the curtailment of uranium production at existing mines, with more than 20,500 tons of annual production being idled. Uranium production volumes at existing mines are projected to remain fairly stable until the late 2020s, then decrease by more than half from 2030 to 2040.
Asserting that intense development of new projects will be needed in the current decade to avoid potential supply disruptions, the report calls for a doubling in the development pipeline for new projects by 2040.
In sectors beyond mining, the fuel report reaches the following conclusions:
In the conversion sector, near-term reactor requirements in UF6 will be largely covered by commercial inventories. By 2023, global conversion production is expected to meet requirements due to the ramp-up and restart of existing facilities. Nevertheless, in the long run, more conversion capacity will be needed.
In the enrichment sector, excess capacity is currently used for underfeeding and tails re-enrichment, bringing in approximately 6,000–8,000 tU in support of the undersupplied uranium market. This will largely be reduced over time, as enrichment requirements rise due to nuclear generating capacity growth.
In the fuel fabrication sector, competition may become more intense from both a commercial and technological perspective, due to increased interest in the development of advanced fuels. Nuclear fuel demand increasing in Asia and decreasing in the West may cause fuel vendors to move from a regional to a more global market approach.
"The Nuclear Fuel Report makes it clear that sufficient uranium resources exist to meet the expected growth, but uranium markets need to rebalance to incentivize investment in uranium mining to support the expansion of the global nuclear fleet," said Bilbao y León.