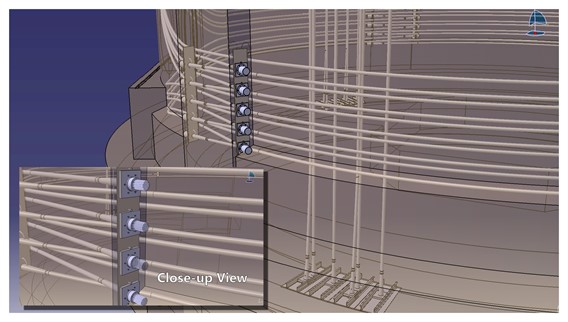 A nearly yearlong effort to de-tension and remove more than 400 steel cables, known as tendons, from the two containment domes of the San Onofre Nuclear Generating Station (SONGS) was recently completed, with only one minor first aid incident recorded, according to Southern California Edison.
Because the tendons, which reinforced the concrete containment structures against potential internal pressure increases during a hypothetical accident, were thickly coated in a flammable grease and required cutting with a torch, de-tensioning and removing them was a dirty and dangerous job, SCE said. Much of the work was done in a confined space below ground, which increased the potential for accidents.
By the numbers: Each of the domes contained a matrix of 114 horizontal tendons and 90 vertical tendons. Each tendon is made up of 55 half-inch diameter cable strands, and each strand is made from seven high-strength wires. The tendons are contained in sheaths, with each sheath containing 250 gallons of grease.
All the tendons were de-tensioned, and the vertical tendons were removed to prevent them from uncontrollably sliding out of their sheaths because of gravity. Tendon work began in August 2020 and initially focused on those areas where hatch openings would be created in each dome to allow for decommissioning work.
The grease was captured in 55-gallon drums, and the removed vertical tendons were coiled and bagged for disposal. According to SCE, at peak operation the project involved 17 workers.
He said it: Mike Hayes, of SONGS Decommissioning Solutions (SDS), SCE's decommissioning contractor, said, "It's one of those jobs, because it is so dirty, and it is nasty and can be very dangerous, you hope you're going to keep that crew intact and that they're not going to get sick of it and say, 'You know, I'm tired of pulling grease out of my ears when I go home to take a shower.' So, I give kudos to the union craft and SDS craft support, from operating engineers to laborers."
SCE awarded SDS, a joint venture of Utah-based EnergySolutions and AECOM, the contract to decommission the San Onofre nuclear power plant in December 2016. Dismantlement work began in the first quarter of 2020 and is expected to take eight to 10 years to complete.