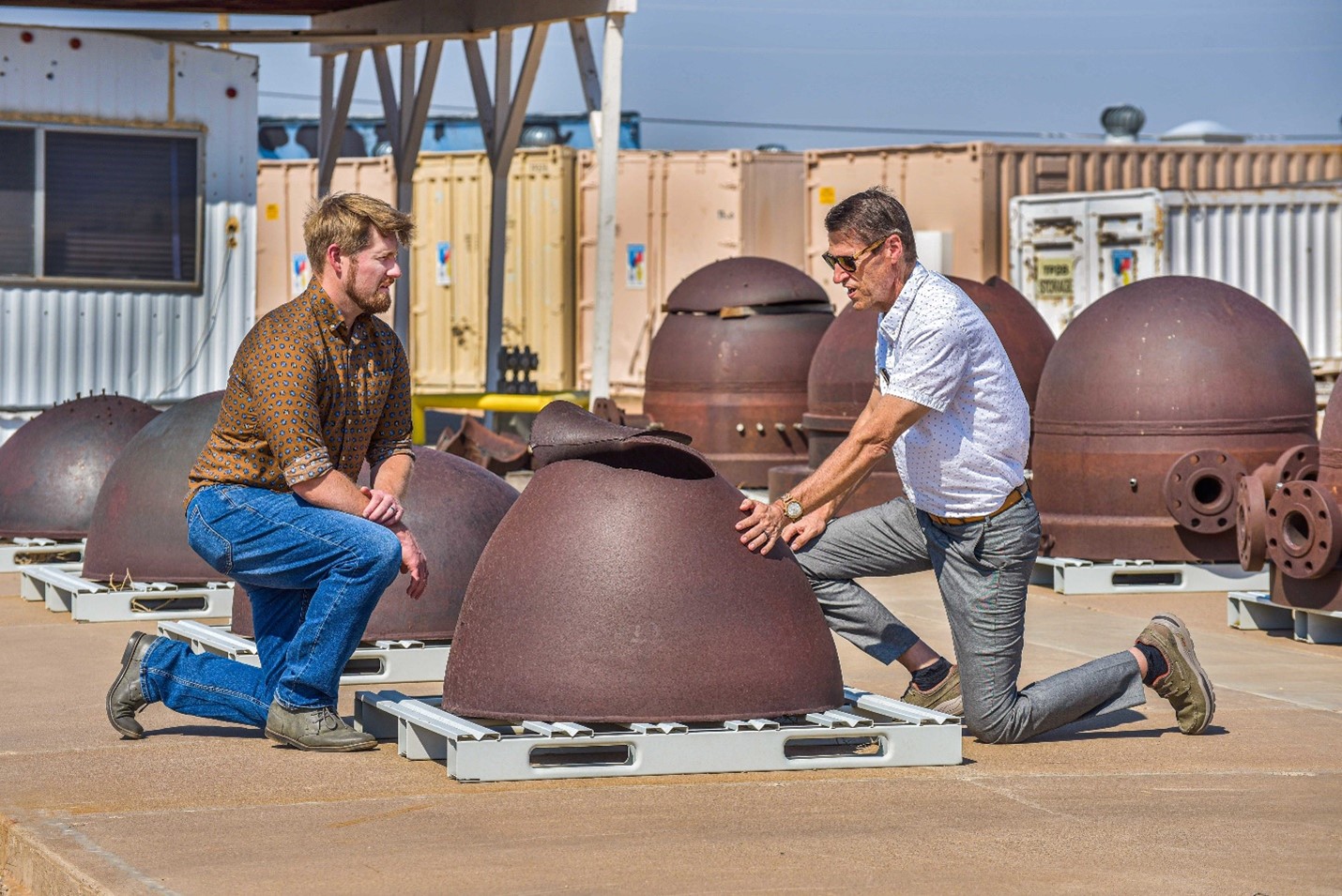 Researchers at Sandia National Laboratories have been expanding MELCOR—the severe accident modeling computer code used by the Nuclear Regulatory Commission to evaluate the safety of light water reactors—to study the small modular reactors and non-light-water advanced reactors that are under development. An article published in Sandia Lab News on August 27 describes in detail how MELCOR is being expanded to work with different reactor geometries, fuel types, and coolant systems.
"This computer code really is the Swiss Army knife of nuclear system safety," said David Luxat, manager for Sandia's nuclear reactor severe accident modeling group. "It is a flexible toolbox of physics and chemistry that allows us to simulate how a nuclear power plant or another nuclear facility reacts during an accident that could potentially lead to the release of radioactive material into the environment. In my view, the code is central to enabling the innovation of nuclear energy in the U.S. and thus mitigating the worst outcomes from climate change."
Expanding scope: Collaboration by Sandia and the NRC to advance the understanding of system performance under accident conditions began after the Three Mile Island accident in 1979 and has included areas such as accident progression, combustible gas generation and transport, molten core concrete interaction, and fuel coolant interactions, according to Sandia. In the 1980s, the NRC directed the lab to consolidate the capabilities into one software package that could model a wide range of events that can occur at a nuclear power plant, then estimate the extent of radioactive material release possible due to the event.
Since 2018, Luxat's team has expanded the severe accident code to tackle the different operational constraints and possibilities of sodium fast reactors, high-temperature gas reactors, and molten salt reactors to assess their risks and their impacts on the fuel cycle.
Larry Humphries, the lead code developer, has turned to experts at other Department of Energy labs to define the critical phenomena for other reactor types. He then fits those phenomena into the existing physics-based code, determines what physical parameters are missing, and works to fill in those knowledge gaps.
"This code is an ideal tool to apply to new reactor designs where there is a great deal of uncertainty," Humphries said. "It has the ability to set sensitivity parameters and determine which variables are critical to produce risk assessment data for regulators."
The team has developed models of three published nuclear reactor designs—a heat-pipe microreactor, a high-temperature helium-cooled reactor, and a high-temperature molten-fluoride-cooled reactor—then simulated a wide range of potential accidents.
Members of the Sandia team demonstrated these advancements at virtual public meetings this summer, including a June 29 NRC public workshop on the NRC staff's approach for source term, covering the use of SCALE (a modeling and simulation suite developed and maintained by Oak Ridge National Laboratory) and MELCOR for modeling accidents for heat-pipe reactors.
MELCOR in the ANS spotlight: As an invited speaker and panelist for an ANS Young Members Group webinar spotlighting Sandia National Laboratories in May, Luxat described both past and future roles for MELCOR.
"MELCOR was critical in really enabling the current generation of light water reactors in the United States to stay on line to enhance their safety following Fukushima," he said, adding that MELCOR has been used to support safety basis assessments for the NuScale small modular reactor and to assess non-light-water reactors.
"We often think of MELCOR and this whole system as primarily focused on light water reactors and the traditional technologies we've operated in the United States," Luxat said. "However, it's actually a very flexible platform that embeds a lot of physics and chemistry that applies much more broadly beyond just a light water reactor, and it can analyze a range of other nuclear power systems, be it next-generation light water reactors, be it even more advanced non-light-water reactor technologies. Beyond that, it can also analyze a range of nonreactor systems to understand the potential consequences of a radiological release event." Uses include evaluations of potential accidents at spent fuel pools, at DOE nuclear facilities, and even fusion energy systems, Luxat said.
Hear it from Sandia professionals: To learn more about the work done at Sandia, watch the ANS Young Members Groups webinar spotlight on the lab, which was produced live on May 11.