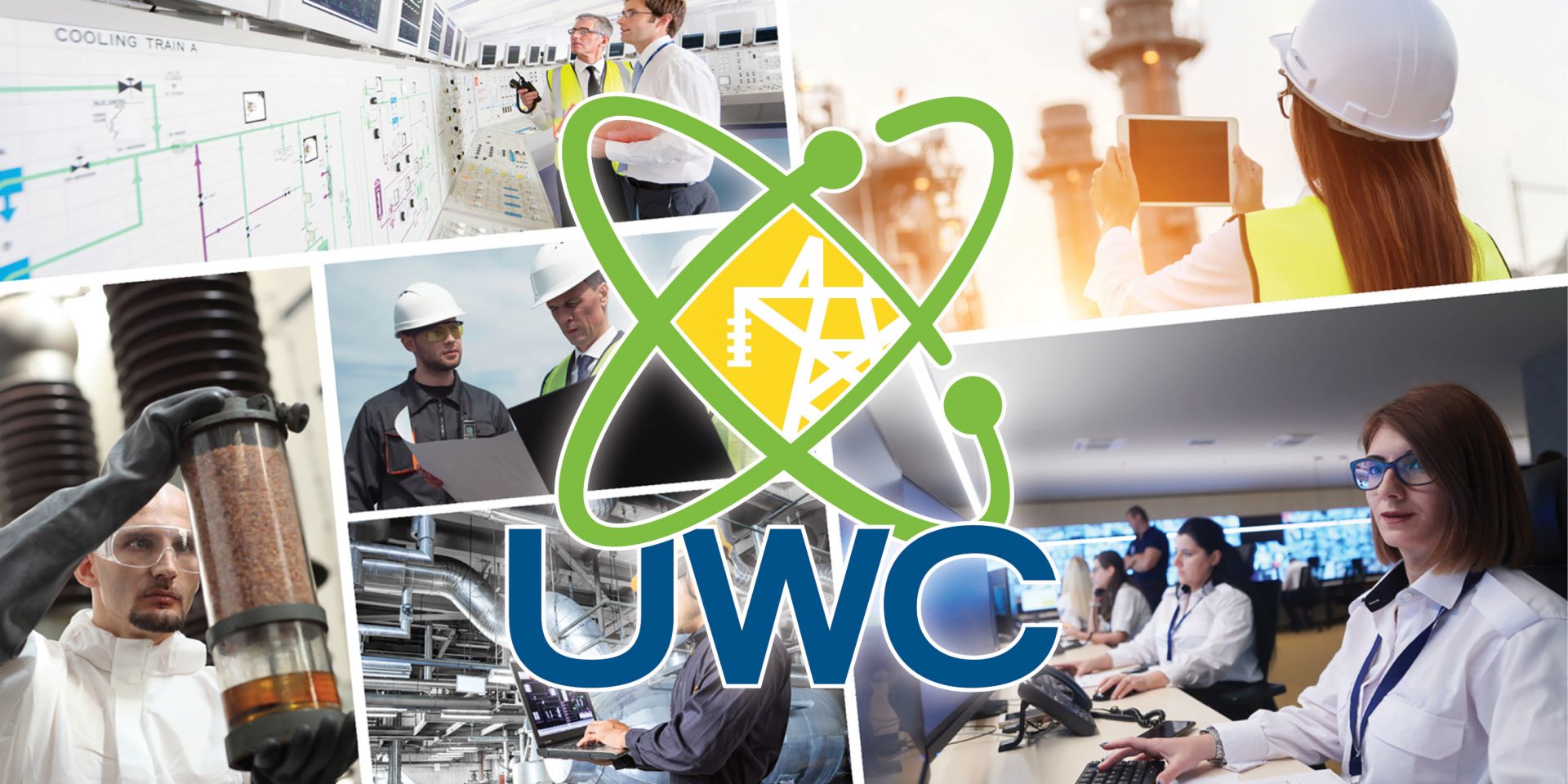 Day three of the 2021 Utility Working Conference commenced early Tuesday morning with a plenary session featuring Rita Baranwal, the Electric Power Research Institute's vice president of nuclear and chief nuclear officer, and Greg Cullen, Energy Northwest's vice president for energy services and development.
Baranwal: First to the stage (or, for virtual attendees, the screen) was Baranwal, who led off her presentation with a quote from EPRI founder Chauncey Starr: "The odds of success go up if you have the very best people guiding the way, making the choices, and creating new approaches and new ideas." The quote was especially appropriate to share now, Baranwal said, "as we focus on nuclear's evolution to meet the rapidly changing needs of the energy sector and our workforce."
In Baranwal's view, the two most critical factors regarding that evolution are training and innovation.
"Changing the way we operate is going to require a highly trained workforce, and accelerating training initiatives is one of EPRI's institutional priorities, as it is for the nuclear sector at EPRI as well," Baranwal said. "Knowledge transfer is an especially crucial area, as more and more designers and developers at existing plants are retiring. There's just not an adequate system in place to preserve or transfer their valuable experience and knowledge. EPRI's research and training initiatives take this into consideration, and we have a really unique place in preparing the next generation of workers across roles and organization levels. We provide them with tools and resources to ensure reliable ongoing operation of the nuclear fleet."
The Standardized Task Evaluation (STE) program is one way that EPRI is meeting this industry need, according to Baranwal. STEs are used by nuclear power plant owners and workforce providers to qualify workers for a variety of standardized tasks. At the moment, she said, there are over 100 STEs available in the areas of maintenance and radiation protection.
In addition, Baranwal noted, through EPRI U, a training initiative established in 2017, EPRI offers more than 1,200 different training courses. The courses can be delivered on-site, online, or at EPRI and its member locations. "Last year, more than 5,000 classes were taken through EPRI U, and we're on track to exceed that this year," she said, adding that so far in 2021, 848 instructor-led courses have been taken, in person and virtually, as well as 2,011 self-led courses.
The current EPRI U curriculum, explained Baranwal, is specific to existing fleet operations, featuring courses on digital engineering, engineering technical training, cybersecurity, plant maintenance, aging management, digital I&C operation, and digital equipment upgrades.
"With our common initial training, you can take the courses at any time, at any given point in the calendar year, and training can take three months or less," Baranwal said. "So that improves the ability to hire, and it's self-paced, so folks can take it at their leisure."
Baranwal then turned to the subject of innovation. "One of the priorities at EPRI is to continue to make a difference with respect to innovation, especially in nuclear energy," she said. "This addresses the need to change how we're doing business in the industry. We have chugged along quietly for decades. . . . We need to talk about how we operate and why we are important to the decarbonization of the electricity sector, the transportation sector. We also need to move more quickly and more nimbly because things are changing very quickly with respect to new technologies, new processes, and organizational structures. And we need to be more efficient, making sure that we are achieving cost reductions."
These changes, according to Baranwal, will require, above all, diversity of experience and thought. "Diversity is number one," she said. "The second ingredient you need is a challenge. Well, we're loaded with challenges, so we're good there. The third is to have a model and to be a model. So for all of us who are leaders in our respective areas, we should model behaviors that we want our teams to emulate. And the fourth, which might be the hardest, is courage."
By "courage," Baranwal means the ability to accept the occasional failure. "I encourage you, if you're touching innovation, if you're in that space, to lead by example and allow your folks the freedom to fail," she said. "But I would say the freedom to fail quickly and move on to the next thing, the next iteration of that experiment. That's what we need in this industry."
Baranwal also mentioned some of the innovation projects that EPRI is collaborating on with other entities, including electron-beam welding for small modular reactors, with the Department of Energy and NuScale Power; molten salt chemistry and nondestructive evaluation guidance, with Kairos Power; the EPRI Fusion Forum, with the DOE and the Fusion Industry Association; fast-spectrum molten salt reactor work, with Southern Company; and advanced construction technologies, with GE Hitachi. "We're looking at unique areas in which EPRI can play a role where the rest of industry may not have the bandwidth, or perhaps the funding or expertise to participate," Baranwal said. "We're happy to provide our expertise and our facilities to make sure we succeed together."
Cullen: Energy Northwest's Cullen struck a thoroughly optimistic note early on in his talk, stating his belief that the future "is bright for this industry, it's exciting, it's full of innovation and cutting-edge technology. Your kids and your grandkids should want to join, and you should encourage them to join." (Cullen's son is currently studying nuclear engineering at Georgia Tech.)
Cullen's optimism is tempered, however, by certain industry challenges in the Northwest, including the capacity issue. "What we're seeing is a lot of projections in the region showing that we're already at a capacity deficit," he said. "The question about whether we'll have sufficient energy to meet our peak loads when they come. That was really emphasized back in 2019, when we had a day where power prices spiked at over $1,000 per megawatt hour on the day-ahead market. That led to a lot of concern and handwringing among the utilities in that region. There's a major effort in the region now to focus on this idea of resource adequacy. How can we help each other to avoid what we saw in California last summer and in Texas this winter. . . . We're starting to turn off coal plants, and we're trying to replace them mostly with wind, and that's creating a real concern and a real challenge among the utilities."
Cullen pointed to a study released in January 2019, Resource Adequacy in the Pacific Northwest: Serving Load Reliably Under a Changing Resource Mix, by Energy and Environmental Economics (E3), showing that the effective load carrying capability of wind is about 7 percent, with solar about 12 percent. The study concluded that while it is possible to maintain resource adequacy for a deeply decarbonized Northwest electricity grid, sufficient firm capacity must be made available during periods of low wind, solar, and hydro production.
"Wind is the worst possible resource you can look to from a capacity standpoint, because the more I need it, the less likely I am to have it," Cullen explained. (Winds tends to be weaker during the hottest and coldest months, when energy consumption is at its highest.) "And for us, solar is not a great resource—our loads are on the west side of Washington and Oregon, where, as many of you probably know, we don't get as much sun as do a lot of places around the country."
According to Cullen, if a utility attempts to meet its capacity needs with renewables and energy storage alone, it will be forced to overbuild the nameplate capacity of those resources. "If I can only rely on 7 percent of my wind to be there, then I have to build 10 to 15 times the amount of wind I really need in order to make sure I have that 7 percent. And by the way, I have to spread it out geographically, in order to try to make sure I have that 7 percent somewhere, which as we know brings in a lot of significant transmission challenges."
The E3 study also suggested that the SMR was one of three alternative technology options that had the potential to greatly reduce the required renewable overbuild. "So we commissioned a study," Cullen said. The Pacific Northwest Zero-Emitting Resources Study, also by E3, considered two categories of zero-greenhouse gas resources: energy limited or variable zero-emitting resources—hydro, wind, solar, and storage—and firm zero-emitting resources—the Columbia Generating Station, SMRs, biomethane, and carbon capture and sequestration.
The results of the Energy Northwest analysis were very similar to those of the previous study. "What we found," Cullen said, "was that if you're going to try to do this with just renewables and energy storage alone, it's incredibly expensive." According to Cullen's PowerPoint presentation, the study concluded that a system largely relying on wind, water, solar, and battery storage will require over 100 GW of new capacity in 2045 to maintain reliability.
"However," Cullen continued, "when we allowed the model to start choosing Columbia, second license renewal, and, eventually, SMRs, we were able to avoid 91 GW of renewables and storage from that overbuild. But most significantly, we achieved a savings of $8 billion per year over the scenario employing renewables and energy storage alone."
The study, Cullen said, led to Energy Northwest's optimal resource mix under Washington state's 2019 Clean Energy Transformation Act, which requires electric utilities to eliminate coal-fired power by 2025, achieve carbon neutrality by 2030, and source 100 percent of their energy from renewable or non-carbon-emitting sources by 2045.
That mix is wind and solar with storage, hydro, existing nuclear, and new nuclear. "This is the message that we find in our region we have to be using," Cullen said. "It doesn't do a lot of good to say nuclear instead of renewables, and so the messaging that we're putting out in our region is, we know we need wind and solar and storage, and they're great resources to help us. We also need the hydro in our region to stay. And we need Columbia to stay. But we also do need new nuclear in our region. We're finding a lot of support for that when we package this together as the right mix going forward."
See coverage of the UWC's opening plenary here.